Incase Teams Up with Pro Surfer Kelly Slater to Release Cool New Action Camera Accessory Line
Incase has teamed up with pro surfer Kelly Slater to release new backpacks and bags designed specifically for action cameras. Called the Incase x Kelly Slater Action Camera Collection, the bag and accessory line was designed for GoPro users and outdoor photography enthusiasts in collaboration with Slater and world-famous water photographer Todd Glaser.
The new line builds on the benefits of the Incase Action Camera Collection, while adding performance benefits for water and outdoor environments (such as water-resistance and buoyancy).
Check out a rundown of the new Incase x Kelly Slater Action Camera Collection below.
The Kelly Slater Pro Pack: This is designed for carrying, storing and protecting your GoPro camera gear and accessories. The Pro Pack's large volume main compartment includes a customizable divider and can house multiple GoPro cameras and accessories. An integrated GoPro Hero mount (on the Pro Pack's left strap) ensures the wearer never misses a shot. The included Tensaerlite Canister nest fits two GoPro Hero cameras for maximum protection in a lightweight design. A removable rainfly with a custom Aqua Tiger print exclusive to the Incase x Kelly Slater collection protects the Pro Pack and its contents in wet weather conditions.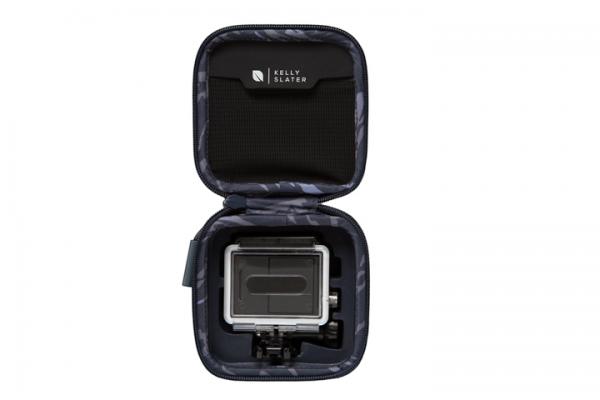 Kelly Slater H2O Mono Kit: Water-resistant materials and float capability make the Kelly Slater H2O Mono Kit ready for the plunge. A Tensaerlite Aqua Tiger print shell and 1680D ballistic nylon provide durability and protection. Compatible with GoPro camera with both housings (Dive Housing or Hero3 Housing), the H20 Mono Kit includes a custom molded, integrated compartment to hold the camera in place.
Kelly Slater H2O Accessory Organizer: The Kelly Slater H2O Accessory Organizer protects your accessories with welded weatherized, dual-coated nylon sidewalls and a Tensaerlite protective interior frame. The Accessory Organizer also includes a weatherized PU coated zipper and custom pulls, with matte frost and clear TPU window panels. It fits one GoPro camera, cords, batteries, mounts, camera housing—and other accessories. A removable nameplate ensures easy identification. Like other pieces in the collection, the Accessory Organizer is built from water-resistant materials and construction.
Kelly Slater Protective Cover for GoPro: The Incase Protective Cover allows GoPro users to conveniently carry their action camera on-the-go. The durable soft silicone provides secure housing to store your GoPro, keeping it safe from the elements.
More info on the Kelly Slater Collection here.

FEATURED VIDEO