The BEST Travel & Nature Photo Tip You Don't Know (VIDEO)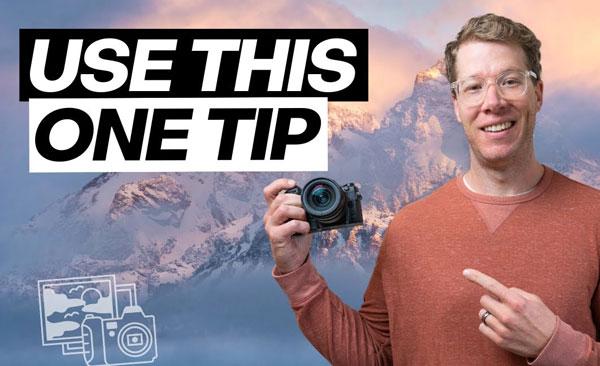 If you're tired of hearing the same composition tips over and over again, like the Rule of Thirds or Leading Lines, you're going to learn some different for framing outdoor photographs in the quick tutorial below.
Experienced nature photographer David Johnston says, "This is the one landscape photography tip that gives me the best photos every time." What's crazy about this very effective technique is that you may not have heard about it before.
So what exactly is this magic formula? As Johnston puts it: increase attraction and decrease distraction. This approach to composition requires seeing the world in a somewhat different way, but once you get the hang of it you'll realize that it's applicable to any landscape images you shoot.
Johnston provides a bunch of simple methods for shooting images in this manner—illustrated with graphics and compelling imagery. He begins with a majestic scene that he captured while hiking in Grand Teton National Park.
When first viewing the image he thought it was pretty great—that is, until he looked at it more closely and asked himself, "What is kind of distracting about this photo?" That's where his guiding principle really kicks in.
For this particular image Johnston was bothered by a foreground fence that distracted from a striking sky and mountains in the background. He then reshot the photo using a longer lens while adjusting his framing accordingly.
As a result, the fence disappeared from the bottom of the frame, replaced by an interesting stand of pines than anchored the shot. And the epic mountains became far more prominent. Johnston then pulls up an image of another scene that requires a different approach to refining composition and walks you through the process.
The episode wraps up with a discussion of how you can integrate his favorite tip with other "rules" of photography that you already use. He demonstrates the power of this hybrid approach with some really nice imagery.
You can find more great advice on shooting and editing outdoor photographs by paying a visit to Johnston's YouTube channel.
And for another quick tutorial on making better landscape photos, check out our earlier story with two shooting hacks for epic b&w landscape images.

FEATURED VIDEO