The HP DeskJet 895Cse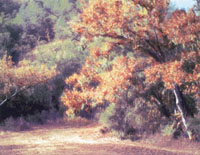 Photos are scanned from actual sample prints made from the HP DeskJet 895Cse printer.
Photos © 1999, David B. Brooks, All Rights Reserved
In the now large population of color ink jet printers Hewlett-Packard continues to be a leader with its HP DeskJet printers. The new HP DeskJet 895Cse now tops HP's list of DeskJet models, providing a printer designed to meet the widest range of user requirements. The 895Cse is built to provide both high photo-quality color printing on all types of paper, as well as laser-quality black text printing at up to 10 pages per minute, and a heavy-duty cycle demanded by business requirements of constant use and multiple copy printing, as well as the capability with an add-on accessory to be used as a network printer. This comprehensive range of qualities and capabilities included by HP provides the company with the basis for calling this model their Premium DeskJet.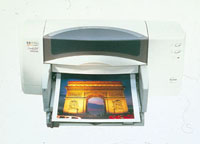 The features which make the 895Cse exceptional are not that unusual by themselves, but combined in a single printer provide users with a distinct choice if they need both speed and durability to print many copies of business documents, including black and white and color, as well as competitive photo quality printing. The 895Cse is a four color ink printer with relatively large ink cartridges, providing both economy and less frequency of replacement even when full-color photo printing is involved. This is the result in part of an improvement in HP's color technology (PhotoREt II). In addition, the HP 895Cse printer is fully supportive of the latest computer technology including the provision of a Universal Serial Bus port, providing an easy, quick connection and fast, efficient data flow from computer to printer. The HP 895Cse package also includes a software bundle that directly enhances the printer's functionality, including the ability to condense up to four document pages onto a single 8.5x11 sheet, or go the opposite way and make "billboard" images by dividing the printing into segments so a large poster-sized image can be assembled from the pages. There is also a software application providing easy to use templates for quick home and office flyers, proposals, schedules, and brochures. A special HP version of PhotoRecall is included to aid in organizing and handling photos, graphics, and clip art. Also, web printing is supported by HP Instant Delivery which supports users scheduling and receiving and direct printing of online publications to which a user subscribes.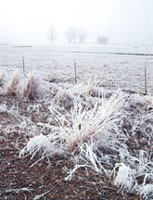 Using The HP DeskJet 895Cse. I had not worked with an HP printer since I reviewed the PhotoSmart printer quite a while back. Even so, I was first of all most interested to know how this new, more general purpose printer would compare reproducing photographs on glossy photo ink jet paper. So, right off the 895Cse was fed quite a few just scanned 120 film files. The resulting 8x10" image area prints compared very favorably with prints I'd made with the PhotoSmart. That says a lot for the technology improvements HP has made, as the 895Cse is a four color ink printer and the PhotoSmart used special six color ink cartridges. In addition, this new HP DeskJet is much faster and also much quieter.

Like most of you who would be interested in this class of printer, it would be used to print letters, envelopes, forms, all kinds of sundry documents like web pages, and now all of the User's Guides for many software applications that are supplied in Acrobat .PDF format on CDs. With this type of printing running at the standard, middle quality setting, the HP DeskJet 895Cse rips off pages almost as fast as the last laser printer I used (which was some time ago I might add). Using HP's rather heavyweight, premium quality, uncoated ink jet paper, the text quality is as close to laser quality as claimed, and color graphics and photographs (like content you'd find at quality web sites) are also reasonably sharp, well-defined, and saturated.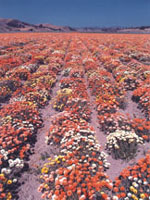 A very distinct improvement, at least in comparison to the original Photo-Smart printer, is HP's print driver now provides a wide range of media selection options including a non-HP brand paper selection. The software also supports either using HP's proprietary output management, as well as going to a manual level of output adjustment and control, or selecting ICM tying color management into the Windows system. From the experience I had running the printer with a Windows 98 PC, printing from Photoshop as well as several other graphics applications, Microsoft Word, and directly from Internet Explorer, the prints resulting uniformly matched what was on screen quite closely.

Evaluation And Recommendation. All of the claims made for the 895Cse by HP were borne out in the use and results from my tests. The one factor I was not able to determine was that it is in fact a heavy-duty cycle printer suitable for use in producing high quantities of prints on a daily basis. That is an important factor in consideration of the HP estimated street price of $399, which is considerably more than many consumer-level, photo-realistic capable, ink jet printers now available. Hewlett-Packard however, has a substantial and positive reputation in regards to high duty cycle printers, so the question would be more if a user really has the quantity printing requirements which justify the extra cost. If yes, the 895Cse is definitely a very fine all-around printer in performance and convenience. For more information, call (800) 752-0900 to locate the nearest HP dealer or visit Hewlett-Packard's web site at: www.hp.com.
Technical Specifications
Print Method: Drop on demand thermal ink jet
Print Quality: Up to 600dpi with black pigmented ink, PhotoREt II color layering technology
Print Speed: Ranging from 10 pages to .03 pages per minute
Media: Plain, ink jet, photo, glossy, transparency, labels, and index cards
Paper Sizes: 3x5-8.5x14"
Paper Weight: 16-110 lbs
Memory: 2MB built-in, plus KB receiver buffer
Interface: Centronics parallel and USB (Windows 98 only)
Operating System Compatibility: Microsoft Windows 3.1X, 95, 98, NT 4.0
Dimensions: 17.5x7.3x14"
Weight: 12 lbs

FEATURED VIDEO