How to Shoot Sensuous Beach Portraits with Natural Light (VIDEO)
Now that temperatures are rising, it's time to head to the shore for a day of portrait photography before beaches get crowded later in the season. In the video below you'll learn several quick tips for making captivating images with a unique look.
In this behind-the-scene episode from sunny Hawaii, Canadian pro Irene Rudnyk teams up with beautiful model Alexandra to demonstrate how a carefully chosen wardrobe and a few simple props will set your images apart from typical bikini photos. You'll also pick up expert advice for working with a model to achieve the best results possible.
Rudnyk is known for making gorgeous portraits without complicated lighting equipment, using a minimum of gear. In fact, all of the stunning images in this tutorial were captured under natural light with a single camera and two prime lenses—a fast 50mm and a 85mm telephoto.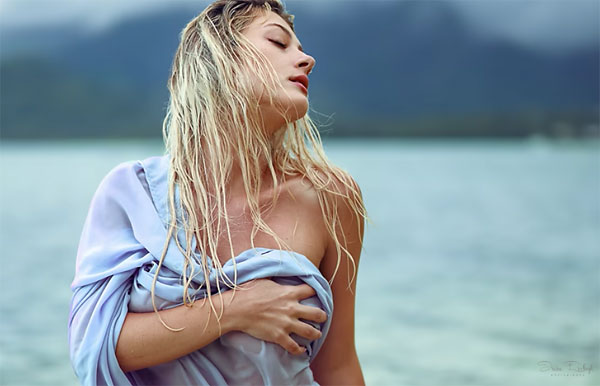 Her choice of props is just as simple: a large seashell and a couple necklaces made of smaller shells. As Rudnyk explains, props can help you tell a story with your photos—especially if they relate to the location and are chosen to compliment the style and colors of your subject's wardrobe.
The conventional wisdom for shooting sensuous beach photos is that the skimpier the outfit the better. But as you'll see, a sheer wrap worn over a bathing suit may not as revealing as a tiny bikini, but often creates a more provocative effect.
Rudnyk has several important techniques for directing a model through a variety of flattering poses. You'll find this advice particularly helpful if you're inexperienced with the process. As for technical details, there are captions on the photos with all pertinent gear and exposure information.
There are more portraiture tips and tricks on Rudnyk's YouTube channel, so be sure and take a look.
And check out the tutorial we posted from another experienced pro recently, with five simple tips that yield perfectly exposed outdoor photographs every time.

FEATURED VIDEO