Holy Terabytes! SanDisk Debuts World's First 1TB SDXC Card Prototype at Photokina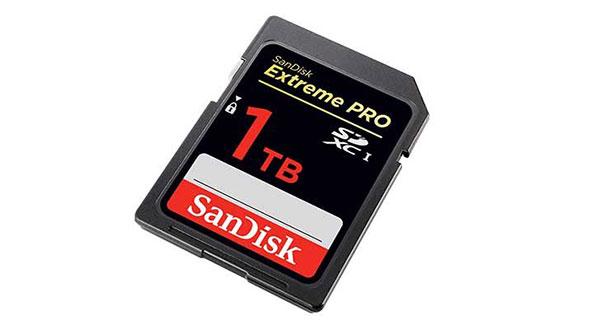 With digital cameras offering more and more megapixels for still photos and 4K and beyond for video, photographers need ways to store all that imaging info. Enter SanDisk, which just unveiled the world's first 1TB (terabyte) SDXC card prototype at the photokina show today.
"Sixteen years ago we introduced the first SanDisk 64MB SD card and today we are enabling capacities of 1TB," said Dinesh Bahal, an executive at Western Digital, which owns SanDisk. "The SanDisk 1TB SD card prototype represents another significant achievement as growth of high-resolution content and capacity-intensive applications such as virtual reality, video surveillance and 360 video, are progressing at astounding rates."
SanDisk has been down this road before. The company introduced the then record-breaking 512GB SanDisk Extreme PRO SDXC UHS-I memory card at photokina 2014 .
"Just a few short years ago the idea of a 1TB capacity point in an SD card seemed so futuristic – it's amazing that we're now at the point where it's becoming a reality," said Sam Nicholson, CEO of Stargate Studios and member of the American Society of Cinematographers "With the growing demand for applications like VR, we can certainly use 1TB when we're out shooting continuous high-quality video. High-capacity cards allow us to capture more without interruption, streamlining our workflow, and eliminating the worry that we may miss a moment because we have to stop to swap out cards."
No pricing has been released on the SanDisk 1TB SDXC card since it's just a prototype at this point. For perspective, the 512GB SanDisk Extreme PRO card retailled for $799 when it was announced at photokina 2014.
Western Digital will be demonstrating the SanDisk 1TB SDXC card prototype and at Photokina in Hall 02.1 Stand A014.

FEATURED VIDEO