Henry Hamilton Bennett; Legendary Landscape Photographer (1843-1908)
Henry Hamilton Bennett's photographs have been collected and displayed in some of the most prestigious museums around the world, including the New York Museum of Modern Art, the Center for Creative Photography, the Smithsonian Institution, and the Library of Congress. His original photographs have found their way into many private collections.
Studio portrait of H.H. Bennett.
In 1999, Bennett's granddaughter Jean Dyer Reese and her husband Oliver gifted the 1875 building that housed Bennett's studio, original photographic equipment, and the entire collection of rare, historic glass negatives and prints to the State Historical Society of Wisconsin.

Much thought and attention to detail went into the creation of this unique museum celebrating Bennett's life, making it truly a little "gem" when it opened to the public in June 2000. Now visitors can "Journey into the Past," wander past large murals of his photographs, and discover the natural splendor of the Wisconsin Dells through his eyes. Using the latest technology in computerized digital stereo imaging, developed for NASA's Mars Pathfinder mission, and special viewing glasses, with liquid crystal lenses, visitors can view Bennett's three-dimensional stereo images that mesmerized Americans more than a century ago.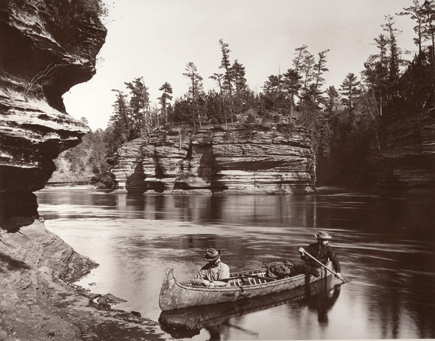 Steamboat Rock.
Photos Courtesy "Wisconsin Historical Society: and "H.H. Bennett Studio & History Center."
Loaded with nostalgia, Bennett's enormous handcrafted camera and other memorabilia are everywhere. The now silent, dimly lit darkroom echoes the past, where he and his family spent countless hours churning out thousands of prints from glass-plate negatives. Bennett family portraits hang on the walls of the portrait studio where a huge camera on a stand, draped with a black cloth, stands sentinel. The once bustling sales room is filled with his photographs and personal items that tell us about this remarkable man.

A Life In Photography
Henry Hamilton, the oldest of 12 children, was born to George and Harriet Bennett on January 15, 1843, at his grandparents' farm near Quebec, Canada. The family returned to their home in Brattleboro, Vermont, where Henry spent his early boyhood.

In 1857, economic hardship, and the prospect of a brighter future, brought 14-year-old Henry, his father, and his Uncle George Houghton to Kilbourn City, Wisconsin. The recently constructed Milwaukee to Minneapolis railroad passed through here, creating jobs, and Henry became a carpenter. He also had a brief exposure to photography while assisting Uncle George in his daguerreotype studio. Finding business unprofitable, George relocated it back to Vermont.
H.H. Bennett's original 1875 photo studio was placed on the National Register of Historic Places in 1976. It is the oldest family owned and operated photo studio in the US.
© 2006, Neela Bhagat. Taken with permission from the Wisconsin Historical Society.
The Civil War broke in April 1861. Believing in the cause and aware that his great-grandfather Aaron Bennett was killed during the bloody battle at Valley Forge (while serving as aide to General George Washington), he decided to pursue a military career. Henry, now 18, enlisted on September 8, 1861.

Fate intervened, when on April 17, 1864, his rifle accidentally discharged, permanently disabling his right hand. Returning home to Kilbourn City, and unable to resume carpentry, Henry was compelled to seek a new livelihood. He bought Leroy Gates' photo business in 1865, and embarked on a career that spanned more than 40 years. He found a new calling: Photography!

The Tourist Trade
Using Gates' old tintype cameras, Henry set up his photo tent down by the steamboat landing, ready to photograph visitors prior to their boat trips along the Wisconsin River to see the strange rock formations. While they were gone, he quickly developed the tinplate sheets, coating them with a wet collodion solution before transferring the positive image onto coated metal sheets. Returning a few hours later, he had prints ready for the delighted tourists to take home as souvenirs.

In the late 1860s, photography, still in its infancy, was not a lucrative vocation and Henry faced hard times. Now married, he and his wife Frances (Frankie) had two young children, daughter Hattie and a son Ashley Clayton. Unable to make ends meet, and very depressed, Henry seriously considered shutting the business and asked Uncle George in Vermont for a job. His uncle replied, saying that he had sold his portrait studio, and advised his nephew to "...give up the business and never touch it again..."
(Top Left): H.H. Bennett's original darkroom. (Top Right): H.H. Bennett's old desk along with some of his books and other personal items displayed. On the top right-hand shelf is an old handheld stereoscope which was widely used in the mid-1800s. (Above): Enlarged photo mural of H.H. Bennett carefully touching up one of his finished prints.
© 2006, Neela Bhagat. Taken with permission from the Wisconsin Historical Society.

Recording The Land
Fortunately Henry opted not to follow his uncle's advice. Instead, to supplement their income, he leased Gates' old building for $12.50 a month, set up a small portrait studio in town, and taught Frankie to handle this part of the business, including developing and printing the wet-plate negatives in the darkroom. This freed him up to be able to concentrate on the growing demand for landscape photography. In addition to the tourists, he began photographing the local landscape, and toiled countless hours, tirelessly trudging up and down the narrow gorges and ravines along the Wisconsin River, giving them colorful names, still in use today, like Witches Gulch, Coldwater Canyon, and Fat Man's Misery. He fell in love with the wild scenery around Kilbourn City, which was renamed "The Wisconsin Dells" in 1931.