Help Me Decide: Which iPad Pro for Post-Processing Digital Images?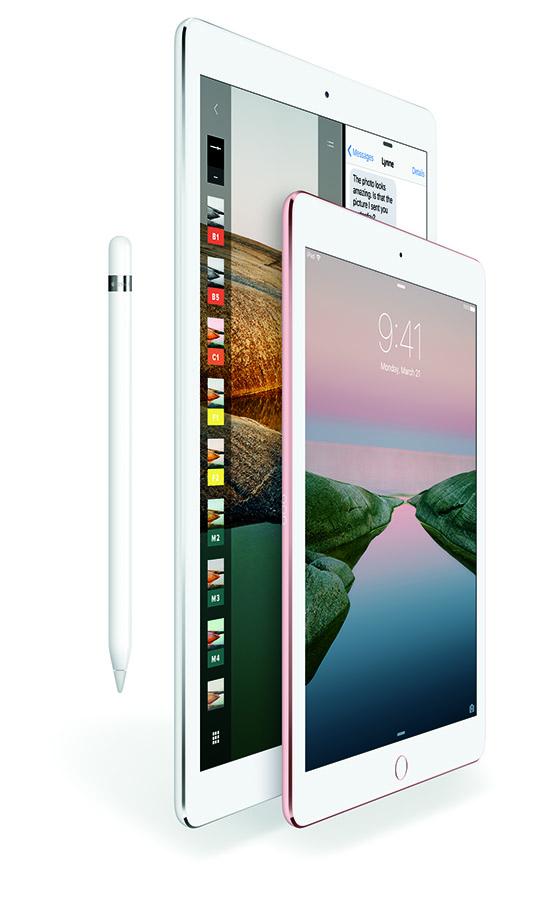 Apple offers two models of the iPad Pro. On the surface (no reference to Microsoft intended) the difference appears to be primarily the size: 12.9 vs. 9.7 inches, but there's much more to it. The price difference is $200, which is not small change, but less important in the overall scheme of things. I am buying one or the other—and I am asking you folks who own an iPad Pro to weigh in and tell us which model you bought and why.
The irony of being an early adopter is that you sometimes become the guy who's stuck still using an obsolete model—unless you can afford multiple updates. That's what happened to me with the iPad. I purchased Generation One when they first appeared—doesn't even have a camera—and because I dropped a nice hunk of change for the 64GB version I've never felt compelled to upgrade. Until now. Lightroom version 2.4 for iOS now handles Raw images—and that's a big deal to me. But the real motivator that's making me think iPad Pro: Gotta have that pencil.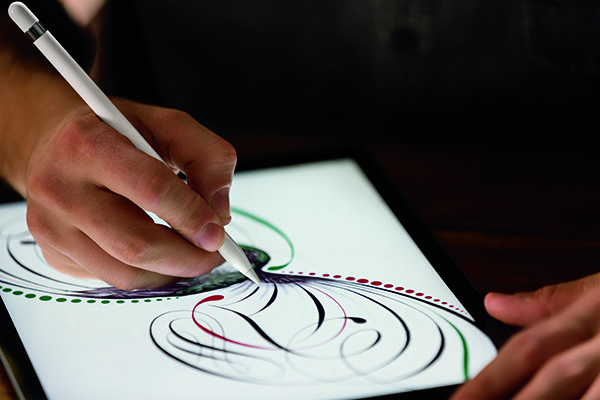 Horsepower
Don't look on Apple's website to find the specification for RAM. Unless you're a much better detective than I, you won't find anything in Apple's handwriting. Isn't that a bit strange? That said, I was able to find several credible sources that indicate that the 12.9 has 4GB of memory whilst the 9.7 model has but 2GB. That's a huge difference.
Processor is the same on both tablets, an A9X third-generation chip with 64-bit desktop-class architecture. Clock speed of the CPU differs, however. According to various sources, the 9.7 model is slightly slower at 2.16 GHz compared to 2.24 GHz on the 12.9 inch model.
Editing Options
The roster of Adobe programs available for the iPad is impressive, starting with Adobe Photoshop Creative Cloud and Photoshop Lightroom Mobile, right up through the following: Photoshop Express, Fix, Capture, Mix, Sketch, Premier Clip and more. That makes it comfortable and easy to work and synch versions through Creative Cloud. There are many, many other apps out there too, and some are alleged to do things that are difficult to replicate in Photoshop.
For sure, it's easier to edit images on a larger tablet. Bigness is a point in the 12.9's favor. Conversely, large size is the enemy of portability. The larger iPad occupies about 104 sq inches of space overall (not just the screen) whereas the smaller job covers about 62 in². Depending on your intended purpose, the smaller size might be more advantageous. Weight is a factor of portability, too. The big pad weighs more than 25 ounces; the small pad scales in at less than 16. For comparison, an iPhone 6s weighs 4.55 ounces.
Color Gamut
According to the people in Cupertino, and I quote: "The 9.7-inch iPad Pro display uses the same color space as the digital cinema industry. This wider color gamut gives iPad Pro up to 25 percent greater color saturation than previous iPad models. So colors are more vivid, true to life, and engaging."
I find this assertion intriguing. Does this mean that artwork created on the smaller iPad must be viewed on the same device in order to be fully appreciated? Imagine being the only person with color monitor in a monochrome world. It wouldn't matter how you colored your images—no one else would be able to see the results as anything except black and white.
Overall Display Quality
Both iPads feature Apple's highly acclaimed Retina Display. Both offer 264 ppi which calculates to 2732x2048 vs. 2048x1536, 12.9 vs. 9.7 respectively. In addition to the wider color gamut, the small pad also is equipped with a True Tone display. In a nutshell, a True Tone display uses an unspecified quantity of four-channel ambient light sensors to automatically adjust brightness and color temperature. Let's think about this for a minute.
Without question, this feature should improve the enjoyment of watching a video or reading text. In theory, this display technology should make the product easier to use in bright light as well and dim. But for image editing, I think I'd have no choice but to disable the feature. If the relative brightness and white balance change frequently depending on ambient light, how can you determine either characteristic objectively?
We all know that the human brain processes the color information it receives from the eye and adjusts it to match our understanding of reality. In other words, in a living room that's lit by 2800º K lamps, my brain provides some of the blue colors that are missing. That's why color negative film exposed under such conditions turns out reddish-brown and ugly—even if the scene appeared "normal" to human viewers.
Now, mix these two dynamics – my brain is making on-the-fly corrections, and my iPad is making similar adjustments based on ambient light – and then tell me how I can achieve an objective combination that provides the colors I'm attempting to depict in my images. Or am I missing something here?
And can I be truly confident that something I create on a True Tone iPad under fluorescent light will exactly the same color when viewed under daylight? Before you answer this question, look up the definition for metamerism.
Camera Differences
The larger iPad sports an 8-megapixel camera and an f/2.4 lens. The littler one has a 12-megapixel camera and an f/2.2 lens. The selfie camera is different, too: 5-mega vs. 1.2 in favor of the smaller tablet. There are other differences in video capture, panorama and HDR modes.
Unless I'm photographing a snowball fight, or some other event where I need a shield that's the size of a cafeteria tray to protect my face, you won't find me using an iPad as an image capture device. But I do admit that the ability to record 4K video on the smaller iPad is an attractive feature.
So what's a body to do? If you have already gone through the mental gymnastics and decided which iPad Pro to buy, please share your choice—and more importantly the underlying rationale—by posting your comments here or over on our Facebook page when this story is reposted there. Thanks in advance for your input!
—Jon Sienkiewicz

FEATURED VIDEO