The Goods: Our 4 Favorite Cameras and Lenses of the Month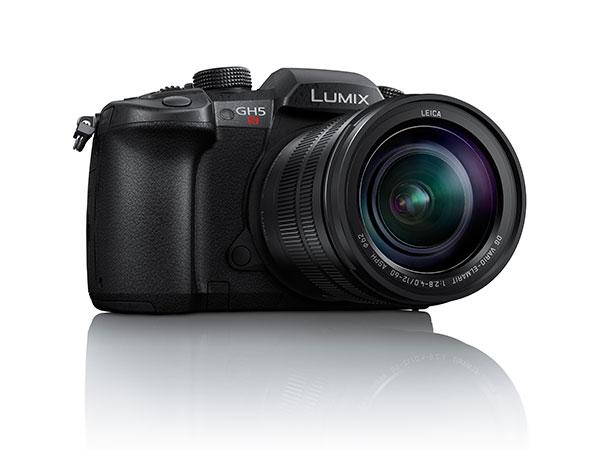 Low Lighter
Panasonic sinks to new lows with the Lumix GH5S mirrorless camera. Low-light sensitivity, that is. Featuring a newly developed 10.2MP MOS imaging sensor designed to be particularly sensitive while shooting in low light, the Micro Four Thirds-based GH5S can shoot at up to ISO 51,200 without having to use extended ISO functions. The GH5S also has Dual Native ISO technology, which is designed to provide low range (400) and high range (2500) ISO shooting environments, along with a Venus Engine 10 image processor, all of which help the camera capture cleaner stills and video in near total darkness. While the popular Panasonic Lumix GH5 from last year was the first mirrorless camera to shoot 4KUHD video at 60p, the new GH5S camera hits a milestone of its own. The GH5S features the world's first 4K 60p video recording in Cinema 4K (4096x2160), and is capable of internal 4:2:2 10-bit video recording up to Cinema 4K30p and internal 4:2:0 8-bit Cinema 4K60p. This type of color subsampling is typically used in film production for more faithful color production in video footage. So, while the GH5S might appeal to photographers, it's really aimed at video makers who practice "the dark arts."
Panasonic Lumix GH5S
$2,499 (body only)
shop.panasonic.com
Pixel Pusher
Talk about some New Year's resolution. Hasselblad shocked the camera industry in January by introducing the H6D-400c MS multi-shot medium format digital camera, which can shoot 100MP images in the single or four-shot mode, and gigantic 400MP files in its six-shot mode. In the camera's four-shot mode, red, green, and blue information is captured separately by moving the sensor one pixel at a time. A similar process occurs when shooting in the six-shot mode, with the sensor moving an extra one-half pixel in both directions. You also may be wondering why anyone needs 400MP images (and perhaps whether you have the processing power and storage capacity to deal with these huge files). In fact, multi-shot capture has become a thing lately, and Hasselblad notes the potential of this technology for "defining subtle nuances and capturing detail without moiré" when photographing subjects like "fine cars, delicate fabrics, or shimmering diamonds." Speaking of diamonds, the H6D-400c MS costs about as much as the rock on a celebrity's engagement ring. But unlike a diamond ring, this new Hasselblad multi-shooter can be used for something important: capturing gorgeous images with massive amounts of detail.
Hasselblad H6D-400c MS
$47,995
hasselblad.com
Long Ranger
When you want to go long, you might want to reach for Nikon's AF-S Nikkor 180-400mm f/4E TC1.4 FL ED VR zoom lens. What makes this super telephoto zoom so unique, is it's the first lens from Nikon to feature a built-in teleconverter for an extended range. The switch-activated 1.4x teleconverter increases the reach of the new Nikkor 180-400mm zoom to 252-560mm with Nikon FX-format (full-frame) DSLRs, and to a whopping 378-840mm on Nikon DX-format (APS-C) DSLRs. Ideal for wildlife and sports photography, the powerful new super telephoto boasts a constant f/4 maximum aperture for isolating a subject from the background even at long range in low light. The Nikkor 180-400mm f/4 features an electromagnetic diaphragm that's optimized for high-speed burst shooting with consistent exposures. The lens also has an enhanced AF tracking algorithm to increase autofocus performance when following fast-moving subjects. The Vibration Reduction (VR) system features both Normal and Sports modes, delivering up to four stops of compensation for sharp, handheld results under less than ideal lighting conditions. The durable lens is constructed of lightweight magnesium alloy, and is sealed against moisture and dust. On the downside, it's heavy—almost eight pounds—and it sure ain't cheap.
Nikon AF-S Nikkor 180-400mm f/4E TC1.4 FL ED VR Lens
$12,400
nikonusa.com
Square Peg
Here's a throwback camera that's just plain fun. First introduced last year as a Kickstarter product, the Lomo'Instant Square camera officially went on sale in early 2018 and for analog lovers it wasn't soon enough. The Lomo'Instant Square is the first fully analog dual-format instant camera that can shoot both Instax Square and Instax Mini film. For some photographers, Fujifilm's Instax Square film is a format that will never go out of style, thanks to its iconic 1:1 look. Featuring a 95mm (45mm equivalent) glass lens and a foldable bellows design, the Lomo'Instant Square matches sharpness with portability. While there are a bunch of modern features, including full auto and multiple exposure and long exposure modes, along with a built-in flash, it's the classic instant film format that gives this Square its cool.
Lomo'Instant Square (Pigalle)
$259
lomography.com

FEATURED VIDEO