The Goods: Our Favorite New Premium Photo Gear
Black-and-White Beauty
Black-and-white photography mavens have a new go-to camera. Called the Leica M Monochrom (Type 246), it's the updated version of the venerable German imaging company's black-and-white-shooting digital rangefinder. The M Monochrom is the only digital camera to capture true black-and-white images without the help of filters or image processing. The new Type 246 model shoots three times faster than its predecessor while displaying images more quickly on its three-inch, 921,600-pixel LCD screen, which boasts a nearly unbreakable, anti-reflective sapphire crystal cover. The M Monochrom (Type 246) captures images with a 24-megapixel, monochrome-only CMOS sensor that's designed to produce sharp black-and-white photos up to ISO 25,000. This chic, classic-looking rangefinder can also shoot Full HD video in black and white.
Sweet Satchel
Discreet street shooters are sure to go gaga over this tastefully luxurious new camera bag from ONA. The black leather Berlin II bag is the follow-up to a tan "vintage Bourbon"-toned model from last year. While the Berlin II was created to celebrate 100 years of Leica photography and is designed specifically for the M-System, it's suited for any mirrorless compact system camera or even a small DSLR setup. It's handcrafted with full-grain leather and is complemented by gunmetal hardware, including a Leica-like red rivet dot on one of the straps. It also has a customizable red interior that's padded with premium closed-cell foam. There's room for one compact system camera (Leica or otherwise), two to three lenses, an iPad, and a few small personal items. The Berlin II has a zipped organizer pocket, a removable top-grab handle, and a streamlined back pocket.
Lap of Luxury
If you're looking to upgrade your laptop, now's a good time. Apple has revamped its 15-inch, Retina display-based MacBook Pro with the new Force Touch trackpad, which uses built-in force sensors and a Taptic Engine to give you haptic feedback when you touch it. The result is the trackpad feels like it's clicking but it's actually not moving at all. The updated trackpad features a range of new gestures—including Force click—to make accessing and working on your photos easier. The new 15-inch MacBook Pro with Retina display also offers up to 2.5 times faster flash storage than the previous model, with throughput rated at up to 2GBps. Other upgrades include an additional hour of battery life, and up to 80 percent faster overall performance, which should make editing photos a breeze.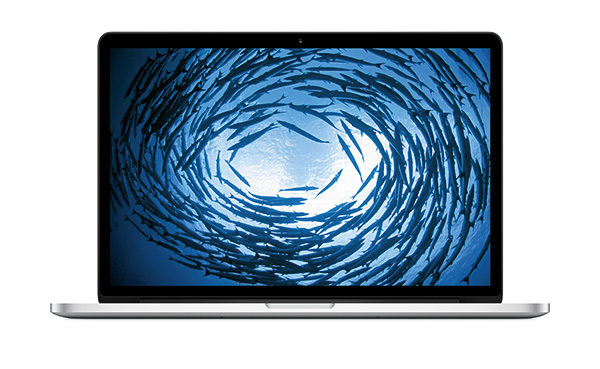 Night Shooter
Lenses with obscenely fast apertures for extreme low-light shooting have mostly been the domain of DSLR and rangefinder camera systems. That changes with the Voigtländer 10.5mm f/0.95 Nokton Lens for Micro Four Thirds. This exotic piece of glass has a 21mm equivalent focal length and an ultra-bright, blazing-fast f/0.95 maximum aperture, making it ideal for low-light still photography and video. It features an aspherical lens construction to help limit aberrations and keep it compact. The lens' all-manual design has physical focusing and aperture rings and users can select either clicked or clickless aperture stops. Minimum focusing distance is 6.7 inches to allow for close-up photography, while the lens' 10-blade aperture diaphragm will produce gorgeous out-of-focus elements, aka bokeh, in your images. It's built with 13 lenses in 10 groups and the angle of view is 93 degrees.
(Editor's Note: The Goods is a new feature in Shutterbug that spotlights the hottest premium photo gear out there. If you have a product you'd like considered for The Goods, e-mail images and info to editorial@shutterbug.com.)

FEATURED VIDEO