Gnarbox Mobile Storage Device Lets You Back Up, Organize & Share Photos & Videos from the Field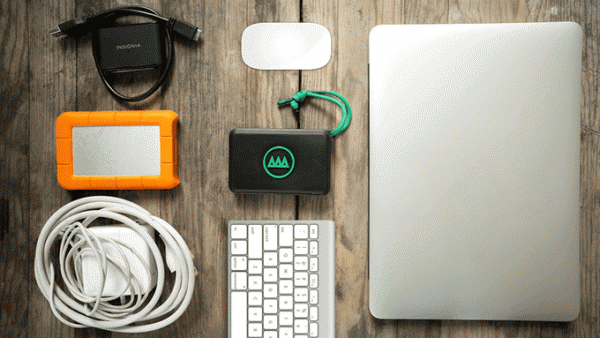 The Gnarbox in an intriguing new storage device created for photographers and videographers on the move. It's a Kickstarter project but it recently blew past its funding goal, raising more than $200,000 in five days.
The pocket-sized Gnarbox is a hard drive with a built in CPU that lets you easily back up your camera from the field, organize and edit the images or video footage then share it in full resolution—without the use of a laptop—in three easy steps.
Here's how the Gnarbox works:
1. Upload up to 128GB of full resolution footage from any camera to the Gnarbox.
2. Connect your smartphone to the Gnarbox hotspot and open the Gnarbox app.
3. Share your edited videos at full resolution, up to 4K video and Raw photos.
Working with high resolution footage in the field can be difficult, and photographers can't always carry a computer with them but the Gnarbox is designed to make the process easy. Laptops, external hard drives and cords can be left at home because this device combines the capabilities of a processor with the mobility of a smartphone, allowing you to manage your footage with less gear.
You can connect up to three cameras to the Gnarbox (via USB 3.0, SD, or microSD) and use the Gnarbox app to share photos, clips, or a highlight reel. Connect up to four smartphones to the Gnarbox hotspot so you (and your friends) can view/download photos and videos.
The Gnarbox features include 128GB of flash storage, two USB 3.0 ports, SD and MicroSD ports and 6-8 hours of battery life. It is water, dust and sand proof and users can connect up to 100 feet away. The Gnarbox will sell for $249.
More info on the Gnarbox on its Kickstarter page here. Check out a Gnarbox demo video below.

FEATURED VIDEO