Gitzopods And Friends
There Is More To Monopods Than Meets The Eye
Front to back, shown collapsed to minimum length: Gitzo MonoTrek; Manfrotto Carbon One 449; Gitzopod.
Photos © Dave Howard, 2000
What meets the casual eye regarding monopods is one tripod leg with a 1/4 "-20 screw at the top. However, those who are familiar with the monopod's unique benefits, and are properly versed in its technique, know that its beauty is more than skin deep.

Far too many photographers have no idea why anyone would want to use a monopod in the first place. The reasons are several, depending on circumstance. Obviously, if you have occasion to make a 10-minute time exposure, a monopod isn't the camera support of choice. But for most other situations, it can markedly improve the technical quality (sharpness) of your photos over handheld shots.

In these litigation-laced times, many places such as museums and amusement parks are prohibiting the use of tripods. This is understandable, as it's all too easy for people absorbed in an exhibit or event to trip over your tripod legs. Many of these venues will, however, allow monopods, if they're familiar with them.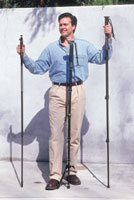 Left to right, shown extended to maximum height: Gitzo MonoTrek; Gitzopod (with Uni-loc DuoPod foot brace attached); Manfrotto Carbon One 449. Model: Greg McComb.
If you load your camera with ISO 100 film because the weather looks sunny, only to find yourself under leaden gray skies an hour later, a monopod will allow steady exposures at considerably lower shutter speeds.

They are quite effective at taming camera shake with telephoto lenses up to about 400mm focal length. Camera shake is also a gremlin many photographers have to deal with as they grow older and less steady of grip and stance. A monopod can extend their camera mobility, and help to avoid becoming tripod-bound for as long as possible.

Let's face it--no matter how convincing a case is made for the advantages of using a tripod, many photographers simply won't use one (rationalization: "it cramps their style "). Since monopods are much more mobile than their three-legged brethren, some photographers learn to compromise with a one-legger, especially when using longer focal length lenses.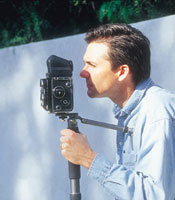 The Gitzopod's built-in shoulder brace greatly enhances monopod stability.
OK, so monopods really do serve a useful purpose after all. But why choose any particular one over another a 1/4 "-20 screw-on-a-stick is a 1/4 "-20 screw-on-a-stick, right? Not by a long shot.

Practically every major manufacturer has one or more monopods in their line. Some are pretty unimaginative, in effect just yanking a leg off one of their tripods and adding a tripod screw at the top. Others are more perceptive, offering several models from basic to downright clever. Two companies in the latter category are Gitzo (France) and Manfrotto (Italy), both distributed in the US by Bogen Photo Corp. I have chosen two Gitzo models and one from Manfrotto as being representative of the many monopods produced between them. They vary in design purpose as well as flexibility, and illustrate the need to carefully research the features and capabilities of the other models available.
The "all-weather shoe " for snow and soft sand use supplied with the Gitzo MonoTrek.
Since the totally unique Gitzopod is unquestionably the most unusual and adaptable monopod available, it earns top honors in the individuality department. Its mechanical specs are: 597/8 " maximum height; 265/8 " minimum height (in-use vertical configuration; folds to 141/4 " for storage); weight is 21/2 lbs; five sections; load rating is 11 lbs. It is the most compact of all monopods, easily stored in carryon bags and even many camera bags. Quite a contortionist, the Gitzopod can be extended, collapsed, folded, bent, tilted, and twisted into a conventional monopod, shoulder-pod, chest-pod, bi-pod, wall-pod, and table or knee-pod, as demonstrated in the accompanying illustrations. Its camera platform has a limited tilting range that's adequate for most situations. For more extreme tilts, or to flip a camera 90˚ for vertical compositions, a small head can be added. The length of the built-in shoulder brace is adjustable, and the shoulder yoke can be turned 90˚ to brace against your chest; this works better than the shoulder position for cameras with centrally located viewfinder eyepieces. The bottom leg section has two scribed markings that are convenient for duplicating the exact height each and every time. It benefited from Gitzo's recent restyling of their whole line of tripods, with larger, convex leg locking collars that are much easier to grip than previously, as well as a handsome finish. A substantial neck harness is supplied, allowing hands-free operations such as film changing. The only improvement I would like to see on this tremendously versatile monopod is a more positive, "snap-in " locking arrangement on the folding center joint. The tightening lever is adequate as long as you remember to orient the hinge forward; if oriented to the back, the joint can "bird-knee " a bit if you lean forward with the upper section. In any circumstance where traveling with a tripod is just too cumbersome, the Gitzopod will give you more alternative camera support options than any other device on the market. It's a bit pricey, so shop around, but it's money well spent.
Uni-loc's DuoPod foot brace attaches to most brands of monopods, allows hands-free operation for film loading or unloading, increases stability when shooting.
The Gitzo MonoTrek is much lighter duty than the Gitzopod. It is specifically designed for use as a walking stick (the joints of most monopods aren't designed to take the constant vertical pounding), a feature that will be appreciated by dayhikers. A comfortable grip and swiveling wrist strap add to its appeal. Best suited to point-and-shoots and other lighter weight cameras, the G1560 model comes with a small ball head, which allows easy vertical orientation of the camera. The head is removable and could be replaced with any heavier-duty unit adaptable to a 3/8 " screw; a snap-on cover is supplied for the standard head. Minimum length (with snap-on cover) is 311/2 "; maximum camera platform height is 64 "; it has three sections, weighs 1 lb, and has a load rating of 41/4 lbs. It also comes with an accessory "all-weather shoe, " which provides a footing in snow and soft sand.

The last of the trio is the new Carbon One 449 monopod from Manfrotto. I originally requested it for review mainly because carbon-fiber construction is the current "in " thing in 'pods. As it turned out, the Carbon One 449 isn't just trendy--it's downright impressive. Weighing only 1.1 lbs (a mere tenth of a pound more than the MonoTrek), its four sections collapse to 22 ", and extend to a maximum height of nearly 71 " (the tallest of the three). The flip-lock leg clamps were fast to use and extremely positive in action. Leg sections have a faceted shape, preventing rotation and keeping all the clamps aligned. A 25/16 " diameter, cast magnesium camera platform easily accommodates large, heavy cameras; I regard the 11 lb load rating as conservative. My 4x5 Linhof Technika was supported effortlessly, and since the Technika has a rotating back, I didn't need an accessory head to shoot verticals. With other cameras, the Manfrotto 3229 (new version is marked 3232 on the head) Swivel Tilt Head with Quick-Release was a great match to the Carbon One 449, facilitating more extreme up/down tilts, as well as verticals. Bogen has a multitude of other heads that would work well with this monopod, too.

Bogen offers accessories that allow you to customize most monopods to your preferred degree of versatility. Gitzo and Manfrotto both have separately available shoulder braces, and adding an all-weather foot deals with snow and sand. A belt pouch anchors a collapsed monopod for mobile chest/shoulderpod use. There's even a four-section center column that converts to a monopod available for Manfrotto 3011 and 3021 series tripods.

The Uni-loc line, distributed in North America by Pro4 Imaging, has a unique accessory called the DuoPod that's adaptable to most any monopod. This foot brace clamps to a monopod's lower section, and folds down to provide a flat plate to step on. It adds lateral stability and allows easy film and lens changing with both hands free. The Minor model shown weighs 1.4 lbs and fits a wide variety of leg section diameters; especially narrow legs can be accommodated by shimming.

As for monopod technique, there are a few points to keep in mind that differ from tripod technique. The three planes of camera motion that you need to overcome are: vertical; horizontal; toward and away from you. The monopod itself takes care of vertical motion; a shoulder brace eliminates most of the to-and-fro weaving; the DuoPod attachment greatly reduces horizontal drift.

Make sure the model you choose is tall enough to bring your camera's eyepiece to comfortable standing height; having to stoop to look through the finder decreases stability. Don't tilt the monopod. So doing pits gravity against you, detracting from the degree of vertical support. If you need to tilt significantly downward or upward, add a tilt head; unless you're shooting square format, you'll need a head for verticals anyway. Only limited, horizontal pans are practical, in such predictable subject planes as racetracks. When carrying a monopod in crowded locations, carry it vertically alongside or in front of you to avoid a "Three Stooges " scenario. By the same token, when shooting, keep the base close to your feet to keep people from tripping over it.

I hope I've made my case for monopods. If you've never tried one, you should; they're almost hassle-free and can do wonders for the sharpness of your photos, especially with longer lenses. If you already have a one-legger, a few accessories will increase its utility. If you're brand-loyal to a line other than Gitzo and Manfrotto, then check their offerings, as there are several other good ones out there. Once you've become accustomed to using a monopod, you're likely to be hooked for good.

Points To Consider When Shopping For A Monopod

· Maximum height: make sure it's tall enough to bring your camera's viewfinder to eye level.
· Size when collapsed: important if you plan on packing your monopod in a carryon bag or backpack.
· Vertical camera orientation possible? If not, add a simple head that will allow tilting the camera 90˚ to the left or right.
· Leg section clamping method: if setup speed is important, flip-locks are much faster than collars.
· Maximum load rating: with heavy cameras, make sure the monopod's load rating is sufficient. This applies equally to any head used.
· Interchangeable tips? Being able to switch between rubber tips and spikes is a real plus, letting you cope with any floor/ground surface.
· Accessories available? Add-ons such as a head, carrying strap, case, shoulder brace, foot brace, snow/sand foot, belt pouch (anchor), etc., contribute greatly to a monopod's utility.
· If you want it to double as a walking stick, be sure to buy a model designed for such use to avoid clamp/joint damage.

Manufacturers/Distributors

Bogen Photo Corp. (Gitzo and Manfrotto)
565 E. Crescent Ave.
Ramsey, NJ 07446
(201) 818-9500
fax: (201) 818-9177
www.bogenphoto.com

Pro4 Imaging (Uni-loc)
21 Spragg Cir.
Markham, Ontario
Canada L3P 5W1
(905) 294-3041
fax: (905) 294-4611

FEATURED VIDEO