Deep Cover: My 10 Favorite Stealth Photo Tools for Capturing "The Decisive Moment"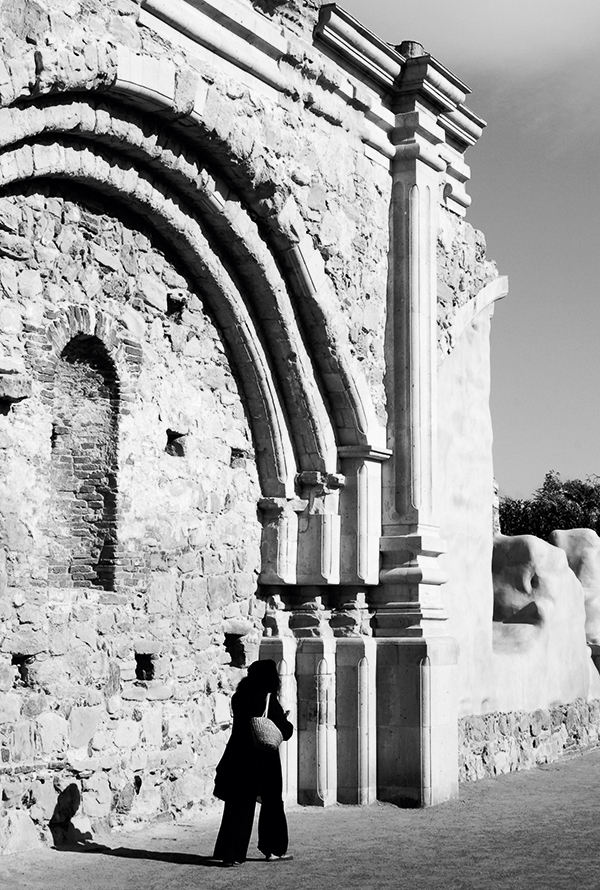 "To me, photography is the simultaneous recognition, in a fraction of a second, of the significance of an event."—Henri Cartier-Bresson
Capturing "the decisive moment" is more than just clicking the shutter at the right time and it's more than luck, too. It's an artful combination of experience, talent, and preparation. Being prepared for the unexpected is just as important to photojournalists and documentary photographers as it is to a Scout and that includes selecting and using gear that can be deployed at that right time, even if preparing for a single shot or two takes several hours. Some of these tools may be obvious while others not so much.
Documentary photography projects make for some long days and the best photographs are often found away from restaurants or convenience stores. A bag of granola, dried fruit, and nuts, and a full Nalgene water bottle can make or break a shoot or a shooter. And as Ford Prefect discovered in The Hitchhiker's Guide to the Galaxy, you shouldn't go anywhere in the galaxy without a towel. The Original PackTowl (cascadedesigns.com) has a closure you can snap around a camera strap to keep precipitation off when shooting in inclement weather. Other necessities include a long-sleeved shirt, cargo pants with extra pockets for batteries and memory cards along with pen and paper to gather caption information.
Dressing for Success
If you're going to wear a long-sleeved shirt, why not use one designed for photographers. SCOTTeVEST offers the SJ Qzip ($60), which is made from DuPont's Sorona renewably sourced fabric that's extremely lightweight, making it a perfect layer to wear over a T-shirt or by itself. It comes in five colors and there are three pockets to hold a smartphone, memory card wallet, or other photographic essentials while on assignment. The Susie Qzip ($60) for women is also made from the same super-soft DuPont Sorona fabric and comes in seven colors. Two zippered side-seam pockets found on the garment's lower right provide space for photo accessories.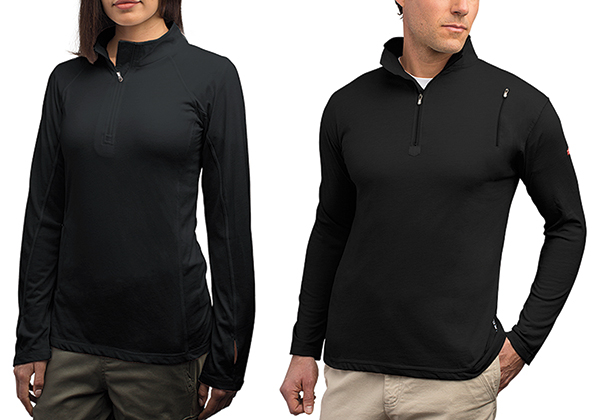 Who's It For: Photographers shooting outdoors when a long-sleeved garment can keep them warm in cooler weather or prevent sunburn when it's sunny.
Why I Like It: Like all SCOTTeVEST products these are beautifully tailored and the black or gray versions might help you blend in during a shoot.
Think Tank Photo's Modular Component Set V2.0 ($164) is an alternative to shoulder bags, backpacks, and photo vests, none of which work as well as a belt system for documentary assignments. Everything you need is at hand, including one or two cameras plus extra lenses, a speedlight, batteries, and memory cards. While on location you don't have to go back and forth to a "gear storage spot" to swap lenses, change batteries, or get a drink of water. Fully loaded for a typical outdoor assignment, the system holds two bodies with a lens on each camera. Pouches hold a 100-300mm zoom, camera batteries, a memory card wallet, a speedlight with a remote trigger, a small water bottle, a towel, and maybe a small notebook, a flashlight, and a tightly rolled windbreaker. Depending on the job, you can add or delete pouches; the fewer pouches, the lighter the load becomes. Backpacks, shoulder bags, and vests don't change in size as you increase or decrease the amount of gear inside and it's not as easy to move around on a shoot while schlepping them.
Who's It For: Event and documentary photographers who don't have the luxury of using a Leica and a 50mm lens, à la Cartier-Bresson.
Why I Like It: With a belt system you're mobile and can look more professional when shooting events.
Fast Versatile Lenses
Fast primes, like the AF-S Nikkor 105mm f/1.4E ED lens I tested for Shutterbug (see my field review on page 42), are useful for documentary photography, but not wanting to repeat myself I'm submitting for your approval the AF-S Nikkor 70-200mm f/2.8E FL ED VR lens ($2,799). It offers up to four stops of image stabilization and uses an electromagnetic diaphragm for consistent autoexposure during burst shooting. A Silent Wave Motor produces fast, quiet AF with manual focus override and there are assignable buttons on the barrel for preset autofocus or other functions. To make the lens light (3.15 pounds), the optical design uses six ED elements, one fluorite element, a high refractive element, and a Nano Crystal Coating to reduce chromatic aberration and minimize distortion, ghosting, and flare. The magnesium alloy lens barrel features weather sealing against dust and water, while a fluorine coating on front and rear glass facilitates easy cleaning.
Who's It For: Nikon-shooting photojournalists and documentary photographers who need a flexible, all-around zoom lens.
Why I Like It: For documentary, event, and even portrait shoots, the 70-200mm focal length range is becoming the new "normal" lens.
The Canon EF 70-200mm f/2.8L IS II USM lens ($1,949) is another workhorse telephoto lens for documentary shooters. To produce sharp images with reduced aberrations, construction consists of one fluorite and five ultra-low dispersion optical elements. The IS II Optical Image Stabilizer provides up to four stops of correction at all focal lengths and features two different modes for still objects or when panning fast-moving objects. The lens has a minimum focusing distance of 3.9 feet and, like all L-series lenses, is dust and moisture resistant. For shorter focusing times, a focus range limiter lets you set the range of focus distance from 3.9 feet to infinity or 8.2 feet to infinity. The round aperture should produce pleasing bokeh. The lens has a removable, rotatable tripod collar and comes with a lens hood and case.
Who's It For: Canon-shooting photojournalists and documentary photographers capturing fast-moving assignments.
Why I Like It: I don't own this beautifully constructed and finished lens but rented one and it worked great for shooting runway fashion, too, especially in venues where no flash is allowed.
Thinking Outside the Mirror
Shooting with smaller, lighter gear means you can maneuver in tight spots and work longer without fatigue from carrying a heavy load. And, since mirrorless cameras look "nonprofessional" to some people, it's easy to use one during delicate situations, street photography, and events. Cameras such as Sony's Alpha A6500 ($1,398) pack a 24.2MP APS-C sensor in a package weighing less than a pound. Fast-processing speed enables continuous shooting at 11 frames per second (fps) for up to 301 JPEGs in a burst, as well as 14-bit Raw file output. There's five-axis in-body image stabilization along with a wide-coverage, 425-point phase-detection AF system with a 169-area contrast-detection system for precise focusing. The camera has a sensitivity range from ISO 100 to 25,600 or 51,200 in extended mode, along with accelerated readout speeds for internal 4K30 and Full HD 1080p120 video recording. The processor includes an S&Q (Slow & Quick) setting that permits capturing HD video at frame rates from 1 to 120 fps.
Who's It For: Documentary photographers who also need to capture high-quality video clips.
Why I Like It: I've said it before and I'll say it again, if this camera said Nikon or Canon, it would be the best-selling camera in the world.
The Panasonic Lumix DMC-G85 ($897) is a 16MP Micro Four Thirds format camera that has a sensitivity range from ISO 200 to 25,600 along with UHD 4K video recording capability. It offers continuous shooting up to 10 fps with single-shot autofocus or 6 fps with continuous autofocus, as well as up to 40 fps when using its electronic shutter function and 30 fps at 8MP with 4K Photo modes. 4K shooting enables you to shoot a video burst and pull individual 8MP stills from frames—all in camera. The body has five-axis sensor-shift image stabilization pairing with select lens's image stabilization systems to produce a Dual I.S. function. The body is weather sealed for working in inclement weather. Finally, Panasonic is offering a battery grip for other than its top-of-the-line models. The DMW-BGG1 Battery Grip ($347) for the G85 holds up to two batteries for twice the power while providing a second shutter release button, an AF/AE lock button, an exposure compensation button, and dual control dials.
Who's It For: The 4K Photo modes are a game changer for documentary photographers working in fast-moving situations. Cartier-Bresson would have loved it.
Why I Like It: One of the nicest G-series cameras from Panasonic in a long time. The addition of the battery grip makes it a must-have accessory.
Getting a Grip on an Assignment
Prior planning prevents less than optimum performance and that often requires having a remote camera that can be tripped using the kind of wireless controls available from camera companies—sometimes an app—or third parties. There are lots of choices but for mounting a camera you won't find anything better than Manfrotto's Magic Arm ($108, with camera bracket). When attached to Manfrotto's Super Clamp ($29) its rubber-padded jaws open up to 2.16 inches, then lock with a short, ergonomic knob. For a better grip on flat surfaces, a furniture wedge is included. You can attach the camera to the Magic Arm, which pivots 90 degrees and rotates 360 degrees, gaining you extra inches of height or lateral reach for a particular shot. If you shoot video, you can mount a second camera on a tripod leg or light stand for cutaway footage. The Magic Arm can also hold a speedlight or small LED light and the camera or light attach directly to it without requiring an additional tripod head or adapter.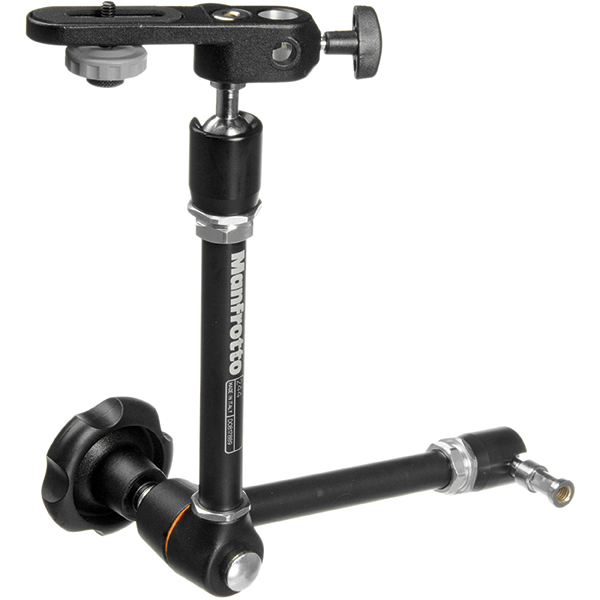 Who's It For: Event photographers who need an extra hand when working alone.
Why I Like It: In the world of affordable grip gear, nobody does a better job than Manfrotto.
Taking a Good Look
More than one photographer I talked with told me how much they liked and used Hoodman's HoodLoupe Optical Viewfinder ($74). The viewfinder isolates the camera's LCD from ambient light so you or anyone you want to show an image can see it without reflections and glare from ambient light. It covers LCD monitors up to 3.2 inches diagonally and has a 1:1 magnification ratio. The viewfinder has the same 3:2 aspect ratio as your camera's LCD and there's a +/-3 diopter adjustment for a clear view. Its lanyard has a quick-release fastener for easy removal and there's a carrying case for storage, with a built-in belt clip for carrying while on assignment. Tip: Be sure to get the optional Hoodman Link Retractable HoodLoupe Lanyard ($19) with 36-inch Kevlar cord.
Who's It For: Any photographer who needs to get images to clients or subjects—or maybe just themselves.
Why I Like It: While not inexpensive, the HoodLoupe is built to the legendary standards that Hoodman is justifiably famous for.
Honorable mention goes to the Fuji Instax camera. When working on location there's no better icebreaker than handing people a photo of themselves. While seemingly designed for the Selfie Generation, Fujifilm's diminutive (3.9x4.5x2.1 inches) Instax Mini 70 ($119) has a retractable two-element Fujinon 60mm f/12.7 lens, permitting close focusing to 11.8 inches in Macro mode. The optical viewfinder has a 0.37x magnification along with a target spot to aid in composition and it comes in colors other than black. Each film pack ($7) delivers 10 exposures with a 2.4x1.8-inch image area with a white border. Want to follow Cartier-Bresson instantly? Leica's Sofort instant film camera ($299) has a 0.37x optical viewfinder with macro parallax compensation, is equipped with an Automatik-Hektor 60mm f/12.7 lens (34mm equivalent), and uses the same affordable film pack.
Who's It For: Photographers who find themselves photographing people where there might be a language barrier, because photography is truly the universal language.
Why I Like It: Either camera is a good idea to bring into unfamiliar territory—to make a friend—but the Leica is a sentimental favorite.
Acknowledgments: For insights into the world of photojournalism and documentary photography, I'd like to thank Barry Staver (barrystaver.com), a master of the genre who doesn't consider it work; he says, "It's a passion. It's my craft." Also thanks to photojournalist Matthew Staver (matthewstaver.com) who works "relentlessly to create visually interesting photographs for each client." Need details on my personal equipment? Check the Gear sections of joefarace.com and mirrorlessphototips.com.

FEATURED VIDEO