For Fun And Profit
Making Money With Event Imaging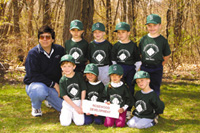 Team photography is a good way to get started in event imaging. This shot was grabbed with a Canon G1, proving that modest equipment can do a good job. With a quick printer you could make team photos for everyone on the spot, or take print orders on the spot and have them output later.
© 2001, Jay Abend, All Rights Reserved
Shooting professionally or even semiprofessionally is the goal of many camera owners. With digital photography, more and more good photographers are finding that their existing photography skills and the instant results delivered by their digital equipment make a powerful business opportunity.
I'm sure by now you have encountered some form of digital photography aimed at the public. Whether it's the Santa kiosk at the local mall, the fun dress-up photo studio at that theme park you visited with the family, or your passport pictures, you must have noticed the photographer's gear. While the equipment makes it possible to do this kind of thing, the rules are still the same. Deliver the image to the client and produce a good looking print. Charge by the shot, by the hour, by the event, whatever, there's money to be made.
In the old days, covering events meant shooting lots and lots of film, keeping track of who, what, and where you were photographing, and taking print orders. Today the whole industry has been stood on its head thanks to the new "event imaging" technology available.
Pros who do this for a living have settled on some very expensive but conventional equipment. A good digital SLR, studio flash systems, powerful PC with fast and intuitive photo packaging software, and a very fast and very clean dye sublimation printer. Let's take a look at a decent pro setup.
Camera
While higher resolution cameras like the Nikon D1X and Kodak DCS 760 are in use, most event imaging guys are hanging with their existing gear. Still extremely popular are the older Kodak DCS 520 and 620, Fuji S1, Canon D30, and Nikon D1. Since the D30 files need some unsharp masking and the D1 files tend to need some color correction, the Fuji has become popular for its easy-to-print file quality. Malls and kiosks often use proprietary turnkey systems that feature high-end live video and dedicated digital cameras made by Sony and Panasonic.
Lighting
While some are content to bang away with on-camera flash for simple stuff, a decent event shooter has a battery powered flash system like a Lumedyne and a studio flash setup. I've seen guys with simple and reliable gear like White Lightning monolights, and those with bulletproof and durable Speedotron studio packs. According to where you're shooting you'll need the right reflectors, umbrellas, and light boxes. The hallmark of this business is reliability and consistency, so once you've got it set up you can shoot shot after perfect shot.
Computer
While Macs rule in the photography and advertising business, almost all event shooters use PCs. Lately, many have switched to Windows 2000 to take advantage of its much more reliable performance and user-friendly interface. A few shooters I spoke with used laptops, though most preferred a flight case with a computer, flat screen LCD monitor, and printer all in one. Event guys need a lot of RAM, so they can be sending one set of files to the printer while capturing another set. When printing on the fly you'll be shooting in tethered mode, so the computer receives the images as they are captured. This speeds things up drastically over capturing and then downloading.
Software
While there are a handful of hardy souls who make a go of it with Photoshop and a handful of fun templates, most guys who shoot events and print on site use a customized software package. Most of the event systems allow for tethered shooting, instantaneous captioning, file renaming, and the application of a customized template. For specialized shooting like of sports teams, one of these software packages is a must.
Printer
While some guys can live with low-end solutions like Epson Photo printers and the new Olympus P-400 dye sublimation printer, those use the PC to rasterize the images. In other words, once you press "Print" it takes a while. High-end dye sub and continuous tone printers like the Fuji Pictrography, Sony UDP-70AP, and Kodak 8670 PS offer lots of internal RAM, a built-in raster Image Processor and fast sub-two-minute print times. Unlike the occasional banding and uneven dark areas of ink jet prints, dye sub prints look really smooth and decidedly "photo print"-like.
Turnkey Packages
A decent turnkey event-imaging package runs between $8000 and $20,000. With that kind of investment you've got to be a full-time shooter to make it work. Can you shoot the occasional event with the gear you already have? I've heard of guys covering corporate functions with an Olympus E-10, a laptop computer, and an Epson Photo Stylus printer. They shoot a bit, then send a dozen images to the printer. While the prints are printing they're back out shooting. It's not the greatest solution but it's inexpensive and it works.
The whole idea of producing prints on site, essentially creating all of your revenue at the event, is totally dependent upon digital technology. For a lot of photographers their business revolves around the digital capture of images and either offering prints to their clients later or transmitting them electronically to a client. The shoot and print scenario isn't much different than the old color negative days, except now a lot of event shooters post thumbnailed files up on a web site for client review and print ordering. Event photographers who shoot celebrities tend to show up with their cameras, laptops, cell-phone enabled web hookups, and usually an FTP file transmittal software package. Minutes after the star shows up the images are up on the web for their clients, picture agencies in New York, London, L.A., etc., to view.
Okay, this all sounds exciting, complicated, and expensive. Let's say you just wanted to shoot some shots at a local event, set up in a coatroom and sell some 8x10s for $15 a piece. Given what it costs to print an 8x10 you can make a nice little piece of change if you can get some print orders. What is the minimum amount of equipment required to pull this off? I've done similar stuff as a favor for some clients with my Canon D30 digital SLR, a Windows 2000 notebook computer, and an Epson 1270 printer. Printing at 720dpi on glossy paper I got pretty decent prints in about five minutes a piece. Ganging up six or seven at a time meant that I could go back into the function and shoot some more while prints were cooking. Over the course of 31/2 hours I produced about 35 prints of salespeople receiving awards and delivered them on the spot. If I had an expensive and quick dye sub printer it would have been a lot faster and easier, but this worked OK.
Point-And-Shoot Solution?
If you have a point-and-shoot digicam like a Nikon CoolPix or Canon G1 you definitely have enough camera to do this kind of work. Obviously big corporate functions may be a problem since they are indoors and you'll need some serious flash power, but team pictures, mall events, and other family related activities should be possible. Whatever you do, make sure you've got your system nailed down--from camera to computer to software to printer. Practice processing a few images in the software of your choice and accurately time your printer as it creates prints of different sizes. This will give you an idea of your gross revenue per hour and how fast you can work.
You'll need to ensure that the quality of the prints you get is at least as good as an average 35mm print. Most clients don't expect stunning prints on demand like this. They do expect average drugstore quality prints of professional quality original pictures. Fuzzy, dark, weird color digital images will turn people off and be tough to sell. The print I make with a D30 and an Epson printer are just about as good as the color neg PR stuff I used to shoot with a Hasselblad, and quite a bit better than my color neg 35mm stuff. My Canon G1 produces images just about as good as 35mm, and that camera is well under $1000.
Remember to archive all of your images as you shoot and mail a friendly reminder to your client that you have these images available for reprints. This is a business that every good photographer can get into with a modest amount of equipment, and maybe even turn into a decent source of income.