Fujifilm Intros Rugged X-T2 Mirrorless Camera with Faster Autofocus and 4K Video Shooting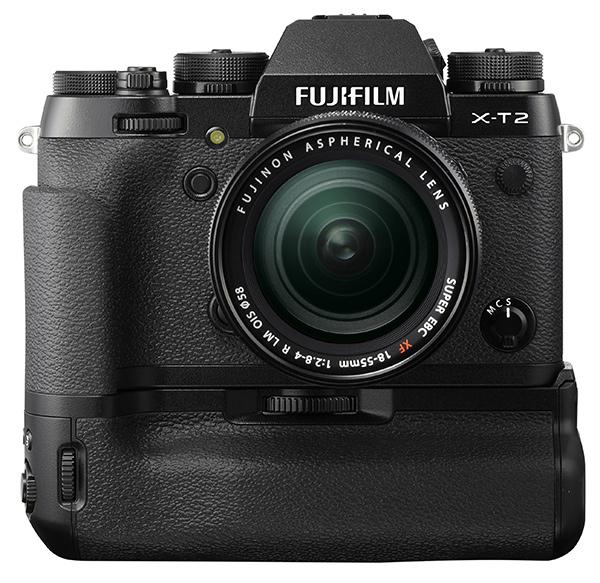 Fujifilm just announed a brand new mirrorless camera, the X-T2, which features reportedly faster autofocus performance and 4K video shooting in a rugged, splash-resistant compact camera body. The Fujifilm X-T2 is fitted with an APS-C-sized, 24.3-megapixel X-Trans CMOS III sensor with no low pass filter to help further amp up the camera's resolving power.
The Fuji X-T2 also has a large OLED electronic viewfinder (EVF) and allows you to shoot 4K video while using the various Film Simulation modes, including ACROS, for classic-looking but crisp footage.
The Fuji X-T2 slots alongside the X-Pro2, as twin flagship cameras in Fujifilm's X-Series lineup, with the major difference between the two models being style: the X-Pro2 is more of a rangefinder-style camera, while the X-T2 looks more like a traditional SLR, a Fujifilm USA spokesperson told Shutterbug.
Fujifilm also announced a new, optional Vertical Power Booster Grip (VPB-XT2), shown on the X-T2 in the image at the top of this story, and the EF-X500 Flash, as accessories for the new camera.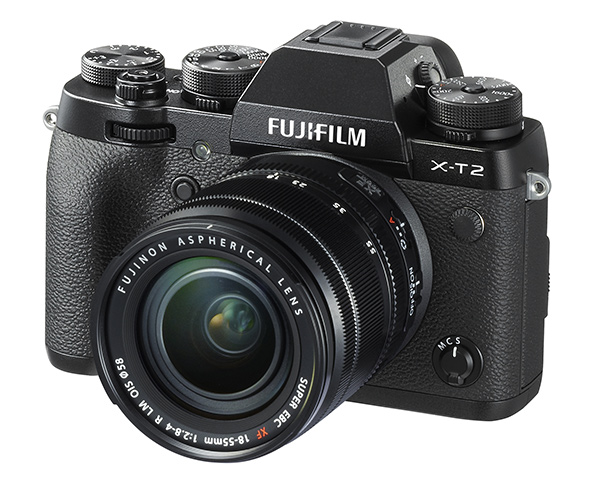 According to Fujifilm USA, which announced the camera this morning, the X-T2 has "a dramatically improved auto focus system (AF) that increases the overall single AF points to 325, and the number of Zone focusing points to 91 (expanded from 49 in previous models)." According to company, "approximately 40% of the imaging area (center area containing 49 focusing points) is covered with phase detection auto focus pixels to form a fast and precise phase detection auto focus area that can be used in a variety of scenes."
The Fuji X-T2 is powered by the X-Processor Pro and features improved AF algorithms, allowing it to refocus more quickly, which allows for predictive AF with better accuracy.
"The X-T2 also has an enhanced ability to autofocus on small points of light, low-contrast objects and subjects with fine and delicate textures such as bird feathers and animal fur," Fujfilm USA said in a press annoucement this morning.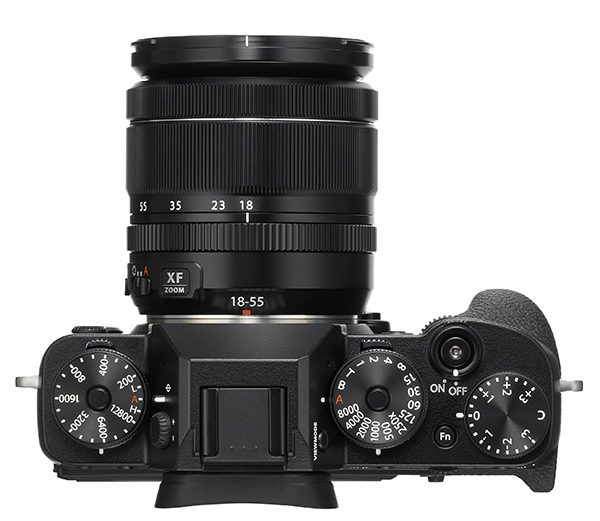 "The X-T2's performance of contrast detection AF, enabled for approximately 65% of the imaging area, has also been improved. The data read speed has been doubled compared to previous models to achieve AF performance of higher speed and precision. Photographers will enjoy accurate focusing is all shooting situations, even in low light with a -3EV. Another area of improvement is the AF-C algorithm that has been significantly enhanced for even higher accuracy when focus-tracking moving subjects in the AF-C mode. According to the type of movement, users can choose individual settings for Subject Retention Characteristic, Acceleration / Deceleration Tracking Characteristic and Focus Zone Characteristic, or select one of five presets or customize specific settings for these three elements."
We're looking forward to putting these claims about the Fujifilm X-T2 to the test in an upcoming review. Here's a breakdown of the X-T2's key features and specifications:
• 24.3MP X-Trans CMOS III Sensor
• Dust and moisture-resistant body with approximately 63 points of weather sealing; Freeze resistance to 14°F
• X-Processor Pro
- Fast AF of 0.06 seconds
- Startup time of 0.3 seconds
- Shutter time lag of 0.045 seconds
- Shooting interval of 0.17 seconds
- Phase detection AF and motion predictive AF for continuous shooting up to 8 frames per second (fps)
- Up to 11fps using Booster Grip
• High-precision 0.48-inch, 2.36 million dot OLED viewfinder
- Viewfinder magnification for digital cameras of 0.77x
- Wide viewing angle (diagonal 38° and horizontal 31°)
- Ultra-fast Real Time Viewfinder with a lag-time of 0.005sec (less than 1/10 of existing models)
- Automatic Brightness Adjustment function
- EVF refreshes at a rate of 60fps, or as high as 100fps in the Boost mode
- Continuous shooting of 5fps in Live View
• Full 4K 3840x2160 30P/25P/24P shooting (Using a card with the UHS Speed Class 3 or higher)
- Continuous recording: up to approximately 10 minutes
- Full HD 1920x1080 60P/50P/30P/25P/24P, Continuous recording: up to approximately 15 minutes
- HD 1280x720 60P/50P/30P/25P/24P, Continuous recording: up to approximately 29 minutes
• Four different display modes: Full, Normal, Dual and Vertical
- Full mode: Displays shooting information at the top and bottom of the screen to avoid obstruction of the view
- Dual mode: Adds a small second screen for checking focus point with Focus Peak Highlight or Digital Split Image
- Normal mode: Lets you concentrate on framing the shot in Auto Focus mode while keeping you aware of how the shooting conditions are changing, making it the perfect setting for sports and action photography
- Portrait mode: When in Full or Normal modes, it rotates the shooting information interface when the camera is turned vertically
• Tempered glass 1.04 million dot high-precision 3" tilting LCD monitor
• Digital Split Image and Focus Highlight Peaking
• Wi-Fi and remote camera operation
• ISO200 - 6400, extended ISO 100, 12800, 25600, Auto(maximum ISO setting from ISO 400 – ISO6400 available) with High ISO 51200 setting
• Lens Modulation Optimizer technology maximizes each lens' performance
• In-camera Raw converter
• Die-cast magnesium body provides a sturdy and durable, while compact and lightweight design
• Two command dials and six Function buttons for instant control and customization
• Interval timer shooting for Time Lapse photography is available with intervals of 1 second to 24 hours and up to "∞" frames
• Advanced filters and Film Simulations, including ACROS
Pricing and Availability
The new Fujifilm X-T2 (body only) goes on sale in September 2016 in the U.S. for USD $1,599.95. The X-T2 and XF18-55mm (27-84mm) kit will be available in September 2016 in the U.S. for USD $1,899.95.
The new Fujifilm EF-X500 Flash will be available in September 2016 in the U.S. for USD $449.99. Pricing has not yet been announced on the optional Vertical Power Booster Grip (VPB-XT2).

LATEST VIDEO