Fujifilm FinePix 4900 Zoom
More Serious, More Fun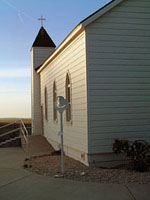 This historical country chapel perched on a hilltop caught the last rays of the sun captured by the FinePix 4900 at its widest zoom setting. When transferred to Photoshop the darkly shaded areas of the image had a strong blue caste, but once neutralized, the warm glow of the sun on the side of the chapel contrasted dramatically with the blue of the sky.
Photos © 2000, David B. Brooks, All Rights Reserved
It wasn't that long ago I reported on a fun camera from Fujifilm, the shirt-pocket sized FinePix 4700. The follow up for the photo enthusiast, the new FinePix 4900, brings the same serious digital picture qualities with added features and capabilities. Although it looks and feels serious and is still lightweight and compact, this 4900 will require a jacket pocket. For under $1000, Fujifilm has included industry leading resolution and image size with a feature set that will make almost every serious interest in photography a digital possibility. This feature set includes a new barrel body design with an ergonomic handgrip that supports a wide ranging 6x Super EBC Fujinon aspheric zoom lens. The focal length range compares to 35-210mm on a 35mm camera. To assure accurate picture framing and precise camera control, Fujifilm put in a miniature LCD through the lens eye-level viewfinder in addition to a full 2" playback monitor.
This SLR-like handling is backed up by a comprehensive set of camera controls, including five exposure modes. In addition to setting the main control knob to Auto, aperture or shutter priority, program and of course manual, a ring just under the knob allows selection of aperture and shutter speed, exposure compensation, and more. All controls read out in sharp digital numbers and letters in the miniature eye-level finder. Alternately, you can click on a button next to the eyepiece and the image the lens is focused on, as well as all of the operation information, is transferred to the 2" LCD playback screen.
User-Selectable Controls
Besides offering powerful point-and-shoot performance, the FinePix 4900 can be used very seriously with 13 aperture steps selectable between f/2.8 and f/11 (wide angle), along with manual shutter speed selections from 3 to 1/2000 sec. Effective film speeds can be selected from a wide range of ISO equivalents of 125, 200, 400, and 800. Almost any photographic challenge can be met outdoors or in with a built-in pop-up flash that has a range up to 13'. Almost any kind of adjustable output flash, from handheld, hot shoe, and even multi-head studio electronic flash synched through the camera's hot shoe (with the camera set on manual mode) can also be used.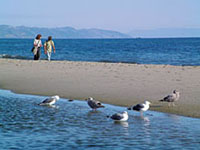 A normal sunlit view in full sun is captured by the FinePix 4900 with rich color and sharp image detail from a few feet to infinity.
The Fujifilm FinePix 4900 employs a 2.4 million octagonal sensor CCD that captures image data at 36-bit depth, resulting in a 4.3 megapixel file. These images are stored in one of three selectable JPEG compression ratio files on a SmartMedia card. A 16MB SmartMedia card is supplied and may be supplemented with cards up to 64MB capacity. This allows for either 32 Fine quality files or as many as 180 Basic quality images.
Using The Fujifilm FinePix 4900 Zoom
My approach to the FinePix 4900 Zoom was to use it in as many ways as a photo enthusiast likely would. But before I set out on this forage for images to illustrate the camera's potential, I set up in my living room with a handheld and a multi-head electronic flash. I wanted to check whether or not the camera would work with a photographer's typical lighting equipment. I'm sure you don't want to see my messy bachelor's living room, so let me just say that with both systems the camera synched and made an accurate flash illuminated exposure. With handheld units the synch is via the hot shoe. So, you must have a flash that has its own independent or manual method of output adjustment, then set the camera aperture to the matching flash setting at an appropriate shutter speed. With the studio electronic flash you'll need either a hot shoe flash trigger (infrared or radio) or a hot shoe to PC cord adapter to trigger the studio flash generator.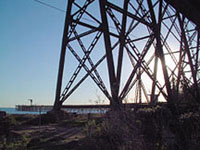 In this obviously strong contrast backlit scene of a train trestle and ocean pier, the FinePix exposure was automatically centered covering the full brightness range and providing detail even in the darkest tones in the scene.
Once I was assured the camera would function with independent flash in addition to the built-in unit, I set out on a picture taking adventure. Although I didn't cover a whole lot of territory, I did find a wide range of subjects and photographed them at different times of day and in distinctly varied lighting conditions. After each day's outing I returned with one or more SmartMedia cards full of high quality JPEG image files. I downloaded immediately and cleared the cards after checking the image values in Photoshop before storing the image files in a non-compressed TIFF file format.
Impressions And Evaluations
Like many digital cameras, the FinePix 4900 image files, when transferred directly to an image editor, have the resolution set at the VGA screen setting of 72dpi. I use Image Size in Photoshop to reset the resolution to 240dpi (that's ideal for reproduction with an ink jet printer). With "interpolation" turned off, the resulting image dimensions become 7.5x10". Con-sidering I was pushing the limits with lighting and subject choices, most of the files demanded some color correction editing, not because the camera did anything wrong, but because the subject needed some help. In some cases, if the sun was low and if there was a lot of overhead sky, I'd eliminate the blue in the shadows. In other cases I'd use the Curves adjustment to lighten and open up more detail in the shadows. In just about every instance the camera's autoexposure control functioned accurately, as did the autofocus, providing sharply focused, technically ideal image file characteristics.
The FinePix 4900 6x lens at full telephoto is sufficiently long to compress distance, yet still maintain focus and fine image detail, as well as reproducing the most brilliant though subtle natural color from distant scenes.
When it came to the actual picture taking experience, I very much appreciated the eye-level miniature LCD TTL display of the image for framing my pictures. Compared to the optical viewfinder most enthusiast digital cameras have, it provides far superior and more accurate picture framing. And, it really is quite essential with the focal length range the 6x zoom lens the 4900 affords. However, this unusual viewfinder does take a bit of getting used to because the image quality is not very great, and it jumps along in steps if you pan the camera. Because I wear glasses, I believe I was disadvantaged, as some light gets in behind my glasses and degrades the viewfinder image. If I were to purchase the camera I'd first find a way to install a diopter correction eyepiece lens to allow using the camera without my glasses.
With those few caveats expressed, the Fujifilm FinePix 4900 Zoom does provide very fine quality. Excellent 7.5x10" prints can be made from its image files. In every respect I found it to be a winner. For under $1000, including Adobe PhotoDeluxe 4.0, it's an exceptional value.
For more information, call Fuji Photo Film USA Inc. at (800) 800-3854, or visit their web site at: www.fujifilm.com.
Technical Specifications
Sensor Type: 1/1.7", 36-bit Super CCD, 2.4 million octagonal sensors
Resolution: 4.3 million pixels
Lens: 6x Super EBC Fujinon aspheric zoom lens, f/2.8-f/11 (wide angle), f/4.5-f/10.8 (telephoto), (35mm focal length equivalent: 35-210mm), with Macro mode
Focus: Automatic and manual from 11.8" to infinity
Sensitivity (ISO): 125, 200, 400, 800
Shutter Speed: 1/4 to 1/2000 sec (automatic modes), 3 to 1/2000 sec (manual mode)
Storage Media: SmartMedia cards (3.3v - 2 to 64MB capacity)
Number Of Images Stored On 16MB SmartMedia Card: Fine=8, Normal=16, Basic=45
File Format: JPEG with 1:5, 1:11, and 1:27 ratios
White Balance: Automatic plus six manual modes
Flash (Built-In): 13' range
Exposure Modes: Program AE, EV control, Aperture priority, Shutter priority, Manual
Exposure Meter: Auto 64 point TTL (multi-center-weighted or spot)
LCD Monitor: 2" low-temperature polysilicon TFT
Interfaces: USB, PC card, Floppy disk adapter, USB card reader
Video/Audio Output: Yes
Power Source: NP-80 lithium ion rechargeable battery, 5v AC power adapter
Dimensions: 4.3x3.1x3.7"
Weight: 14.1 oz without battery
Estimated Street Price: $999

FEATURED VIDEO