Fuji FinePix S7000; Recording Options And A New CCD Sensor
The first digital camera to incorporate Fujifilm's Super CCD HR (High Resolution) the FinePix S7000 is a full-featured 6.3-megapixel model that can generate 4048x3040 recorded pixels through in camera interpolation. More sophisticated than the earlier Super CCD III, the HR sensor is said to produce wide dynamic range, very high resolution and sensitivity, great color fidelity, and high signal-to-noise ratio. That combination was intended to produce excellent picture quality, a prerequisite for any image that will be doubled in size through in camera interpolation.
With its Super CCD HR sensor, the Fuji FinePix S7000 produces images with very high sharpness, moderate color saturation but great color fidelity, high resolution, moderate digital noise at ISO 200, and a fairly wide dynamic range for holding detail in both highlight and shadow areas. (6-Mp capture; Sharpness at "Normal" setting; ISO 200; +2/3 exposure compensation.)
Photos © 2003, Peter K. Burian, All Rights Reserved
But how successful is SuperCCD HR technology in real world photography? Is the Fuji interpolation process more effective than bicubic interpolation in Photoshop in terms of image quality? And what are the tradeoffs for the additional in camera processing that's required? These were the primary issues that I considered while testing the FinePix S7000 and you'll find a full evaluation of each in this review.
Primary Capabilities
Before moving on to the digital aspects, let's consider the photographic potential of the FinePix S7000. It's certainly well-equipped, with most of the modes, manual controls and valuable capabilities that we expect in a digital SLR camera. During extensive shooting at local events, family gatherings, and while traveling, I found that the FinePix S7000 performed in an exemplary manner with quick response, highly reliable autofocus, and high-speed framing.

Like all digicams with a long optical zoom, this one incorporates an Electronic Viewfinder (EVF). It's better than most, offering a clear, crisp (not "jumpy") view. Sure there's a half second delay while the finder presents a live image of your subject after you take a shot, but that's common with most EVF's. Except for slight underexposure with light-toned subjects, the camera produced technically pleasing images even in its default modes; thanks to the many manual controls and overrides, it also allowed me to achieve any desired effect.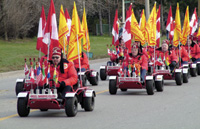 The 3.3 fps burst option, available in all JPEG capture modes including 12-Mp Fine, makes the Fuji S7000 one of the fastest in its league. As with most compact digicams, autofocus is locked at the first frame; consequently, not all shots of a moving subject are equally sharp. (6-Mp capture; ISO 200.)
JPEG Recording Modes
The FinePix S7000 offers a wealth of JPEG recording options but does not include a control for selecting image quality. The default compression level is very high (11:1), great for those who use a low capacity memory card. In the 6-Mp capture mode for example, the camera generates a small 1.5MB file that opens as a 17MB image when uncompressed in Photoshop. The images are certainly sharp, but there is a tradeoff for the high degree of compression, as discussed later.

Want to make JPEG images with 12.3 million recorded pixels? Then select one of the 12-Mp options: Normal for good image quality with high (14:1) compression for small files or Fine for superior image quality with much lower (8:1) compression. When opened in Photoshop, both images will be 35-36MB in size, intended for making 10x13" prints at 300 ppi output resolution.

In spite of the in camera interpolation and compression, the FinePix S7000 is certainly not a slowpoke. In fact, it's very quick even in the 12-Mp capture modes with a shot-to-shot time of 1.5 seconds and a blazing 3.3 fps for up to five frames. Processing and recording time for the large files was quite acceptable: 12 sec for five 12-Mp Normal images and 18 sec for five 12-Mp Fine images vs. a 7 sec wait for five frames in 6-Mp capture. Frankly, that's still fast compared to many other digicams in their native 5 or 6-Mp recording.

Because my preliminary shots indicated excessive in camera sharpening, I usually set the sharpness level to "Soft." This step produced another benefit: JPEG artifacts are less pronounced than at the "Normal" sharpness setting. The resulting images responded well to Unsharp Mask (USM) in Photoshop, allowing for a desired level of sharpness with a more natural effect.
A
B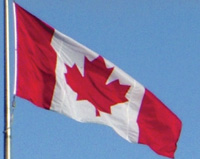 C
As these tiny sections of wide angle shots should confirm, there's quite a difference between image quality in various capture modes. Under high magnification, the 6-Mp image (A) is sharp but exhibits some digital noise while the 12-Mp Normal image (B) is softer with more obvious noise. The 12-Mp Fine image (C) is both sharp and virtually free of noise. (Sharpness setting at Soft; ISO 200; +1/3 exposure compensation.)
Evaluation: In its native (6-Mp) capture mode, the S7000 produces JPEGs with moderate color saturation with rich reds, very good fidelity to the subject, pleasing skin tones, accurate white balance, and fairly high resolution of fine detail. Contrast is moderate, allowing for a good (though not exceptional) level of detail in highlight and shadow areas. Because of the aggressive compression, my JPEGs exhibit some artifacts, primarily digital noise most noticeable in ISO 400 and 800 images. But there's little evidence of jagged edges even after application of USM in Photoshop. Before making prints from my best 6-Mp ISO 200 images, I also boosted color saturation and contrast; the 8.5x11" outputs are impressive in all respects: crisp, clear, sharp, and colorful.
12-Mp Mode
And what about image quality in the 12-Mp interpolated JPEGs? As they say, "there's no free lunch" and there is a price to pay for the doubling of image size. Under high magnification on my monitor, the 12-Mp Normal images appear soft and exhibit some digital noise as well as jagged edges, even at the lowest ISO of 200. Sure you can use higher in camera sharpening, but that exaggerates the artifacts. The good news is that these artifacts are not noticeable in my ink jet prints; the 8.5x11" outputs are comparable to those made from the best 6-Mp JPEGs. The 12-Mp Fine delivers more impressive results; because of the lower compression, image quality is suitable for quite a good 10x13" print.
Raw Capture Options
For the ultimate quality in large prints, select "CCD-RAW On" in the camera's Setup Menu, and the S7000 will generate raw data from the sensor. Like any raw files, these must be processed using special software bundled with the camera. Converting a 12-Mp file to TIFF takes 30 seconds per image, well worth the wait. My best images made for gallery quality 8.5x11" prints and good 10x13" outputs, quite an achievement for a 6-Mp camera with a small sensor.

There are some drawbacks to using raw capture mode. Because compression is minimal (1:2.7 ratio) the 12-Mp files are large, a full 12.8MB, so they quickly fill up a memory card. As with most compact digicams, Continuous shooting mode cannot be selected in raw capture. That should not create any frustration, because image processing/recording takes only 1.5 seconds. The third drawback concerns the Fuji raw Converter LE. When this software recognizes a FinePix S7000 raw file, it disables the controls for adjusting exposure, contrast, color, sharpness, etc. (A Fuji rep indicated that HS-V2 software, for raw file manupulation, will be available soon as an extra cost option.)

Because the raw files cannot be enhanced, it's worth using the correct in camera settings to make photos that are technically excellent. For the best results, select the appropriate white balance option and the "Soft" setting for sharpness while shooting. For light-toned or highly reflective subjects, set a +1 exposure compensation factor to prevent underexposure. After conversion to TIFF, the images will need only minor fine-tuning in Photoshop, and they'll exhibit less digital noise than JPEGs, even less evidence of any jaggies, and greater definition of fine detail.
Unlike most cameras' raw converters, the Fuji software does not allow for making corrections prior to converting S7000 raw files to TIFF. Consequently, it's worth taking time to make the right in camera settings to generate images that are technically excellent and require little adjustment in Photoshop. (12-Mp raw capture; "Sunny Day" white balance; ISO 200; +1/3 exposure compensation; fill flash at -0.6 compensation.)
Final Evaluation
The combination of Super CCD HR sensor plus sophisticated image processor holds the potential for superb quality. With less aggressive compression in most JPEG capture modes, the images would benefit fully from the new technology. Where the Super CCD HR really shines is in the JPEG 12-Mp Fine and raw capture modes, thanks to lower compression levels. Both options produce outstanding image quality, with interpolation that's more effective than bicubic interpolation in Photoshop, for smoother, sharper images with better resolution.

With its high-grade 6x zoom lens and many SLR-style features, the Fuji FinePix S7000 is certainly a desirable camera. Add an accessory flash unit, wide angle adapter and filter-mounting tube and the combination will be almost as versatile as a basic D-SLR system. This model would also be a fine choice if you own a large format printer. Follow the advice provided in this review and you should be pleased with prints approaching the 11x15" size. The combination of advanced capabilities, sophisticated technology and 4048x3040 pixel recording combine to make the Fuji FinePix S7000 zoom a worthy contender among the current crop of prosumer cameras.
Peter K. Burian, a freelance stock photographer, and long-time eDigitalPhoto and Shutterbug contributor, is the author of a new book, Mastering Digital Photography and Imaging (Sybex, Feb. 2004). Covering all aspects of the topic--the technology, equipment and techniques--this book provides 300 pages of practical advice for photo enthusiasts.
PROS
· Great versatility with high-grade 6x optical zoom and many photographic and digital capabilities; very effective autofocus system
· Quick response, high speed burst mode and fast image processing
· JPEGs in native resolution exhibit great color fidelity, pleasing white balance, and a moderately wide tonal range
· Images made in 12-Mp raw or Fine (JPEG) capture mode are suitable for making large prints
CONS
· Underexposes light-toned subjects; flash intensity is excessive in close-ups; use exposure or flash output compensation as required
· Autofocus system is very versatile but Continuous autofocus is not available in burst mode
· Some viewfinder delay in updating live view after taking a shot
· Excessive compression produces higher than average digital noise in most JPEG capture modes
Facts
· Sensor: 1 / 1.7" CCD; 6.3-Mp effective; can generate 12-Mp recorded output
· Capture Modes: Single shot; continuous framing in all JPEG modes at up to 3.3 fps
· Storage: xD-PictureCard and Microdrive and some CompactFlash cards
· Capture Formats: raw capture; 1, 2, 3 and 6-Mp JPEG capture; no quality level options; several 12-Mp modes; AVI motion JPEG
· White Balance: auto, daylight, overcast, tungsten, fluorescent, and custom preset
· Viewfinder: Electronic .44", for shooting and playback; diopter correction dial; shooting data provided in finder
· Lens: Aspherical 35-210mm equivalent f/2.8-3.1; up to 3.2x digital zoom
· Closest Focusing Distance: 1.6' at wide angle; 2.9' at telephoto; 3.9" in Macro; 0.4" in Super Macro
· Sensitivity: ISO equivalent: 200, 400, 800 and "Auto"
· Operating Modes: Program, Aperture and Shutter Priority AE, Manual, four subject specific Programs
· Light Metering: Evaluative, Center-Weighted, Spot; AE Lock; exposure compensation and bracketing selectable
· Shutter Speed Range: 1/4-1/2000, 3-1000 sec, and 15-1/1000 sec, depending on mode
· Flash: Built-in auto flash with forced flash, redeye reduction, slow sync flash; flash exposure compensation
· Connectivity: USB 2.0 and video output
· Power: Four Alkaline or Ni-MH AA, or optional AC adapter
· Dimensions/Weight: 4.8x3.2x3.8"; 17.6 oz
· Street Price: $699
Contact
Fuji Photo Film USA, Inc.
(800) 378-3854
www.fujifilm.com