Fuji FinePix 4700 Zoom Camera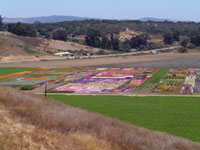 This patchwork field of many colored flowers surrounded by dry grasses in the foreground, hills and blue sky behind, was captured in sharp detail throughout by the extreme depth of field that's typical of the lenses installed on a fine digital camera like the FujiFilm FinePix 4700 Zoom.
Photos © 2000, David B. Brooks, All Rights Reserved
The shirt-pocket sized FujiFilm FinePix 4700 digital camera has a very high 4.3 megapixel resolution that reproduces professional quality 8x10 prints. Besides being the first camera to feature Fuji's new Super CCD technology, the 4700's diminutive size also includes a full set of prosumer digital camera features including a 38-144mm equivalent 35mm zoom lens range. A close focusing option, manual control of shutter and aperture options, motion video, and multiple film speeds make this little camera much more of a performer than appearances might suggest.
Although small-sized cameras can be a handling problem, the taller than wide shape and thoughtful layout of the FinePix 4700 readily come to hand providing a comfortable and secure shooting experience. The controls are logically divided between a dial mode selector surrounding the shutter release; a toggle to select picture taking or playback surrounding the on/off button; and an ingenious circular LCD read-out with a button at top, bottom, and each side to actuate the functions symbolized adjacent in the round LCD in relation to the mode selected when the camera is turned on. The less often used controls are accessed by the larger 2" LCD panel that also serves to provide playback and direct TTL image viewing when needed, and which is automatically activated when close-up photography is selected.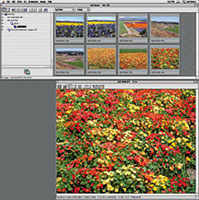 Fuji's Exif Viewer software for Windows PCs and the Mac provides a very direct point and click access to the images stored in the FinePix 4700 shown as thumbnails including the file name in each frame. Double click on a thumbnail image and it is enlarged in a window that provided basic image-editing tools to resize, make rudimentary corrections, and save the file in one of several formats on your computer's hard drive or another storage device.
Additional features include a built-in pop-up flash, and a lens that retracts into the camera body when the camera is turned off. This makes the shirt-pocket size practically advantageous providing full protection of the camera, encouraging you to drop it in a pocket safely so you'll have it available for all occasions. The power supply is a standard configuration, with just two AA Ni-MH rechargeable cells required. Image storage is via SmartMedia cards, and the JPEG format files are well-balanced between the preservation of good quality and small file size. The camera is supplied with a 16MB SmartMedia card, and now 128MB cards are also available that better match the camera's output. Once images are captured, downloading is very rapid directly from the camera with the aid of a USB interface supporting the convenience of a hot connection which doesn't require rebooting your computer using the Fuji Exif Viewer software on a Windows PC or Mac.
Making Pictures With The Fuji FinePix 4700 Zoom. Usually when I get a really neat camera like the 4700 to test it's in the middle of the winter. This time I was lucky, but I must apologize as I couldn't resist advertising the fact it is flower season where I live. Besides the great color test value of floral subjects, I also had the good fortune of a visit from my all-time favorite model, Bonwitt St. Claire. So, I talked her into modeling, not difficult, and we took some available light outdoor pictures as well as some with window light. I was also in the process of selling the last of my antique Saab sports cars, so the 4700 was ideal to make pictures that could be readily resized for sending over the Internet.
Capturing this full-length portrait of my long-time friend Bonwitt St. Claire in open shade with a background illuminated by direct sunlight establishes the very long range of tones that can be reproduced when captured with the 4700 camera.
Although the shape and configuration of the Fuji 4700 Zoom is unusual, I quickly became accustomed to using it. This was made easier by the liberal use of symbols identifying control options making the need to reference the manual rare. In other words, as digital cameras go it is a relatively easy camera to learn to use. About the only compromise I found wanting because of the small size is the optical viewfinder that provides a substantially narrower view than the lens actually records. I realize a little of this difference is needed to prevent novice users from cutting off peoples' heads in snapshots, but Fuji was too generous.
The automatic activation of the large 2" LCD screen when close focusing is selected is a good design feature so users don't have to think to correct for parallax viewing through the optical viewfinder. However, like all digital cameras with LCD screen viewing, you will find it pretty useless outside in bright sunlight. Fortunately I came across a solution offered on the web: Hoodman, a company who sells stiff fabric, folding hoods for LCD screen devices over the Internet. This device made from a single piece of stiff fabric utilizes touch fasteners to connect the ends to make an enclosure, and touch fastener stick-on strips applied bordering the LCD screen to connect the hood to the camera. An elastic band is also sewn to the hood which goes around the camera and secures the hood. At $19.95, it is worth it in being able to use a digital camera's LCD screen for viewing even in the brightest ambient light. It is also convenient, opening flat when not in use so it does not detract from the pocketability of the Fuji 4700 camera. For more information, contact Hoodman, PO Box 816, Hermosa Beach, CA 90254; www.hoodman.com.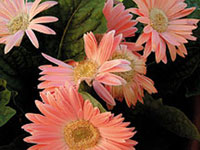 Clicking the close-up button on the back of the 4700 automatically activates the 2" LCD screen so you can accurately frame your close-up picture. In bright daylight outdoors the LCD screens used with digital cameras are hard to view clearly, but with the aid of the Hoodman I mentioned in the text there is a convenient and effective solution.
Evaluation And Recommendation. After almost 30 years of testing and writing about cameras, I've become somewhat skeptical that pocket-sized cameras are too compromised in some area of functionality. The Fuji FinePix 4700 Zoom is a significant exception. It provides an effective shooting experience enhanced by an "intuitive," easy to learn set of controls. It is readily adaptable to a wide variety of picture taking challenges, and then performs very well recording a wide range of subjects photographed in an equally diverse set of lighting conditions. Access to the images is simple, direct, and quick. And finally, the quality of the images does not require a proviso, "it's digital," implying the technology isn't quite there yet. Rarely did any of the images produced by the 4700 require any color correction with an image editor. Then, the only adjustment needed was to move the midpoint to brighten or darken the picture slightly.
The 4.3 megapixel image size of 2400x1800 pixels, translates to a printed 8x10 with a dpi resolution that's the same as recommended for output by the most popular photo ink jet printers. In fact the prints I made from the full range of test subjects I captured with the 4700 were quite comparable in every dimension of image quality I've come to expect from any source including scanned 35mm film at that print size.
Selling at a typical street price of $799, the Fuji FinePix 4700 packs a lot of picture quality and usability into a most convenient and fun camera to use. For more information, contact Fuji Photo Film USA Inc., 555 Taxter Rd., Elmsford, NY 10523; (800) 800-3854, (914) 789-8100; fax: (914) 789-8295; www.fujifilm.com.
Technical Specifications

CCD Type: 1/1.7" Super CCD (RGB filters), 2.4 million sensors
Image Processing: Fujifilm analog LSI with A/D 12-bit converter
Image File Resolution: Actual file output 4.32 million pixels
Lens: 3x Super EBC Fujinon zoom lens, f/2.8 to f/7.0 (wide angle); f/4.5 to f/10.8 (telephoto) (Aspherical Glass)
Focal Length Equivalent: 38-114mm on a 35mm camera
Zoom/Telephoto: 3x Optical, + 3.7x Digital (11x Total at 640x480)
Macro Mode: (11" to 2.6')
Focus Range: Automatic/Manual, 30cm/11.8" to infinity
Sensitivity (ISD): Equivalent to ISO 200, 400, 800
Shutter Speed: Automatic (3 to 1/2000 sec)
Storage Media: SmartMedia Cards (3.3v, 2-64MB)
Number Of Images: Fine-8, Normal-18, Basic-45, (16MB SmartMedia Card)
File Format: JPEG (Exif) with three compression levels (1/5, 1/11, 1/27)

White Balance: Advanced Auto plus six Modes
Flash Effective Range: 3.5 m/11.5' (Max.)
Exposure Modes: Program AE, Manual EV Control, Auto Bracketing, Shutter and Aperture Control
Exposure Meter: Auto 64 Point TTL (Center-Weighted or Spot)
LCD Monitor: 2" low-temperature polysilicon TFT (130,000 pixels)
Frame Numbering: Renew/Continue
Interface: USB, Video/Audio, PC Card, Floppy Disk Video And Audio Output: Yes
Sharpness Control: Hard, Soft, Normal
Playback Modes: Auto Playback, 9-up, Zoom, Resize, DPOF, 15x zoom
Burst Rate: .2 Sec/Frame max four frames
Motion Picture With Sound: 10 Frames/sec for 80 sec; AVI with 16MB M-JPEG Format
Dynamic Range: 36-bit Record/24-bit Output
Power Source: Two AA batteries, 3v AC power adapter (optional)
Dimensions: 3.1x3.8x1.3"
Weight: 255 g/9.0 oz (without battery)
Estimated Street Price: $799

FEATURED VIDEO