Fisheyes For Impact
New Lenses Add Unique Touch To Weddings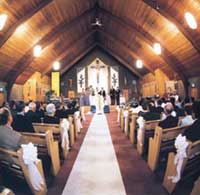 One of the most common shots taken at weddings using a fisheye lens is an overall photo of the church interior during the ceremony. They lend themselves well to panorama pages in the album that extend across both pages in the book. (Bronica SQ-A camera, Bronica 35mm fisheye lens, Kodak Portra 400VC film.)
Photos © 1999, Steve Bedell, All Rights Reserved
Wedding photography has changed greatly in the last few years, and I expect that trend to continue. The flood gates burst back in the late '80s with a new, more photojournalistic approach to the "Satin Jungle." Gone were the cornball posed shots of the bride's dad holding out his empty pockets; those were replaced with new "real" candids that were captured moments instead of set up photo opportunities. Next, pros began packing 35mm cameras next to their medium format gear, a practice that would have previously been unthinkable. Recently, black and white high grain photos have become hot sellers. And in the continuing quest for Joe Photographer to differentiate himself from the masses, lenses from super wide to very long have found their way into photographer's bags, all in the name of a unique look.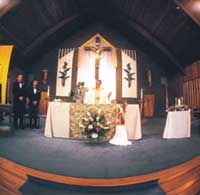 Distinctive characteristics of a fisheye shot are the curved lines on the edges and amazing depth of field. This was taken at f/4 and everything looks sharp. These lenses also focus very close. I took some very unusual flower photos by racking the lens as close as it goes and moving in tight. (Bronica SQ-A camera, Bronica 35mm fisheye lens, Kodak Portra 400VC film.)
Enter the fisheye lens, which is different and imparts a look to a photo that you can't get any other way, even digitally. You might be able to make a swoopy curve on your computer, but you've gotta have the extreme wide angle view to get all that information on the negative in the first place. Score one for the design team.

There are two types of fisheye lenses that I'm familiar with. Type one creates a circular image on the film and has a 180° or more angle of view. Forget the tripod, it's in the picture. I can remember about 20 years ago putting some inexpensive chunk of glass over my 50mm Nikkor lens that made it a 180° fisheye. It cost me about $50, even then a whole lot less than the real thing would have cost me. I had a great time goofing around with it and never made any prints bigger than 8x10, probably with good reason. This time things are a little different.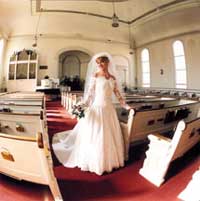 This tripod mounted shot was taken during a seminar I held on wedding photography and offers a unique view of the bride in the church. You'd probably want to remove all the booklets from the backs of the pews if this was a client's photo. Taken with daylight only, about 1/30 at f/8. Keep your subjects centered unless you're going for some strange looking heads on the corners. With the fisheye, everything is in focus. (Bronica SQ-A camera, Bronica 35mm fisheye lens, Kodak Portra 400VC film. Model: Emily Reynolds.)
A quick call to Tamron/ Bronica was all that was needed to put a fisheye in my hands the next day. I shoot most of my wedding photography with a Bronica SQ-A, so they fitted me out with the lens for that model. They also make one for the Bronica ETR series.

Anyway, this particular model was a 35mm f/3.5 that lists its angle of view as 180° diagonally. It weighs 960 g. I don't know how that translates into pounds and ounces, but I can tell you it's lighter than I thought it would be after looking at the spec sheet--much less than a 5 lb sack of potatoes. Considering it has 11 elements in eight groups, that's a lot of glass, especially with that big round chunk on the front that gives the lens its name. As you'd expect, the built-in lens shade is a little less than an exercise in futility, with four little slivers of black metal that protect the lens from the sun as best they can on parts that aren't in the picture. Of course, trying to put a filter across the front eyeball is also next to pointless, so like most fisheyes the filters screw onto the rear element of the lens, a tiny 32.5mm that saves you a bundle on filters. By the way, the equivalent lens focal length is 19mm on your 35mm camera. This is not a lens test report so that's all I'm going to say about this particular model, but coming from Tamron/Bronica means the construction and performance meet the highest professional standards.
Getting a whole bunch of stuff in is what fisheyes are all about. This fun shot taken just before the couple enters the limo gets just about the whole church in with them from the driveway. (Bronica SQ-A camera, Bronica 35mm fisheye lens, Kodak Portra 400VC film. Jennifer and Ty Seabrook III.)
What's The Point Of A Fisheye? According to Nikon's web site, these lenses were initially designed for industrial and scientific purposes, but of course something this cool would automatically be pounced on by photographers looking for a new way to expand their vision. As it applies to wedding photography, the most common approach that I've seen is shooting panoramic church interiors during the ceremony. The results are directly proportional to what the church looks like, with big cathedrals winning the best looking battle. Of course, that's not all you can do with them, as I discovered over the three weddings I photographed with the aqua-optic in my bag. I used it in the church, at the reception, and inside the limo. Wedding shooters are always looking for a different approach, and this is one sure-fire way of getting it.

Although the Bronica lens is full frame, meaning every inch of the negative is covered, you may prefer the circular image you get from some of the 35mm lenses. I know Nikon has three options--a 220° 6mm, a 180° 8mm, and a full frame 16mm; all of them at a relatively fast f/2.8.

Let's get down to shooting. As you can see from the samples, I used it for anything from action candids to formal photos. When you put this lens on the front of your camera, your head starts seeing wildly different compositions. It's a kick, it's fun, and clients love it. You'll have to decide for yourself if the price is worth it. You'll have to check for your particular camera what's available and the different options you have. If you're near a major camera store, rent one and see what you think. Don't blame me if you don't bring it back.

FEATURED VIDEO