First Look
Olympus' Ferrari Digital Model 2004
The Ultimate Pit Walk Accessory
All Photos © 2004, Joe Farace, All Rights Reserved
I love cars (see my website, www.joefaraceshootscars.com) but I also like cool, compact cameras. Unlike the Ferrari Digital Model 2003, which was simply an expensive Olympus (www.olympusamerica.com) Stylus 400, the 2004 model is based on a camera not yet imported into the US. To some the Ferrari Digital Model 2004 may be an overpriced ($699), red, 3.2-megapixel digicam, but to someone attending the US Grand Prix or an American Le Mans Series race, it's the ultimate pit walk accessory.
Compact And (Finally) Red
Pundits may be struck by the not-so-subtle differences in overall shape between the Ferrari Digital Model 2004 and the wonderful Konica Minolta DiMAGE X-series of cameras. The Olympus features a 38-114mm (equivalent) optical zoom lens with a folded light path and is the slimmest, most compact digital camera the company has produced. Its flat metal body measures only 3.7x 2.6x.9" and weighs just 5.6 oz. It's based on the Olympus AZ-1 that, like Nissan's insanely cool March automobile, is available only in Japan, and has not yet appeared on these shores. So for many photographers this may be their only chance to see an AZ-1, albeit in red.

A special finishing process produces the Rossa Scuderia color that's a perfect match to Ferrari F1 cars instead of the red anodized finish used for the 2003 model. The back of the camera body has carbon fiber-like accents and the iconic Prancing Horse logo. On start up, the huge 2.5" LCD screen displays an image of a Ferrari F2004 F1 racing car and plays the roar of its engine. That big screen delivers 210,000 pixels and has a 160Þ (vertical and horizontal) viewing angle.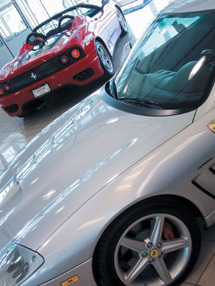 The Olympus Ferrari Digital Model 2004 includes Auto White Balance as well as modes for specific lighting conditions, including the fluorescent lighting in this Ferrari dealership. There was so much ambient daylight that Auto White Balance produced better results than the Fluorescent setting with neutral colors such as this silver Ferrari. (They come in other colors besides "Rossa Scuderia.")
A new Album function allows captured images to be organized into 12 photo albums of 100 images each that can be created for easy viewing on the large LCD monitor. The Ferrari Digital Model 2004 docks to the cradle that's equipped with a DC power input terminal, AV output, and a USB port. In addition, PictBridge support allows direct printing to any PictBridge-enabled printer without using a computer.
In The Field
My first shots were made around the house and I was immediately impressed with the camera's fill-flash capability and ease of handling difficult backlit subjects, balancing both foreground and background light. Then it was off to photograph some Ferraris--what else?

A most un-Ferrari-like 16MB card is included in the package that allows you to capture 20 (count 'em) images, so I quickly replaced it with a pair of SanDisk (www.sandisk.com) 512MB xD-Picture Cards, the largest capacity currently available in this format. The camera's super clear menu--you won't need your glasses--includes image quality modes with easy-to-understand names, such as Super High 3MB, High 2MB, PC Monitor 1MB, and E-Mail VGA. The Ferrari Digital Model 2004 is equipped with 22 Scene Program modes, including Beach & Snow, Sunset, and Candle that boosts color saturation in low-light situations without flash, and a Sleeping Portrait mode that adjusts light sensitivity to allow pictures to be taken in very low light without flash. For would-be James Bonds there's a Document mode that's supposed to "ensure text legibility."
Unlike a lot of lower megapixel cameras that create excessive noise in shadow areas, the Digital Model 2004 produced clean shadows and excellent highlight detail when capturing difficult to render, low-light scenes like this.
This is a solidly built camera, as can be seen by its weight when compared to the Konica Minolta DiMAGE Xg's 4.2 oz. With a control wheel located in the upper right-hand corner next to the raised shutter release and the positive controls on the camera's side, the 3-megapixel Digital Model 2004 is much easier to use than the Digital Model 2003. Image quality was what you might expect from 3 megapixels and is obviously not as good as the 2003 4-megapixel camera, although Olympus told me production models would be better. Nevertheless, I was pleased with photographs of Ferraris and family snapshots made with the Digital Model 2004.
Only (approximately) 1000 of the 10,000 Ferrari Digital Model 2004s worldwide will be sold in North and South America, so if you want to be noticed on your next pit walk at Mazda Raceway Laguna Seca, don't wait too long.
More Acronyms On Parade
DCF (Design Rule for Camera File) is a new standard that defines a common format for digital cameras. A DCF compatible digital camera can display images recorded with other DCF digital cameras. A DCF compatible printer can print images from DCF compatible cameras of different makes and DCF compatible software supports import of images from DCF images, regardless of their source. The Olympus Ferrari Digital Model 2004 is also DPOF (Digital Print Order Format) compliant for printing, and more than 80 companies have licensed the format.

Technical Specifications
Number Of Effective Pixels: 3.2 million
Image Pickup Element: CCD
Lens Structure: Nine elements in seven groups
Focal Length: 5.8-17.4mm (equivalent to 38-114mm)
Aperture: f/2.9 (W) - f/4.9 (T)
Optical Zoom: 3x; Digital Zoom--2.7x
Working Range: Standard mode--1.6 ft to infinity; Macro mode--0.98 ft to infinity; Super Macro mode--up to 0.26 ft (tele focal length only, fill-in flash off)
Recording Media: xD-Picture Card, 16MB included
Viewfinder: None
LCD Monitor: 2.5" TFT color LCD with LED backlight
Sensitivity: Auto (approx. ISO 64-250)
Focusing System: Autofocus, TTL contrast detection system
Shutter Speed: 1/2-1/725 sec (Night Scene mode--up to 4 seconds)
Exposure Compensation: ±2 EV in 1/3 EV increments
Photometric Systems: Digital ESP metering, spot metering
Flash Modes: Auto (automatic flash activation in low light or backlight); Redeye reduction; Fill-in; Off
Sequence Mode: Up to 3 frames at approx. 1 frame/sec (in Super High mode)
Connectivity (Through Its Own Multifunction Cradle): USB interface (Windows XP/Me/98/2000 and Mac OS 9.0-9.2/X), PictBridge
Battery: LI-20B lithium ion rechargeable battery
Dimensions: 3.7x2.6x0.86"
Weight: 5.6 oz (excluding battery and media card)
Bundled Accessories: Includes special presentation box for camera storage embossed with Prancing Horse logo, a Certificate of Authenticity showing the camera's serial number, a Certificate of Authenticity card, folder with autographed photos of Michael Schumacher and Rubens Barrichello, an instruction manual, and a Ferrari photo collection CD-ROM
Estimated Street Price: $699
Acknowledgments: Many thanks to Bill Orth and the staff at Ferrari of Denver (www.ferrariofdenver.com) for allowing me to invade their dealership to make photographs for this story.

LATEST VIDEO

SPONSORED VIDEO
Testing Tamron's SP 150-60mm G2 lens while capturing birds and alligators in Apalachicola, Florida.