First Look
New Epson R-D1 Camera
A Classic Digital Rangefinder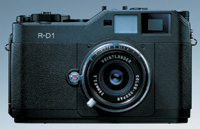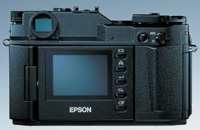 Attendees at PMA this year who visited the Epson booth may have noticed a camera displayed under glass. It was the new Epson R-D1 digital rangefinder, a classic body that accepts most Leica L- and M-mount lenses and is made by Cosina with digital components created by Seiko-Epson. Not long after PMA the Epson R-D1 was shown again at a major photography show in Tokyo. Apparently the response and press coverage this new camera received was encouraging to Seiko-Epson, as I obtained a response from Epson America to my inquiry about the camera. A teleconference was arranged with Epson for me to speak with the new US product manager. And I recently received confirmation that Epson has committed to marketing the R-D1 in the US with an expected product release in the fall of this year.

Although even Epson's official announcement of the R-D1 camera contained the word "throwback," referring to a vintage look and feel, the digital specifications combined with physical performance attributes of the Cosina rangefinder body fully supports taking this new Epson R-D1 very seriously. Besides the obvious market of established classic Leica users and the wide and large selection of Leica mount lenses in circulation, Epson quite logically assumes a practical interest by photojournalists for instance, which is consistent with the recent success of another Cosina camera body sold as the four models of the Voigtländer Bessa, as well as the Rollei 35 RF, comprising a significant potential market.

The Epson R-D1's digital specifications describe a competitive, contemporary pro capability with a 6.1-megapixel CCD sensor that's 23.7x15.6mm in physical size. Image capture formats include two JPEG sizes as well as raw in 12-bit 9MB files. The focal length 35mm equivalent ratio is 1.53, and the viewfinder is 1x adjustable for 28, 35, and 50mm lenses. Of course a shoe mount is positioned so viewfinder accessories for other lens focal lengths may be accommodated. And, for both playback and menu access for digital controls, a 2" LCD display is mounted on the back of the camera body. The physical specifications include a vertical travel focal plane shutter with speeds from 1 to 1/2000 sec and Bulb (flash sync at 1/125 sec). Exposure control through internal metering with two modes: aperture control auto and manual. Camera image files are stored on Secure Digital (SD) memory cards. Power for the R-D1 is supplied by a lithium ion rechargeable battery. And the body is a compact 5.6x3.5x1.6" with a weight of 1.3 lbs. The estimated cost for the body only is under $3000.

Should you take this new and different Epson R-D1 camera seriously? Obviously, for those of you who have Leica mount lenses a yes answer should be obvious. And, for older, "classics" like myself, whose first 35mm camera was a Nikon rangefinder I bought in the 1950s, of course I'm intrigued. For younger generations the advantages of 35mm rangefinder design, like excellent low-light focusing, compactness, light weight, quiet operation, may not be so immediately obvious. But combined with digital, I believe many photographers may find some uniquely superior qualities in this new Epson R-D1. I'll be looking forward to trying one out as early as possible and reporting further on the R-D1 in Shutterbug. In the meantime, stay tuned to the "What's New" section of the Epson website at: www.epson.com.

LATEST VIDEO

SPONSORED VIDEO
Testing Tamron's SP 150-60mm G2 lens while capturing birds and alligators in Apalachicola, Florida.