First Look
Innovative New Minolta Maxxum 7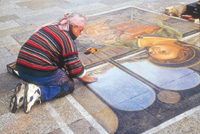 When used with D lenses and an HS(D) flash unit or the built-in flash, the Maxxum 7 provides highly advanced flash metering. In either low light or outdoors, flash exposures are more often accurate due to Advanced Distance Integration technology. (A 24-105mm f/3.5-4.5D; 5600HS(D) for fill flash; Elite Chrome 100EC.)
Photos © 2000, Peter K. Burian, All Rights Reserved
Just when we thought that cameras had reached the maximum level of technological achievement, Minolta engineers raised the bar significantly. Their new Maxxum 7 took a giant step beyond our expectations with some truly innovative technology. Resembling a digital SLR camera with its huge rear-mounted LCD monitor, it is a hybrid of familiar and futuristic with the large, conventional knobs plus entirely new controls and capabilities.
When Minolta reps first demonstrated this new system behind closed doors in August 2000, I was overwhelmed. Would I need to become a computer programmer to actually use the Maxxum 7's multimode Navigation Display and some of its accessories? Apparently not, since an hour with the instruction manual--plus occasional reference later--proved to be all the education that I required. While shooting a few preliminary rolls of slide film, I became adept at accessing the most valuable of the unique features quickly.
This brief report is not based on a full test so it is simply a preview of the technology and Maxxum 7 capabilities. Nonetheless, I did spend enough time with the camera, new 5600HS(D) flash, improved Vertical Grip VC-7, and a new D-series lens to offer a glimpse at their advantages. Look for a full test report with evaluations in a future issue of Shutterbug. In the meantime, consider the following information as to the incredible potential of this Maxxum system.
With D lenses, the Maxxum 7 provides very specific feedback on exact depth of field in the Navigation Display panel. This unique feature is far more useful than the preview feature alone, or the depth of field scales on some old lenses. (A 24-105mm f/3.5-4.5D; 5600HS(D) flash; Elite Chrome 100EC.)
Camera Overview. This is a relatively compact body with some large control knobs and switches similar to those of the pro Maxxum 9. Naturally there are some electronic buttons, too, and a new focus area selector switch on the camera back. The latter is useful and easily accessed by both left and right-eyed photographers. A small door under the Navigation panel hides less frequently used controls but these are well marked like all the others. The flash mode selector switch is on the right side of the body, a logical location. The high-eyepoint finder is surprisingly bright and offers unusually high magnification--0.8x for ease of manual focus--plus diopter correction eyepiece.
Navigation Display. This 1x1.5" oversized LCD panel provides more information than any other camera, a vast range, in fact. At first, this may lead to information overload, but you can ignore anything not of immediate interest: you press the [DISP] button to scroll to other screens with other data displays. When the camera is held in a vertical orientation, the display changes to vertical format--a great idea. Since I am near- sighted, I especially liked the extra large numerals and the illumination in low light. And the information as to each Custom Function--in simple text--will be very useful; there's no need to carry a cheat sheet as a reminder of the meaning of each of the 35 extra functions.
The single most useful feature for photographers will be the depth of field bar graph, available only with D-series lenses. Focus on a subject, set the desired focal length and f/stop, and press the depth of field preview button. Now the display panel provides very specific data on the range of apparent sharpness: from 6-22', for example. Change the focal length, point of focus, or f/stop and the display provides the new data. Especially in low light at small apertures--where the viewing screen becomes very dark with depth of field preview--this feature should be greatly appreciated by serious photographers.
In time, much of the other available data will probably become useful, too, such as the scene brightness distribution display. This allows for a quick review of scene contrast: the exact relative brightness factor in 14 areas. Most photographers will never use all of the available data, just as they will not use all of the Custom Functions. Still, everyone should appreciate the technology and possible applications these provide.
Superior Focus System. The Maxxum 800si already included a highly successful AF system, but the Maxxum 7 has more advanced technology with improved algorithm. According to Minolta, the 16-bit CPU of the Maxxum 7 has a data processing speed about five times faster for double the speed of focus tracking. The new nine-point AF system--with line sensors at various angles for reliable focus on any type of pattern--covers a very large area for framing flexibility and effective tracking focus. The central point has two sensors with both a + and x shape, a first for Minolta. This is said to increase focus accuracy with slow (to f/6.7) lenses and fast (f/2.8 or greater) lenses. Any of the nine points can be selected or simply set the camera for automatic focus point selection with the rear-mounted controls.
The new AF/MF button allows for instant shifting between manual and autofocus with nearly all AF lenses. Focus can be manually changed after focus is locked in Single Shot AF mode, if desired. All this is made possible by an in-camera clutch mechanism, a first in the Minolta system.
The Maxxum 7 has the most advanced AF technology of any Minolta camera. Its nine-point AF sensor system, focus area selector switch, and focus override ability make autofocus reliable and controllable. (A 24-105mm f/3.5-4.5D; B+W Polarizer; Provia 100F.)
Important Accessories. The new D lenses and HS(D) Program flash units offer several advantages worth clarifying. The D lenses include a distance encoder used in Advanced Distance Integration flash photography with one of the new HS(D) flash units or the built-in flash. By adding distance and Guide Number information to the flash exposure calculation, bright (or dark) subjects or backgrounds are less likely to create exposure errors. With other flash units, four-segment or Average TTL flash metering is selectable. When using a new HS(D) Program flash, high-speed synch becomes possible even in wireless off-camera flash photography.
Note, too, that D lenses are required for the camera's depth of field bar graph to operate. Apparently, all other capabilities operate perfectly with other AF lenses and flash units, although an HS-model flash is required for high-speed synch. Because the Maxxum 7 body includes a built-in Distance Encoder, distance data is considered with multi-segment metering (without flash) with any Minolta AF lens. So there's no urgent need for D lenses or HS(D) flash units, although they do offer advantages with the Maxxum 7.
The new optional Data Saver DS-100 accessory allows download of shooting data to a SmartMedia card--with data storage capacity for hundreds of rolls--for subsequent viewing on Navigation Display or uploading to a PC. This is useful if such data is important, because the camera's built-in memory can hold data for only seven rolls.
Minolta got a lot of accolades for the new Vertical Grip VC-7 accessory, an ergonomically designed battery pack that is quite convenient. Its full set of secondary controls--placed in a much lower, more comfortable position--should make vertical shooting a pleasure. This accessory also accepts AA batteries, an inexpensive power source.
Other Great Features. Minolta has included several capabilities worth noting. Interesting exposure control options include AE Lock useable with Manual operating mode for equivalent exposure settings at a variety of aperture/shutter speed combinations; a dual exposure compensation dial that can be set for 0.3 or 0.5EV increments; and a versatile AE bracketing mode.
Other useful amenities include mirror lockup with the 2 sec self-timer, film chamber lock to prevent accidental opening in mid roll, and smooth trans focus control for defocused image areas without the need for a special lens. And if you reload a partially exposed roll of film, the camera can be set to automatically wind to the desired frame number. There's a great deal more of course, as noted in our Features section. All this makes the Maxxum 7 system one of the most versatile and technologically advanced SLR cameras ever.
Hot Features

Navigation Display (can be illuminated): A 1x1.5" dot-matrix LCD panel on the camera back with numerous selectable display categories: camera settings data; primary shooting data; depth of field bar graph; custom function data in text; exposure history data; scene image brightness distribution; exposure compensation settings; meter index data; and more.
Data Memory: Stores 11 items of data for every frame of seven rolls of film for recall on Navigation Display; also, quick view of brief data for six previous frames. Optional Data Saver DS-100 accessory allows download of shooting data to a high capacity SmartMedia card.
Advanced Distance Integration (ADI) flash metering with new D-series flash units (or built-in flash) and D lenses: More accurate flash exposures with subjects of high or low reflectance.
High-speed flash synch to 1/8000 sec: For on-camera HS or HS(D) flash units. (Normal top synch speed: 1/200 sec.) New high-speed synch in off-camera wireless TTL operation with HS(D) flash units.
New nine-point autofocus system: Eight line sensors plus central dual cross-hair sensor; active sensor is illuminated; AF is maintained even with f/6.7 lenses; any sensor can be selected with a new thumb-controlled AF/MF selector; manual focus override also possible after focus lock in AF with most AF lenses; increased Continuous predictive multidimensional tracking focus speed, claimed to be "world's fastest."
Other notable features: Film chamber safety lock; smooth trans focus control for defocused image areas; 1/8000 sec to 30 sec shutter speeds; depth of field preview; 35 Custom Functions; Eye-Start automation for instant response, five operating modes plus Program shift; built-in multimode ADI flash; reflex mirror pre-lock with 2 sec self-timer; 4 fps motor drive (3.7 fps in Continuous AF); silent film rewind; multiple exposure selection; high-eyepoint viewfinder with diopter correction eyepiece; remote control and PC cord terminals; three Memory modes for instant return to pre-selected settings.
Exposure control features: 3 percent Spot, Center-Weighted, and 14-segment Honeycomb Pattern meter; exposure compensation in 1/2 or 1/3 steps; flash exposure compensation; AE Bracketing with or without flash in 3, 5, or 7 frame series, in increments from 0.3 to 1EV; AE Lock, operational even in Manual mode.
Specs: Weight: 21 oz; Dimensions: 5.6x3.8x2.6"; Power Source: two CR or DL 123 lithium batteries.