First Look
Canon's New Flagship EOS-1 V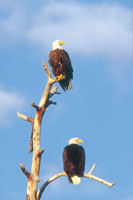 The very large focus detection area and choice in the number of active AF points makes the EOS-1 V highly versatile and reliable in AF operation. (EF 500mm f/4L IS USM and EF 1.4x; at f/11 in evaluative metering at +1/3 EV; Gitzo tripod; Ektachrome E100VS.)
Photos © Peter K. Burian, 2000
Canon's EOS-1 V is an entirely new camera, dubbed as "the world's fastest" due to its 10 fps ability. While it does include some EOS-3 features, the technology has been upgraded since that model was designed. As well, the EOS-1 V offers unique construction, extra versatility, and higher performance level.

I can offer the following preliminary comments about the EOS-1 V. These are based on my discussions with Canon, additional technical research, plus a week of field shooting experience with Arthur Morris using a preproduction model.

New Technology. Although some EOS-1 V features seem to be "borrowed" from the EOS-3, they are not technically identical. Without getting into a lot of esoteric detail as to exactly how they differ, let's take a look at the most significant design and engineering features of the EOS-1 V.

In order to reduce the time of viewfinder blackout and to achieve 10 fps shooting ability, Canon used new technology to "suppress mirror bound." In practical terms this means that viewfinder blackout time is a mere 87ms vs. 140ms with the EOS-1N while calculation time for exposure and focus are noticeably shorter. For high-speed operation, the camera's internal motors are equipped with new gears plus rubber bushings for less noise and vibration. The sprocketless film transport system--with optical detection--ensures high-speed and accuracy even at 10 fps advance.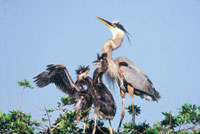 The EOS-1 V is definitely the fastest EOS camera ever. This makes capturing the decisive moment much easier than ever. (EF 500mm f/4L IS USM at f/5.6; evaluative meter; Manfrotto tripod; Elite Chrome 100.)
The camera boasts a magnesium alloy top and front cover. This metal is extremely rigid and light, and serves as an excellent electromechanical shield. (Power Booster PB-E2 also has a magnesium alloy cover.) The mirror box is made of die-cast aluminum and the rest of the body is a hybrid: die-cast aluminum and glass-fiber reinforced polycarbonate resin. The EOS-1 V is incredibly well sealed against rain and dust at some 72 areas with silicone rubber covers, washers, "boots," O-rings plus 10 coats of silicone over the body. The lens mount perimeter features a water-resistant O-ring--like the mounts of the new super-telephoto IS lenses--making the combination especially useful in rainy climates.

A non-contact rotary magnet shutter virtually eliminates the risk of mechanical failure; two shutter blades are made of carbon fiber and three of ultra-duralumin for greater durability. The mechanism is tested for reliability during 150,000 cycles vs. the more common 100,000 cycles for the EOS-1. Other precautions are taken for the sake of the camera's durability: anti-friction components in motors, driver levers, and bearings.

The EOS-1 V employs a Z-shaped optical path and a large, oval secondary mirror to deliver a wide light band to the autofocus sensor. The AF unit contains a glass molded secondary image-forming lens for AF reliability--"a first in an SLR camera." A new CMOS autofocus sensor--introduced in the EOS-3--is employed here too but with a more effective light sensing area; it has a capacity of 10,724 pixels on the larger (11.3x6mm) sensor chip.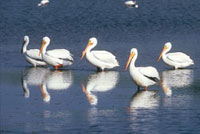 The new evaluative metering system is surprisingly successful in backlighting and with subjects of high reflectance such as this, especially in sunny conditions. (EF 500mm f/4L IS USM at f/8; at +1/3EV; Manfrotto tripod; Provia 100F at EI 200.
With lenses of f/2.8 or wider maximum aperture, seven cross type sensors ensure focus on most any type of pattern, appreciated by pros using some of the many "fast" EF lenses of this type. In AI Servo focus, the EOS-1 V can track a subject approaching at a speed of 30mph until it reaches a point 26.2' from the camera--even when shooting at an incredible 9 fps. The AF system's new algorithm uses more focusing data than previous models did, for "predictive focusing that is unmatched by any other current AF SLR camera."

The 32-bit microcomputer that handles AF calculation is the most powerful in EOS history, with 33.3MHz clock speed: the fastest of any CPU in EOS cameras. This ensures quick focusing with the 45-point AF sensor, at least as quick as with the simpler 5-point sensor of the EOS-1N. Canon indicates that the EOS-1 V offers "one of the world's fastest AF speeds when a focusing point is manually selected." Shutter release time lag has been reduced to a mere 55ms.
Noteworthy Primary EOS-1 V Features
· Greater use of metal for increased durability and sealing for weather-resistance; new shutter tested for 150,000 cycles.
· 10 fps film advance--9 fps in predictive AI Servo autofocus; requires optional PB-E2 and Ni-MH battery pack for these speeds.
· Reduced time lag and viewfinder blackout time; brighter finder LCD display.
· 45-point AF sensor; single, 11 or 9 points can be selected; new button for instant return to any pre-designated focus point; additional cross-hatched sensors for greater reliability; single sensor continues operating with lens/accessory combination of f/8 maximum aperture.
· Upgraded 21 zone evaluative meter plus multi-spot and focus-point-linked spot metering; 21 zone E-TTL flash sensor.
· Standard flash synch at up to 1/250 sec; with EX-series Speedlites: high-speed (FP) synch to 1/8000 sec, Flash Exposure Lock and Bracketing, modeling light support; plus wireless remote E-TTL flash with adjustable ratio output.
· Optional EOS Link cable and software allows customization of camera, data download to a PC, data management, etc.
· Built-in memory for shooting data for 100 rolls, transferred via optional EOS Link; also, film roll ID No. imprinting on Frame 0 possible with standard back.
· 20 Custom Functions (with 63 settings); also, 31 Personal Functions with EOS Link.
Preliminary Evaluation. I made the following notes while shooting and reviewing my slides:
· The EOS-1 V looks and handles very much like an EOS-1N, and is only 3 oz heavier. It has similar controls, plus a few borrowed from the EOS-3; the transition from either of those models is simple. A few of the new camera's controls have been refined. These are more logical and better marked; few are "hidden" behind the palm door. I especially liked the full-time battery check, more accessible Drive mode selector, and brighter viewfinder displays.
· The increased choice in the number of active AF points makes the camera highly versatile. The new button for returning instantly to any, single pre-selected AF sensor offers a definite advantage while the large (8x15mm) focus detection area will make sports photography very effective. The ability to shoot action subjects at 9 fps--with predictive autofocus--will be a real benefit at ski and other racing events.
· The evaluative metering system was highly successful in backlighting, and often required no compensation with white egrets. The multi-spot meter is ideal for personalized exposure in high contrast situations.
· The extra Custom Functions--plus 31 Personal Functions accessed via EOS Link--make the camera even more suitable for every owner.
· The flash capabilities of the EOS-1 V are light years ahead of those of the EOS-1N, in automation, convenience, and personal control. Since I frequently use fill-in flash outdoors with f/2.8 lenses, the high-speed synch feature will be valuable in depth of field control.

Conclusion. If you're a photo enthusiast don't overlook the EOS-3; in addition to many similar features, it's lighter, more affordable, and offers built-in flash plus Eye Controlled Focus. Working pros who want a camera that's extremely rugged and weatherproof--for use in any condition during an assignment--will definitely want the EOS-1 V. As a bonus, they'll find that it's also super fast, unusually versatile, fully controllable, highly reliable and capable of achieving any effect the photographer intends.

Contact Canon U.S.A. Inc., One Canon Plaza, Lake Success, NY 11042; (516) 328-5000; www.usa.canon.com.



FEATURED VIDEO