First Look
Canon EOS Elan 7 And 7E
The Elan 7 can be as fully manual or as automatic as desired, depending on the modes selected. For street shooting, I relied on full automation: in exposure, focus point selection, operating mode, etc. (An EF 70-200mm f/2.8L USM; Landscape Program; Provia 100F.)
Photos © 2000, Peter K. Burian, All Rights Reserved
The third generation of EOS Elan cameras, the new Elan 7 and 7E promise to be even more successful than their predecessors. Incorporating all of the Elan II series' best features the new models include several significant upgrades. Employing some EOS-3 technology, Canon engineers have made these mid-priced cameras almost as desirable as that upscale model.
At the time of this writing, I have not been able to test a full production model camera, but I did shoot some slide film with a prototype Elan 7E before photokina. This preliminary experience did not allow for an evaluation; look for a full Test Report by Bob Shell in a future issue. The two cameras are identical, except for one feature: Eye Controlled Focus point selection with the Elan 7E only. Hence, I will simply refer to them as the Elan 7 in this report.
Superior AF System. With four more focus detection sensors than the Elan II, the new seven-point system covers a much larger area of the viewing screen. This offers two primary advantages: more effective tracking of action subjects that drift off-center and nearly instantaneous focus on any off-center subject, especially in a vertical camera orientation. The central sensor is cross-type for more reliable focus regardless of subject pattern.
The new focus point selector keys on the back of the camera make for quicker operation. Of course, automatic focus point selection remains available as well. The active focusing point is illuminated in red on the viewing screen. Even more impressive is the new Eye Controlled Focus system of the Elan 7E. It's said to be faster than that of the EOS-3, with full response in 55ms vs. 65ms. The camera reads the position of the photographer's eye and sets focus in 1/20 sec and can track the eye constantly; this makes framing and focusing a single action.
Continuous predictive Servo AF has been improved, too. As it tracks an action subject, the system keeps making adjustments right up to the instant of exposure for more accurate focus. Faster AF data processing and a faster mirror action also contribute to reliable high-speed operation. Canon indicates that the Elan 7 offers the "best predictive AF performance" of any mid-priced camera, able to track a subject as fast as a Formula 1 race car. The system will keep up with a high film advance rate of 3.5 fps, said to be "faster than any camera in its class"; in One Shot AF, 4 fps is possible.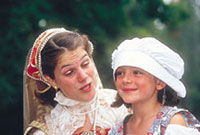 The Eye Controlled Focus system of the Elan 7 is highly reliable, incredibly fast, and also accurate. Here, I glanced at the child's face in the viewfinder and the system automatically set focus for the desired area. (An EF 70-200mm f/2.8L USM; Speedlite 420EX; Portrait Program; Provia 100F at EI 200.)
Improved Flash Operation. As the first EOS camera with Evaluative E-TTL flash metering--with EX Speedlites--the Elan II set a precedent. However, the new Elan 7 is even more sophisticated. With any EX Speedlite, flash exposure is now controlled by the 35-zone evaluative meter that analyzes a great deal of data in an instant. Flash output is adjusted to the optimum level for the subject and the background even in extreme backlighting or with strong reflections. Flash exposure lock remains available; flash exposure bracketing is possible, too, but only with the 550EX Speedlite. (With the "intelligent" built-in flash, three zone TTL metering is provided; with non-EX Speedlites, A-TTL flash metering is employed.)
A Flash Exposure Compensation control is now built into the camera, for use with Speedlites that do not include this feature, such as the new 420EX. This model is more powerful than the 380EX--with a GN of 138 vs. 125, in feet--but is 30 percent smaller and also swivels. The 420EX can be used for wireless off-camera E-TTL flash, triggered by a 550EX, a Macro Ring Lite MR-14EX, or an accessory Transmitter ST-E2. High-Speed Synch can be selected on the 420EX when it's used with the Elan 7 and other recent EOS models. Now, any shutter speed can be used in flash photography, although this capability is most useful in close-up work outdoors with wide-aperture lenses or with "fast" (high ISO) film.
Other New Features. The Elan 7 employs a highly advanced 35-zone evaluative metering sensor, linked to the camera's focusing points. Exposure is optimized for the primary subject as the Advanced Integrated Metering (AIM) computer considers exposure and focus data. Precise metering is assured in horizontal and vertical shooting; good results should be expected even in difficult lighting conditions.
Said to be "the quietest in the EOS line," the Elan 7 makes little clatter thanks to a new Whisper Drive film transport technology. Shutter and mirror action are also noticeably quieter and smoother, so the camera does not disrupt a ceremony or scare skittish wildlife. This is achieved with superior cushioning of mirror noise, a belt driven rewind system, quieter coreless motors, and a floating design for the entire film transport unit, isolated by a rubber mounting system.
Thanks to some new, larger controls and a revised operating sequence, the Elan 7 cameras are among the simplest and most convenient to use. No controls are hidden behind a door and all are well-marked with logical symbols. The aluminum top and front cover make the camera rugged but lightweight. The numerous Custom Functions do require reference to the Instruction Manual and include virtually every option that any photographer would want. Other new amenities are listed in the section "Primary New Features."
Keeping The Best. Naturally, the EOS Elan 7 retains the numerous standard features of the Elan II: the 10 operating modes; Partial Area and Center-Weighted metering; exposure overrides; depth of field preview; 90 percent viewfinder coverage; full information data panels; and so on. A surprisingly small and lightweight camera, it accepts an optional AA Battery Pack BP-300. This will be appreciated by those with large hands and anyone who prefers to use inexpensive AA batteries.

Designed for speed and easy handling the new camera is user-friendly and should appeal to photographers with a wide range of skill level. It's particularly suitable for those first moving up from an entry-level SLR, although the EOS Elan 7--and the system of EOS lenses and accessories--will probably satisfy the majority of advanced hobbyists as well.

For more information, contact Canon U.S.A. Inc., One Canon Plaza, Lake Success, NY 11042; (516) 328-5000; www.usa.canon.com.

Sidebar

Primary New Features The EOS Elan II/II E were already full-featured cameras, but the Elan 7/7E benefits from newly developed technology as well as the addition of extra capabilities. The upgrades include:
New, seven-point (five horizontal plus two vertical) autofocus sensor; crosshatched central sensor
New rear mounted keys for more convenient manual selection of focus points
Three selectable autofocus modes: AI Servo (Continuous), One Shot, and AI Focus AF; in the latter, the camera automatically activates tracking focus if the subject begins to move
Much faster Eye Controlled Focus (Elan 7E only); ECF also operates in Continuous Servo AF
Superior Continuous predictive autofocus with higher speed capability
Faster, 4 fps film advance (3.5 fps in Continuous AF)
Superior noise reduction with Whisper Drive technology
Improved evaluative metering with 35 zones; built-in flash exposure compensation control
Higher 1/4000 sec top shutter speed
Upgraded E-TTL flash control and high-speed flash synch with EX series Speedlites; Wireless Remote E-TTL flash if desired (with accessory); also, flash exposure bracketing with 550EX Speedlite only
Eyepiece diopter adjustment dial
More rugged body with aluminum top and front covers
Even simpler controls and layout
13 Custom Functions with 34 settings

LATEST VIDEO