Fine Art Tips: Why Location Is Key But Not Everything in Fine Art Photography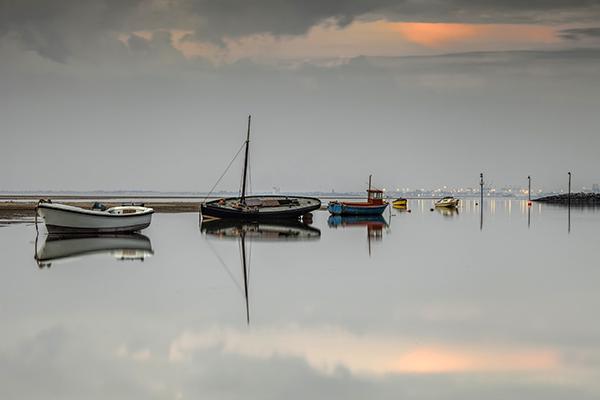 You're on Meols Beach, on the Irish Sea, looking east across the River Mersey; those lights are Liverpool. The beach is the place where imaging happens for Ray Mcbride when time and tide are just right.
Mcbride, who has taken thousands of photos from this close-to-home location, explains that Meols is "a vast sandy beach of boats tethered there all year round. It's a paradise for photographers, and it's my playground. I love spending many an evening there because we have some of the best sunsets in the northwest."
This eastern-view photo, though, was taken about 3:00 on a Sunday afternoon, when the tide was very low, a combination that made for muted light, great reflections, and an image as finely detailed as a painting—and one composed that way as well.
"I managed to shoot as all the boats were in a row," Mcbride says. "You couldn't have placed them any better to be honest."
With his tripod set up on steps leading to the beach, he zoomed in and out to get the precise framing he wanted, then took a six-second exposure in order to smooth the slight motion of the water.
"Normally I'd wade out in my wellies and get straight in front of a boat and wait for the sun to set," he says. "You gotta follow the tide. I know from experience—I've photographed that beach for two years now, so I know the tides, the depths of water, and when the boats are moving and when they're actually grounded on the sand underneath."
Which is why he could take a long exposure: the boats were on the sand and not moving. "When the tide comes in the boats will turn round one way, and as it goes out, the boats turn back around."
Mcbride is a wood machinist by trade, "a keen amateur photographer" by passion. "I've been 10 years photographing, but it's the past two in which I've sort of nailed the type of road I'm going down."
His goal is fine art images that "are appealing to most people. I could have taken this shot with the normal 1/500-second exposure, but it would look nothing compared to smoothing everything out and getting that little bit of movement in the clouds. There's a combination of art and the right conditions needed, and this is the way I want to go forward now. I love doing this type of photography."
A large selection of Ray Mcbride's photography is featured at his website, raymcbridephotography.com, as well as at Flickr and fineartamerica.com.
Tech Talk: Ray Mcbride took the photo with a Canon EOS 5D Mark II and an EF 70-200mm f/4L IS USM lens at six seconds, f/16, and ISO 100, with the camera set for aperture priority exposure and Evaluative metering.