Final Shot: Our Favorite Reader Photo of the Month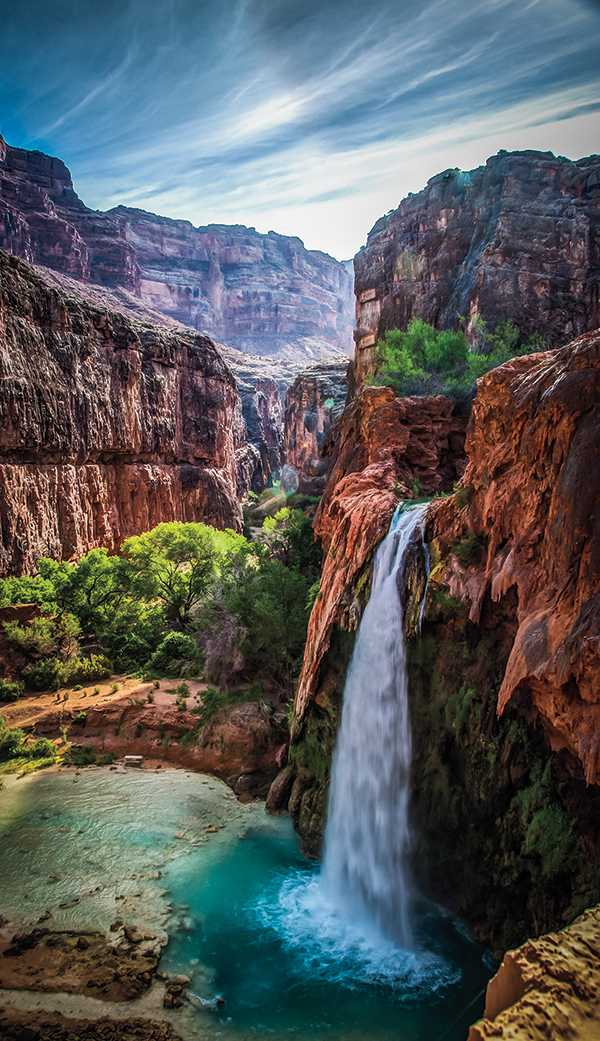 Wondrous Waterfall
Located on Havasupai tribal lands, Havasu Falls is in a deep canyon leading to the Colorado River, and requires a 12-mile hike just to get there. The travertine formations at Havasu Falls are created from minerals in the water and over time the water droplets have precipitated away, leaving these intricate formations. Minerals in the water give the falls its aquamarine, milky appearance.
Shutterbug reader Rick Bergstrom had long seen images of Havasu Falls in the Grand Canyon in Arizona and heard about the strenuous hike to get there but wanted to see for himself "if the color of the water was really that deep aquamarine blue." Bergstrom knew that for an early morning shot, he would be shooting into the sun and later in the day the falls and canyon would be in deep shadow. So, he decided that a mid-morning shot "would have to do." On this particular day Bergstrom felt "lucky to get some light wispy clouds in the sky."
He captured this dramatic waterfall image with a Nikon D200 and an 18-200mm f/3.5-5.6 lens at f/8, 1/20 second, and ISO 100. He also used a Singh-Ray ND grad filter and processed the image in Lightroom 4. To view more of Bergstrom's images, visit rickbergstromphotography.smugmug.com.
(Editor's Note: Every month we will feature an image in Final Shot from Shutterbug's online Galleries on Shutterbug.com.)

FEATURED VIDEO