Fast Glass: Nikon's 24mm And 50mm f/1.4 Primes
With the availability of sky-high ISOs on digital cameras and VR on slower lenses, some have argued that it's not practical or economical to work with fast, prime lenses anymore. On the other hand, lenses like the Nikkor 24mm f/1.4G ED (list: $2200) and 50mm f/1.4G (list: $485) serve a distinct purpose for not only the obvious low-light advantages but also for the very, very shallow depth of field they can deliver.
The Nikkor 50mm lens is a "G" version, which is the designation for lenses without the traditional aperture ring and the inclusion of the AF-S autofocus motor. The lens has an internal focusing motor and takes the larger 58mm filter (an uncommon diameter for Nikon users).
Overall, this new 50mm lens is well made, sealed for the elements with a rear rubber seal. On the outer perimeter of the barrel the familiar M/A and M slide switch is installed, allowing you to tweak lens focus with the shutter pressed down halfway (M/A) or to completely focus the lens by hand on the M setting.
The lens contains eight elements in seven groups with the front element positioned deep down into the barrel at almost an inch (.860") when set to infinity. The lens stops down to f/16 and has nine diaphragm blades, which will appeal to bokeh fans. On Nikon FX-format cameras, the angle of view is still the usual 35mm equivalent—46˚. For those into the popular DX format, the angle goes to a sharper 31˚30' (75mm), making this lens a good selection for portrait applications.
When it came to images, shooting wide-open against a detailed wall showed that the corners were a tad soft. However, closing down one stop showed a marked improvement, and at f/5.6, this lens was at its peak. At minimum aperture (f/16) in my outdoor photographs, diffraction due to the smaller f/stop did not seem to be a problem, even with highly detailed subjects. Overall, the images were sharp with beautiful contrast, never disappointing.
The AF-S Nikkor 24mm f/1.4G ED is certainly the headliner optic of the pair. There had been a gap in the wide-angle, large aperture lens offerings in Nikon's prime lens lineup. Looking back, we see the 28mm f/1.4 was to me the best of the lot. When the market started to dry up for this lens (Nikon stopped building it) it was not uncommon to see this 28mm on the secondary market with prices topping $4150. (Considering that's over two times what I paid for the lens, maybe more of us should trade in our stocks for optical gear.)
This new version has a lot to offer. Topping off its great low-light performance, the Nano Crystal Coat and the Silent Wave Motor add to its versatility. Two ED (Extra-low Dispersion) elements enhance sharpness and color correction, two aspherical lens elements help to eliminate coma, and, by allowing the rear element to move, there's faster autofocus without front barrel rotation or changes in the overall length of the lens barrel.
Incorporating 12 elements in 10 groups, you just know this lens is going to be heavy, checking in at almost 22 oz. On a Nikon D300S, for example, you notice it right away; on my full-frame D-series FX cameras, this new entry seems to balance with the cameras nicely. As a pro lens, this 24mm entry is built to last. Like the 50mm f/1.4, it has a polymer barrel, great for extended or outdoor use. Looking closer it seems to be weather sealed for the elements, and at the rear the traditional rubber seal will keep moisture out of this sensitive electronic area. Overall, the 24mm feels very "Nikon solid" in the hands; with the focusing ring out front, the balance is near perfect.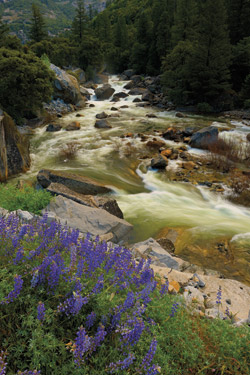 On the side of the barrel is the M/A and M slide switch. Manual focus is smooth and easy on the touch. If I were to compare speeds, I would have to say it ranks with the speed of the 50mm f/1.4, especially when you go from its closest distance (9") to infinity.
For pro shooters, the good news is that this lens takes convenient 77mm filters with a non-rotating front element. The only thing you have to watch out for is when shooting at f/16—use a thin line filter. Vignetting is a real possibility even when using a normal B+W polarizer. A scalloped lens hood is standard.
One benefit often underplayed in fast lenses like the new Nikkor 24mm and 50mm is the through-the-lens viewing experience and pleasure. And of course there's low-light ability. While I don't buy lenses like this only for available light photography, it is good to know that when the need arises the extra light gathering power is there.
New Nikon Fast Prime
As we went to press on this report Nikon Inc. announced the AF-S Nikkor 50mm f/1.8G lens, a fast, compact lens that affords photographers the versatility of the classic 50mm focal length and the benefits of a fast aperture for photos and D-movies.
Lightweight, compact, and affordable, this lens has the ability to focus as close as 1.48 feet. The integration of an ultra-compact Silent Wave Motor ensures fast, whisper-quiet AF operation, which is essential when recording movies. Optimized for Nikon FX-format cameras, this lens is also a great option for Nikon DX-format photographers seeking a fast, sharp lens for capturing images with amazing color and contrast.
The new 50mm f/1.8 lens construction consists of seven elements in six groups, with one aspherical lens element to reduce instances of coma and aberration, even when shooting wide-open. A rounded diaphragm opening combined with the seven-blade aperture contributes to a substantially more circular bokeh for a more natural appearance of out-of-focus background elements. Additionally, instances of lens flare and chromatic aberration are suppressed using Nikon's exclusive Super Integrated Coatings, which also help ensure vividly accurate color balance.
The AF-S Nikkor 50mm f/1.8G lens has an estimated selling price of $219.95.
For more information, contact Nikon Inc. at: www.nikonusa.com.
Stan Trzoniec is a frequent contributor to Shutterbug. His books Autumn in the Country, Digital Outdoor Photography, and The American Railscape are available and autographed through his website, www.outdoorphotographics.com. He can be reached via e-mail at: fotoclass@aol.com.

LATEST VIDEO