Face Value: Jack Neal's Portrait Partnerships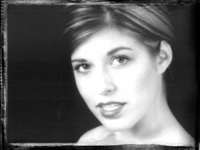 Photos © 2003, Jack Neal, All Rights Reserved
This website, Jack Neal offers this observation by the noted photographer Duane Michals: "I think photographs should be provocative and not tell you what you already know. It takes no great powers or magic to reproduce somebody's face in a photograph. The magic is in seeing people in new ways."
Jack writes that Michals' challenge "best represents the continuing allure of photography for me. I remain fascinated by faces. What stories are reflected thereon, what secrets lie hidden...?"
Which explains Jack's preference for portraiture. As far as his preference for black and white film for his portraits, Jack says that like old black and white movies, "it somehow conveys a little more emotion and has more of an artistic feel to it." Black and white can also suggest an element of mystery, of course, which also makes it the perfect medium to suggest the stories and secrets Jack alludes to.
Jack says he has no trouble finding subjects for his portraits. "They're people I meet in everyday life," he says, and in everyday life he's not a professional photographer. His work is in other fields, including real estate and financial consulting. But his passion is photography, and for the past year and a half he's made an effort to devote more time to it.

"My subjects are amateurs--they're not models or actors," Jack says. "For many of them, their work with me is their first time in front of the camera for a portrait session." Jack's approach to his subjects is simple and direct. "The attraction for them is personal," he says. "They get great pictures"--he exchanges prints for their modeling time--"and it's a chance for them to be involved in creating a unique image." Often the key to the session's success lies in the first few moments of contact. "I try to establish a rapport with the person who will carry over into the portrait session." Along with rapport, he has to establish trust. "I always show examples of my work, and I explain to them that we're partners in the effort, that they are as much a part of the process as I am. That's imperative because every photograph is a collaborative effort."


While he does say that he believes "there's no such thing as an un-photogenic person," it's obvious from viewing his portraits that the people he photographs aren't unattractive. Beyond looks, though, is something less tangible. "The photographer bears the sole responsibility of trying to capture the spirit of the person," Jack says, and Jack is confident he can do that if his subject will "dedicate the time to the process, accept the discipline of the process and the direction of the photographer."

He has a few basic techniques and likes to keep things simple in order to minimize distractions. "I prefer to keep the technical aspect straightforward," he says, "in order to maintain as much intimacy as possible with the subject to enhance rapport. Lighting and exposure is not a complex process, but chemistry with the subject is everything."
Jack's sessions can last anywhere from two hours on the short side to marathon 10-hour shoots. "If I can walk away with one compelling image, I'm satisfied," he says.
--Barry Tanenbaum
Note: You can see more of Jack's portraiture, as well as examples of his photojournalism and personal projects, at his website, www.jackneal.net.