Epson's Stylus Photo R800
A Superior Quality Letter-Size Photo Printer
The new Epson Stylus Photo R800 ink jet printer.
No one should jump to the conclusion that Epson's new Stylus Photo R800 is just a smaller Photo 2200, although at first glance it would seem to be. It is logical to assume that not all photographers who want to make fine digital prints want to also make large prints. And it is equally logical to think that if prints are smaller many of the quality attributes need to be finer. But with their new Photo R800 Epson went even further than logic demands, and has created an entirely new, more advanced benchmark for photographic ink jet print quality.

Some of the features of the new Photo R800 are shared with other top of the line Epson printers, like UltraChrome pigment inks for archival image longevity. And, many key performance features are unique to the R800, like a maximum resolution of 5760x1440dpi, and the industry's smallest 1.5 picoliter ink droplet size. Another new feature that sets the R800 apart is its high gloss capability, with a Gloss Optimizer that produces a truly glass-like finished surface on Premium Glossy Paper as part of the ink/print head function. In the convenience realm, both Matte and Photo Black ink cartridges are installed, so switching from one media to another is accommodated automatically without having to make an ink cartridge change.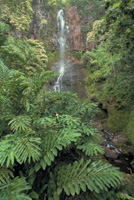 Bright colors, strong contrast, fine detail, and smooth gradual tones are naturally advantaged printing on Premium Glossy Photo Paper with the Epson Stylus Photo R800.
Photos © 2003, David B. Brooks, All Rights Reserved
From my perspective, a new feature of the R800 that Epson chose not to promote is its use of UltraChrome pigment inks, but with some different ink colors. Light Magenta and Light Cyan have been replaced with Blue and Red inks. In the printing industry this is really not all that new, as some high-end customized offset printing has for some time employed a similar ink color strategy. One effect of using primary red and blue ink colors, I would think, strengthens the effect of the yellow component in the color mix that relies on just one ink cartridge and set of print head jets. The other aspect of this new printer's capability Epson chose not to highlight is the finer picoliter and more jets. When combined with higher printing resolution using black ink only, black and white photographic print results become even more effective.

But apparently Epson was not satisfied with just providing a better printer with paper media--they also added an even more efficient and convenient CD/DVD printing function. The result of combining UltraChrome inks with premium quality printable CD/DVD discs takes that task to a new and higher level of quality.

With a finer printing capability you might expect the new R800 would not be faster when making the same size print as its predecessors. But it is, even when printing on CD/DVD discs. Finally, in addition to the usual canned printer/media color management profiles installed with the print driver, Epson also included a set of Premium custom-made profiles that are an optional install item on the Epson software CD that comes with the printer.
With matte papers black and white photos have been expected in the past to lose something in the depth of blacks and the range of densities printed, but not with the Epson Stylus Photo R800 using black ink only.
However, there is one drawback that hopefully may be corrected in the future. At the time I did the testing Epson did not offer any of the fine arts papers they sell for their larger Pro printers in letter-size, thus they can't be used with the R800. This may change though, if user demand develops for a larger selection of quality fiber-based papers for the R800. Yet, for those who want the best in print quality with a smaller than 13" wide printer, the cost of the new R800 is also considerably more affordable than the Photo 2200, at a list price of $399.
Printing With The Epson Stylus Photo R800
As usual with a new printer I chose to get acquainted doing some mundane printing for my own purposes. I make a lot of prints of Photoshop Contact Sheets I generate as I store archived photo files on CDs. I use Epson's Photo Quality Ink Jet Paper because of its light weight and ability to reproduce a good range of colors and tones. However, I found there is no profile support for this paper for the Stylus Photo R800. I prefer to print using a Profile to Profile workflow so that Photoshop controls color matching rather than the printer driver. So, I made a wild guess that maybe the canned SPR800 Super Fine Paper profile just might work, and found that it produced quite good color matching and the best prints on this Epson paper I have ever produced. A bit later, I tried to make some quick, inexpensive throwaway proof prints on regular Epson Photo Paper (glossy). Although this media is supported with a canned profile the driver does not include a specific media selection, and the rather poor prints that I produced is perhaps the reason why there is not full support for this paper.
Bold colors contrasted with subtle complexion tones, combined with soft contrast and gentle tone changes set off by sharp details are all attributes that are easily and richly reproduced on Epson Matte Papers printed with the control of the Premium profiles supplied with the Epson Stylus Photo R800.
Betwixt and between in my impressions of the printer I moved on to print some commercial-type photographic illustrations using Epson's Premium Glossy Photo Paper, which is supported by a "Premium" custom profile and specific media selection. From the first print made I was taken aback by a level of print image quality in density range, saturation, and photo-realistic fidelity I have rarely seen in my 50 years of photography.

With Premium Glossy Photo Paper the Epson Gloss Optimizer creates a slicker gloss surface than a print made with even the best dye-ink printers. I also tried the other Premium resin-type papers with their matching profiles printing a variety of subjects. Although the image qualities reproduced by the ink laid down were as good as Premium Glossy prints, I found the embossed surface texture detracted from the overall appearance. But that is very much a matter of taste, and I must admit to being more than a bit biased against resin-coated papers in general. That may be because the early resin-coated paper prints I have kept stored for many years have not held up well at all compared to prints made on fiber-based papers from the same time period.

Of course that bit of prejudice pushed me to make a lot of prints on both the two Epson fiber-based papers supported with Premium profiles (Heavyweight Matte and Enhanced Matte) as well as a number of samples of fine arts papers I had available (using the Premium Enhanced Matte profile). Even with the very modest cost Heavyweight Matte Paper, I was astounded by the fineness of detail, brilliance of tonalities, and richness of color in prints from a variety of subject matter. In particular, it was very evident in complexion tones in portraits and the greens in landscapes that the new red and blue inks support a new level of photographic color fidelity.

Getting back to the more mundane, I also used the Stylus Photo R800 to print a good number of CD-Rs made with the premium quality white printable Taiyo Yuden blank discs. Since I got one of the Epson Stylus Photo 900 printers and used it a lot to print labels on CD blanks, I'd learned to obtain pretty nice label results. But this new R800 does much better with both richer colors and better contrast, while getting at least half again as many CDs printed in the same amount of time.
Traditional black and white landscape subjects printed on Premium Glossy Photo Paper using black ink only with the Epson Stylus Photo R800 are rendered with unusually fine definition and an extraordinary range of tones in the most neutral black and clean grays.
Evaluation And Recommendation
If you have a print 13x18" that looks sharp, detailed, and perceptually refined then you have to at least double the printing resolution and halve the droplet size with twice the ink jets to make a letter-size print that will produce the same qualities. Epson has done just that and more in the performance capabilities of its new Stylus Photo R800 printer. Along with those heightened performance attributes, I believe the use of red and blue inks to expand the color palette reproduces images with even greater photo-realistic color than we have seen previously. The R800 is not just a more refined, better performing photographic printer, it does so with prints that will keep their color and vibrancy for generations.

If you are serious about the images you take, whether with film that's scanned or with a digital camera, then you should be just as serious about the prints you make. Get ahead of the curve with this new Epson Stylus Photo R800, because I believe it points the way to where many photo printers will strive to be in the future.
For more information, visit the Epson website at: www.epson.com.
Technical Specifications
Printing Technology: Advanced Micro Piezo pigment ink jet, optimized for photo printing
Nozzle Configuration: 180 nozzles (per cartridge)
Ink Palette: Six-color (Cyan, Magenta,Yellow, Photo Black or Matte Black, Red, and Blue)
Ink Cartridge Configuration: Individual cartridges, eight channel print head system
Ink Type: Epson UltraChrome Hi-Gloss Ink
Minimum Ink Droplet Size: 1.5-picoliter
Maximum Resolution (dots per inch): Up to 5760x1440 optimized dpi
Maximum Paper Width: Single sheet: 8.5"; Roll paper: 8.3"
Maximum Printable Area: 8.3x44"
Borderless Photo Sizes: 4x6", 5x7", 8x10", and panoramic
Paper Types: Supports a variety of Epson photo papers, 4" and 8.3" roll papers (roll paper holder included), plain, bond, and air mail papers. Supports Epson Premium Glossy Photo Paper, Premium Semigloss Photo Paper, Premium Luster Photo Paper, Enhanced Matte Paper, Matte Paper Heavyweight, Double-Sided Matte Paper Heavyweight, Ink Jet Transparencies, Photo Quality Ink Jet Paper, Premium Bright White Paper, ink jet printable CDs/DVDs.
Light Resistance/Print Longevity: Light resistant up to 80 years (both matte and glossy media surfaces)
Printer Dimensions And Weight: Storage: 12.1x19.5x7.8"; Printing: 25x19.5x12.8"; Weight: 17.6 lbs (without ink cartridges)
Interface And Connectivity: USB 2.0 Hi-Speed and IEEE 1394 (FireWire)
Operating Systems: Windows 98SE/2000/Me/XP; Mac 8.6-9.2, OS X 10.1.3 or later
Software Included: Epson Software Film Factory Version 3.0, Epson Print CD Software, and PRINT Image Matching Plug-In for Adobe Photoshop 6.0, 7.0, and Elements (all titles are PC and Macintosh compatible, P.I.M.- and Exif Print-enabled)