Epson's New Stylus Pro 4000
The Biggest And Maybe The Best Desktop Photo Printer Yet
If I had to use two words to describe the Epson Stylus Pro 4000 from an enthusiastic photographer's perspective they would be "serious fun." And from a professional photography perspective I'd have to say "serious business." Although scanners and digital cameras are essential to digital photography, to me, and I am sure to anyone who has printed their own work in a darkroom with an enlarger and trays of chemicals, making prints of your images is the ultimate reward, and the pinnacle of that achievement was a 16x20 fine enough to go on a wall. Now that the darkroom is on a desk (if that desk is big enough) you can make 16x20 photographs much quicker and easier, and even more deserving of being exhibited on a wall.
For much of the 15 years I have been involved with the digital darkroom, the pace of progress has been set by what Seiko/Epson R&D has brought to us in photographic ink jet printers. Now, the 16x20 print size, that has been for most of us the measure of serious photography, is accessible in a desktop photo ink jet printer. In fact, the print size output from the Stylus Pro 4000 is a bit more--17x22".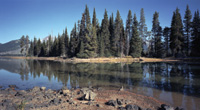 Another printing adventure I undertook was reproducing a number of images made on 120 film with a 6x12cm Horseman film back. These panoramas were sized to 15x30" at 300dpi and printed on a roll of Epson Premium Semimatte Photo Paper. These very large prints reproduced a number of differing natural scenes like this lake in Oregon's Cascade Mountains, as well as some black and whites made in the ghost town of Bodie, California, and even a full-length portrait. All printed with the Stylus Pro 4000 were superb reproductions, with rich colors representing the subject faithfully with striking contrast and fine detail.
Photos © 2004, David B. Brooks, All Rights Reserved
Epson has not just brought us the biggest desktop ink jet, it has improved and refined even more on their Pro line of printers using archival UltraChrome inks. One feature that users of the Epson Stylus Photo 2200 will appreciate is that the Stylus Pro 4000 has eight ink cartridges, with both Photo and Matte Black inks, so when media selection is switched from resin to fiber-based papers the printer automatically selects the correct black ink. Also new is the 1" wide print head, which helps make printing speed 1.9 times faster than any previous Pro Epson model. In addition, the 17" wide Stylus Pro 4000 provides convenient, easy paper handling to accommodate all media, whether in cut sheets or on rolls. The paper tray will hold and feed cut sheets up to 17x22", or roll paper up to 17" wide, plus there is a front loading single sheet paper feeder.

Reproduction Quality
Photographic reproduction quality is a paramount feature. The Epson Stylus Pro 4000 has both hardware and software factors that yield great results, including a maximum print resolution of 2880x1440dpi and a print head with 180 nozzles at 3.5 picoliter droplet size for each of the eight ink color channels. In addition, special attention has been given to providing Epson driver printer profiles for each of the media selections supported by the printer. This also extends to printing gray scale (black and white) images using the full range of ink color, as these new profiles have been optimized to produce critically balanced neutral grays.

The cartridge ink system of the new Stylus Pro 4000 is both high capacity and flexible. The printer accepts the same basic cartridges as contemporary Epson Pro wide format printers in both 110 and 220ml capacities. The Stylus Pro 4000 is provided with both USB and FireWire connectivity, as well as the option of installing a 10/100 BaseT Ethernet card for network connectivity. The printer and the advanced software drivers for both Mac and Windows provide custom adjustments to accommodate a wide range of media characteristics as well as ink density control.

Although the widest of Epson's Photo desktop ink jet printers, the Stylus Pro 4000 is compact relative to its maximum 17" wide printing size. The design of the operating functions make using it on a desktop easy and practical. The retail cost of $1795 is also the highest for an Epson desktop photo printer, but considering that the price includes about $550 in ink at retail price, it seems to me to be a bargain for such a finely made and precisely functioning printer.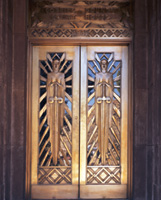 Although not spectacular at all, this image of the art deco doors of the Cochise County courthouse in Bisbee, Arizona, is one of my all-time favorites. So it was particularly satisfying to make a 16x20" image print on 17x22" Premier Fine Art paper with the Stylus Pro 4000 that preserves all of the subtleties of color and detail in the picture. I found making all of 50 prints with this 325gsm natural white paper produced rich looking, quality images of all kinds of landscape, nature, and portrait subjects--just the kind of images that look great hanging on a wall.
Testing And Printing With Epson's New Stylus Pro 4000
Setting up and learning to use Epson's new Stylus Pro 4000 is more involved than working with consumer printers, but the instructions and documentation are well done and easy to follow. I would not recommend, however, trying to bypass the documentation and flying by the seat of your pants. For instance, setting the printer control panel and successfully loading sheet paper one sheet at a time, or the alternate of loading the paper tray with media, requires following some rather simple but necessary procedures, which then must be matched by setting the corresponding controls in the print driver on your computer. Following the Epson instructions is best, but if you assume the Stylus Pro 4000 is just like any other printer it just won't fly.

In a short time I learned all of the procedures for both the printer and driver controls and quickly got to printing with ease. The Stylus Pro 4000 does a lot for you in this respect by utilizing optical sensors and a suction paper placement system that self-aligns media, which places a printed image precisely where it should be for each print. And, this is the first desktop printer I have used with roll paper that functions precisely and flawlessly without a lot of hassle and frustration.

In fact, the only disappointing thing about my experience with the Stylus Pro 4000 had nothing to do with the printer at all. This being one of the first production models available, I found neither Epson nor the third-party paper suppliers had much to choose from in either 17x22" cut sheets or 17" wide roll stock. Epson was only able to supply me with some 17x22" resin-based Epson paper for testing and a roll of 16" resin-based paper. Fortunately, I was able to buy a box of Moab Entrada fine art paper in 17x22", and a company new to me, Premier Paper (www.premierimagingproducts.com/media/) provided a supply of their Hot Press Fine Art paper for me to test in 17x22" sheets.
Even though this chance shot of a very intriguing fence had always eluded good reproduction in a print, I was able to achieve what I had hoped for in a 16x20" print made with the Stylus Pro 4000. Epson has achieved the kind of ink color control that will produce a truly neutral gray in a black and white print. However, it will only appear neutral if the illumination used to exhibit the print is in a narrow range around 4200Þ Kelvin. To make black and white prints with the Stylus Pro 4000 for warmer or colder viewing environments, you will need to add a Photoshop Color Layer to shift the print color, warmer if the print illumination is daylight or cooler if the print illumination is household tungsten lighting.
The reason I was so adamant about printing 16x20" images on 17x22" paper with the 4000 for my evaluation is that making the largest print size makes apparent any possible shortcomings in image quality. I used Epson's Premium Semimatte Photo Paper to assess the accuracy of the new profiles that are supplied with the printer. I also had some Epson fiber papers like Enhanced Matte in smaller size stock to do the same thing and to provide color match comparisons with both the Moab Entrada and Premier papers I used for testing. Both of these papers yielded good monitor image matching by using the Epson Enhanced Matte profile. And when I compared results with prints made with the Stylus Pro 4000 on Epson Enhanced Matte Paper I was quite pleased. As I continued to test, however, I found that the Epson Watercolor paper profile was more effective with the Premier Fine Art paper for reproducing portraits and similar people pictures.

Even the first set of 16x20" images I printed with the Epson Stylus Pro 4000 were reproduced with precise color matching and the best color qualities I have seen with any large printer I have used to date. That remained consistent through making almost 200 prints on 17x22" paper and several 15x30" panoramic images on 16" Epson Premium Semimatte roll stock. The print time for a 16x20" image printed at 1440dpi on 17x22" paper is just over 10 minutes. (I can recall letter-size photo prints taking that long to print not that long ago!) And, in one four-hour session uninterrupted by phone calls or deliveries, I was able to generate 20 17x22" prints, each of them from different image files. That's being productive!
Monochrome Results
I mentioned earlier that Epson has paid special attention to creating profiles for reproducing black and white photographs in prints. I took that claim seriously, and besides printing a lot of color prints, I also reproduced some gray scale images. The prints I made confirmed Epson's claim. But, there is a proviso, which stems from the fact that pigment-based inks, like the UltraChrome inks used by the Stylus Pro 4000, are subject to metamerism--appearance variations relative to the source illuminating the print. The black and white prints I reproduced with the Stylus Pro 4000 appeared consistently neutral gray viewed under controlled 4200Þ Kelvin professional exhibit lighting. However, these same prints viewed under much warmer tungsten household illumination acquired a distinct magenta tint, and in daylight window illumination they acquired a cyan/blue color cast. From the feedback I have gotten from photographers about this issue, I don't believe most will find the Epson Stylus Pro 4000 solution for black and white printing entirely satisfactory. And unlike the Epson R800 printer I worked with recently, that also uses UltraChrome inks, the Stylus Pro 4000 does not support making good quality prints using black ink only.
Subjects which are set off by bright color and bold contrast are best reproduced with the look and feel of traditional photo lab color printing with Epson Premium resin-based papers. The Stylus Pro 4000 makes switching from printing on Premium photo papers to matte fiber papers, and back, effortless, automatically switching from Photo to Matte Black inks by responding to the media setting made in the Epson printer driver.
Evaluation And Recommendation
Was the Epson Stylus Pro 4000 serious fun? Yes it was. Would it do as well for serious business? I am quite sure individual professional photographers who sell or produce prints for exhibition will find this printer reproduces the quality needed, reliably and with great efficiency. Would I buy one? In a minute, if I had some way to subsidize the ink and paper I would surely use too much of!

If you are a photographer who shares any of the enthusiasm that has kept me fully involved in photography for a lifetime, I believe that after printing with the Stylus Pro 4000 you'd want to own it. For professionals, I am sure the Stylus Pro 4000 would both pay for itself and add to the value of the photography produced in both reputation and value delivered. For the enthusiast, it is more a matter of being able to afford the cost of the ink and paper and working with a bit more discipline than enthusiasm.

From what I hear, most dealers who are selling the Epson Stylus Pro 4000 already have waiting lists, with the shipments they have received sold out as soon as they arrive. So, if you want the ultimate printer for your digital darkroom you may have to be patient. But I am not concerned that once some of you have had the opportunity I have just enjoyed that you will quarrel with my recommending the Stylus Pro 4000 as the best Epson has yet to offer photographers.
Technical Specifications

Printing Method: Eight channel print head technology using: seven-color (CcMmYk + PK or Mk) or four-color (CCMMYYMkMk). Variable Droplet Micro Piezo DX3 drop-on demand ink jet technology.
Nozzle Configuration: Color and monochrome heads, 180 nozzles x 8
Black Ink Mode Configuration: Seven-color Print Mode: Photo-K or Matte-K + Light-K (Photo-K and Matte-K inks automatically switch depending upon media selection within printer driver); 4-color Print Mode: Matte-K + Matte-K
Epson Ink Technology: Epson UltraChrome ink
Resolution: 2880x1440dpi; 1440x720dpi; 720x720dpi; 720x360dpi; 360x360dpi; 360x180dpi
Operating Systems Supported: Macintosh OS 8.5.1 through OS X; Windows 95, 98, Me, NT 4.x (Service Pack 3 and later), 2000, and XP
Physical Dimensions: 33.4x14x30"; Printer weight: 83.7 lbs
Printer Interfaces: Includes one USB (1.1/2.0 compatible), one IEEE 1394 (FireWire), and one Epson Expansion Slot used for installing the optional internal 10/100 BaseT Ethernet card
Media Thickness, Weight: 12 lb bond up to 1.5mm cardboard
Lightfastness Ratings Using Epson UltraChrome Ink: Color: Up to 85 years; Black And White: Over 100 years
List Price: $1795

For more information on the Stylus Pro 4000 visit Epson's newly re-designed website at: www.epson.com.