The Epson Stylus Photo 960: Is This Really The Ultimate Digital Darkroom Printer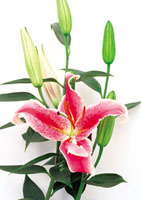 I've always taken any opportunity available in my photography work to detour to make photographs of flowers. The collection has been invaluable to evaluate the color reproduction capabilities of digital darkroom equipment, and seldom with as vivid a result as the Epson Stylus Photo 960 has produced.
Photos © 2003, David B. Brooks, All Rights Reserved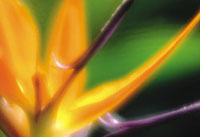 Following the excellent performance of the Epson Stylus Photo 890/1280 ink jet printers I honestly did not expect that further improvements in dye ink jet photo printers could result in significantly better print quality. That of course does not preclude improvements in printer performance and capabilities, as well as convenience, all of which the new Epson Stylus Photo 960 have that more than justify a new model. This new model is sleeker, quieter, faster, and does more than the previous 890.

It begins with improved roll paper handling, now included with a built-in automatic cutter, combined with edge-to-edge 4x6, as well as 5x7 as part of the printing package. In addition, paralleling the recently released Epson 2200, there is a third paper path for heavy stock like poster material providing a manual straight through paper feed. And, also like the 2200, this new 960 has separate cartridges for each ink color, of which there are six, but the printer takes seven because it uses two blacks. The two blacks for the 960 however, are identical with the same ink, the purpose being the doubling of the printer's black text printing speed.
A while ago I asked a model to participate in a test of a new super saturated film. Besides having some tongue-in-cheek fun with the project the images that resulted have now proven a good illustration of the Epson Stylus Photo 960's ability to reproduce intense colors.
Better Prints?
But, the most important question is whether the 960 makes better prints, and if so, how is that possible? Obviously, with seven separate ink cartridges, the 960 has a new print head design, and Epson now specifies that the ink droplet size is a microscopic 2 picoliters. Other than 96 nozzles per color with 192 for black, Epson specifies no further particulars of print performance other than the maximum resolution remains 2880x1440dpi. This newest model Epson Photo printer is also supported by Epson's Print Image Matching II technology, now supported by an even greater roster of digital cameras and compatible with the latest Version 2.2 EXIF digital camera JPEG file header information standard. This means automatically improved print performance that matches the characteristics of a particular digital camera, which can be accomplished with the Epson supplied Film Factory print application as well as with an Adobe Photoshop plug-in that is on the Epson software installation CD. For me the final arbiter of whether Epson's self-described "ultimate" print quality of the 960 was an issue I could only resolve through testing the printer in a wide range of applications over several weeks.
Being an old-timer photographically of course much of my library is black and white photographs. This has until recently been a frustration to print digitally. The Epson Stylus Photo 960 however, does a superb job using Epson Photo Paper and setting the printer to black ink only at 2880dpi resolution using the Automatic Adjustment setting.
Using The Epson Stylus Photo 960
I received the 960 from Epson as I was finishing up a number of projects. I usually make a lot of letter-size prints, proofs, thumbnail pages, and copies of illustrations for articles in my daily work, so I just put the 960 to the task of doing this after installing its drivers on three machines: a Mac G4 running OS 10.2, another G4 running Classic OS 9.1, and a just received Sony Vaio PCV-RX752 Digital Studio desktop computer running Windows XP. Epson claims the 960 is as much as three times faster than its predecessor--the 890. This was immediately evident. And, after printing a few contact sheets with Adobe Photoshop 7.0 generated at 300dpi, the resulting prints with 12 thumbnails provided a strong indication of truly superior print performance. Looking at the printed contact sheets as close as my eyes will focus revealed these small images were exceptionally detailed and sharp compared to what I had become accustomed to seeing.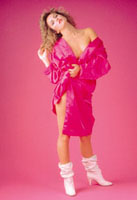 Doing a studio film test my model happened to have a DayGlow pink robe with her, which I asked her to wear for some shots. The color in the slide has been too intense to reproduce faithfully in a print until the Epson 960 came along.
© 2003, David B. Brooks, All Rights Reserved
As I used the Epson Stylus Photo 960 more for my daily printing, particularly proofing new scans and re-edited and manipulated images, I became aware the prints that resulted contained more of what I was seeing in the image on screen. This was not so much a matter of color matching, which is a function of color management that I maintain with precise calibration and profiling, but that the depth of color and the nuances of tone were more fully reproduced. All of this printing over a little more than a week was using the standard Epson Photo Paper, which I find can be purchased in quantity quite economically.

Wide Ranging Subject Tests
I next chose test prints from a wide range of challenging subjects that had not yielded satisfying prints in the past. I also worked with different print surfaces. A few of these were from images I had made using very fast 35mm color films for stylized portraits. They were photographed with soft light and often a soft-focus lens, further enhancing the apparent effect of the grain. Even on Heavyweight Matte, which because of its diffuse surface and a fiber base is more prone to allow the ink dots to merge, the detail in the prints crisply defined by the grain and the color intensity was superior to anything I'd experienced before. I then chose some of the flower images I have been spending more time with lately, and the saturated colors of these images held true in the prints with more what I would hope for based on the image's on-screen appearance. Yet, at the other end of the spectrum, subtle flesh tones in a portrait of a blonde, for instance, were reproduced with appropriate delicacy even on Premium Glossy photo paper.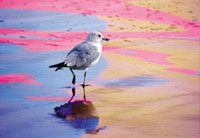 One of the perks of a digital darkroom is the fun you can have making a dull photo of a seagull on the beach on a gray day into an attractive image. When reproduced with the Epson 960 the print makes a colorful result even more so.
© 2003, David B. Brooks, All Rights Reserved
Epson offers two papers that assure the longest potential life of 25 years--Heavyweight Matte and ColorLife. Unfortunately, I did not have samples of ColorLife stock, but from previous experience would assume it would print much like Premium Luster, which I did test, as well as Premium Semigloss. To my eye, and this may just be personal taste and the viewing light conditions I have, the Premium Glossy and Heavyweight Mattes favor this printer's performance more than Luster or Semigloss. Good old standard Epson Photo Paper seemed to produce the best appearing prints overall. As for the black and white enthusiast, and there are more of these than Epson seems to want to acknowledge, I found the only fully acceptable prints were made setting the driver to black ink only and printing at 2880dpi using the Automatic Adjustment setting. This functions best again on Epson Photo Paper, Heavyweight Matte, and Premium Glossy, with my personal preference remaining the standard Epson Photo Paper.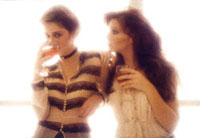 I was quite surprised by how precisely and clearly the Epson 960 printer reproduced the grain in one of my stylized portraits. Usually these images on 1000 speed 35mm films don't reveal the grains sharply and clearly until blown up to at least 11x14, but the 960 does as well printing an image almost half that size.
© 2002, Cris Daniels, All Rights Reserved
Evaluation And Recommendation
Ultimate is, now that I've lived with the Stylus Photo 960 for a number of weeks, a fair description to use to describe this new Epson letter-size printer. The quality difference advantage of this new printer is particularly evident in smaller print sizes because the small ink droplet size reproduces sharp and small, fine detail with crisp differentiation of tones, and colors like no other printer I have seen. Of course this also translates into smooth areas of color that can appear almost liquid when reproduced from a fine-grained photo image. The Epson 960 also produces prints with greater fidelity to the richness of color in originals, and does so with considerable economy in regard to the amount of ink that is used. I found that with the colors I tend to have more of in my photographs the light magenta is used quickest, and then yellow and light cyan. At a list price of $11.95 per color ink cartridge, considering how many cartridges I'd replace with an 890/1280 doing the same number of prints, I'd estimate the new 960 would reduce the ink cost per print. But don't hold me to reducing your print budget, as the much faster printing speed and fine image quality may encourage greater use overall!

For any photographer who limits their prints to letter-size and smaller, this new Epson Stylus Photo 960 offers a distinct quality and print speed advantage, as well as several new features like the roll 4" printing with an automatic cutter. At $349 it is at a premium price, but it's one that I believe is warranted by its obvious solid quality and smooth, quiet operation, in addition to its speed and excellent print performance.
For more information, call Epson at (800) 463-7766 or visit their web site at www.epson.com.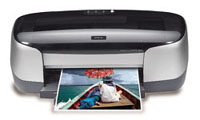 The new Epson Stylus Photo 960 letter-size dye ink jet photo printer.
SPECS

Printing Method: Six-color (CcMmYK) Micro Piezo ink jet technology, individual ink cartridges
Resolution: Up to 2880x1440dpi
Ink Droplet Size: 2 picoliters
Print Speed: 4x6" Photo: 53 sec (720dpi), 8x10" Photo: 1 min, 49 sec (720dpi). Black text memo: 8 ppm (360dpi).
Ink Technology: Epson Photo Ink (Lightfast Inks)
Software Driver: Windows USB--Windows 98, 2000, Me, or later; Windows Parallel--Windows 98, 2000, Me, or later; Macintosh USB--Macintosh System 8.6, 9.x, and OS X 10.1
Interface: USB, Parallel (IEEE-1284)
Paper Handling--Single Sheets: Letter, legal, A4, 4x6", 5x7", 4" and 8.3" wide roll paper, and user definable (up to 8.5x44")
Paper Thickness: Up to 1.3mm via straight through paper path
Paper Types: Plain and bond, Epson Glossy, ColorLife, Premium Glossy, Semigloss, and Luster Photo Papers, Matte Paper-Heavyweight, Photo Quality Ink Jet Paper, and Premium Bright White Paper.
Physical Dimensions: 20.27x26.10x11.77" (printing); 20.27x13.10x8.22" (storage); 16.2 lbs
Software: Epson Software Film Factory, P.I.M. plug-in for Adobe Photoshop 6.0, 7.0, and Elements
Price: $349

LATEST VIDEO