Epson Stylus Photo 2200
Is It The Printer Photographers Have Been Waiting For
Not all subjects photographed are composed of pure color, or much color at all, but they still need to be reproduced with a realistic fidelity of hues and tints. This storefront picture from the street has a wide range of subtle values that were very credibly reproduced by the Stylus Photo 2200.
Photos © 2002, David B. Brooks, All Rights Reserved
Not long after the new Epson Stylus Photo 2200 was announced to the public photographers were obviously in high anticipation because rumors of every dire kind began to circulate about the printer when it did not appear in stores. But that was due to Epson's schedule, which was right on target as the printer for my test and evaluation was delivered on the day when I was told it would. Now that I have worked with the new Stylus Photo 2200 I can assure you the reasons for the high anticipation are sound and that there seems to be no basis for the rumors. So what follows is an account of my adventure to find out just what this new Epson printer can do.

The Epson Stylus Photo 2200 is entirely new from the ground up, and the Ultra Chrome inks it uses are a new generation of Epson's pigment inks. The printer uses seven colors of ink, adding a new Light Black ink (CcMmYKk), with each of the seven inks in separate cartridges. In addition there are two different full black inks, Photo and Matte, with the Photo designed for RC-type papers and the matte for fiber papers.

There are now three ways to load paper--the typical multi-sheet automatic top loader, a new roll paper slot, as well as a straight-through path designed for thicker paper stocks at the rear of the printer chassis. The roll paper system has been redesigned and now includes an accessory automatic paper cutter, as well as a "basket" to catch the print output. And, finally, in the physical department, the Stylus Photo 2200 has three connection interfaces, including FireWire, USB, and parallel (for PC Windows computers).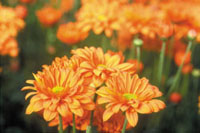 A primary criteria of printer performance is to reproduce rich colors with the full depth of color that matches the subject. The new Epson Stylus Photo 2200 accomplishes that mission quite effectively, as seen in this photograph of flowers.
Performance features of the new 2200 are numerous and significant. The maximum resolution for this printer is 2880x1440, which is not new, but with the Stylus Photo 2200 the maximum resolution may be used with all printing media, including fiber matte papers. The Ultra Chrome inks have an estimated life of 40 years on RC-type papers and 80 on matte papers, and is currently being tested independently by Wilhelm Imaging Research. These new inks are finer milled pigments and yield the highest gamut for pigment ink media and yield significant advances in image reproduction quality. For users of the Epson Stylus Photo 2000P, the 2200's high printing speed, which supports making an 8x10 photo print in under two minutes on Fine mode, will be particularly significant.

All of this in a printer Epson estimates will sell on the street for $699 may sound too good to be true, but that is what the rest of my report is about, so keep reading.
Print Testing The Epson Stylus Photo 2200
For a change, my work with this product became positively functional. I had just finished working with several scanners when the Epson Stylus Photo 2200 was delivered to me. So, I had copious image files newly made and proofed with an Epson dye-ink printer ready to feed to this new pigment ink 2200 printer. Also, with a lightened workload over the last few months I've had more time to create personal images and had accumulated a considerable library of high-resolution files I could print. Who knows, I might even get ambitious and sell some of my art as this 2200 printer looks like it will support making the prints.
This scene in Italy contains a full range of tones that are accurately and completely reproduced in a print image made with the Epson Stylus Photo 2200 printing black ink only at 2880dpi. Although not an Epson recommended printing method, it has the advantage of being free of any shift in tone color displayed in different kinds of light, reproducing images with incredible detail and sharpness, all at the small cost of slowing the printer down a bit.
Being in one sense conventional, and thinking of the RC-type papers like Premium Glossy as more of a work-type commercial medium, I began my print testing with it as well as Premium Semigloss and Premium Luster. I saved the fiber/matte papers like they were dessert after the main course. Testing the three RC-type papers may seem a fairly simple task, but there are a lot of variables to evaluate. I wanted to see how the printer does with different kinds of images, some very saturated, some neutral earth tones and which print driver setting is best for portraits. I also was curious about printing black and white photographs with this color printer. In addition to all the variables, made possible by a number of print driver setting options, the new Stylus Photo 2200 has yet another control, one to vary ink intensity. This would, for instance, allow you to create a very pastel print of a high-key image like a wedding portrait while preserving a normal coloration and relationship of tones.

With recent Epson dye-ink printers like the Stylus Photo 820, which I reviewed not long ago, I found it supported printing at the maximum 2880dpi resolution using black ink only for reproducing a black and white photo image. It did produce superior black and white print quality. However, with the new Stylus Photo 2200, if you click on Black ink you get a warning that it is for text only and will not reproduce a quality photo image.

After doing some prints of gray scale black and white photo files using all colors of ink and finding the results were quite warm toned, even looking like a toned print viewed by tungsten illumination, I decided to ignore the warning. I set the printer on black ink only, automatic image adjustment and at 2880dpi output and printed a couple of my black and white photos.

The result was a neutral, slightly warm black photo print with exquisite sharpness of detail and a full range of tones, including a decent maximum density black. OK, I said to myself, and opened a 12x24" panoramic image taken in Bodie, California (a ghost town), and then cut a 13x26" piece of Premium Glossy from a long roll. The resulting print was incredible in its tonal range, subtlety of separation of tones in the finest detail, and well beyond anything I would have expected in my wet darkroom days.
With a bit more black and white printing I found that of the RC-type papers the Premium Glossy reproduces a distinctly superior print image in black and white, and with almost liquid blacks. I suspect that the Premium Glossy driver setting causes the printer to deliver greater ink intensity compared to Premium Semigloss and particularly Premium Luster.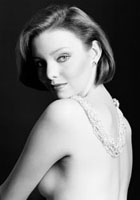 A portrait subject presents the camera with a rather short range of reflective values, which can be made dramatic by applying contrasty lighting. The difficulty this technique presents is to preserve the subtle variations of delicate skin tones while also reproducing the deep shadows and full black details realistically. This new Epson 2200 meets this challenge better than I have seen with any printer.
The Matte Finish
The dessert course of my test and evaluation printing initially involved using Epson's Enhanced Matte and Watercolor Brilliant White papers, along with trials printing with Schoellensheimer Velvet, Concord Rag, and Dotworks Fiber Heavyweight Matte (FHM) papers. Later I obtained a few sheets of Epson Velvet Fine Art paper. After a lot of printing on the RC-type papers, particularly Premium Glossy, moving immediately to Enhanced Matte and Watercolor, the Epson papers were a bit of a letdown. With the new Matte Black ink option, I expected the color intensity and depth would be comparable to that of the RC-types using the Photo Black ink, but it wasn't.

Printing on my economy fine art paper favorite, Dotworks FHM, there was an improvement, but the colors were a little off using the Epson Enhanced Matte profile. The French Concord Rag is a quite warm, creamy colored paper, and it printed quite well with the Epson Enhanced Matte profile, but with slightly muted cool colors. However, at almost $8 per 13x19" sheet it is not a very affordable option. Both the Concord Rag, which is a very hard surfaced hot press paper almost unique in the fine arts field, and the Dotworks FHM, which has a hard, gritty coating, both produced a depth of color and density maximums closer to those of RC-type papers.

So, I was beginning to think the finer milled Epson Ultra Chrome inks were absorbing excessively into the more standard clay coated fiber fine arts papers and therefore not reproducing quite as much depth of tone and color as the RC-type papers. One way to compensate for some of this is to increase the ink intensity using the new adjustment setting in the printer driver of the 2200, but that is a limited option.

After having a good experience printing black and white photos using black ink only at 2880dpi, particularly with Premium Glossy, I of course had to test this possibility with fiber papers. I was not disappointed, but, with the Enhanced Matte and particularly Epson Watercolor Radiant White, to obtain a good black I found it necessary to up the ink intensity to the max 20 percent plus of allowed increase. This also required a small Photoshop Levels adjustment in the mid tones to lighten them. In addition to reproducing black and white in consistent neutral tones, using only black ink avoids any metamerism color shift that is somewhat apparent with fiber black and white prints made using all of the ink colors.


Softly lit, high-key subjects have presented a challenge for ink jet printers in the past. The problem was obtaining accuracy in complexion and hair colors while reproducing the neutral values without a color cast. The Epson Stylus Photo 2200 passed this critical test without a hitch, providing clean, sparkling images with entirely natural looking color values.
Later in my work I obtained a professionally made color management profile for the Dotworks FHM paper, as well as the sample sheets of Epson Velvet Fine Art paper. The custom profile for the Dotworks FHM made a significant difference, further establishing an advantage of this unique paper in producing richly colored images.

The Epson Velvet Fine Art paper has a more textured surface and also a different coating than either Enhanced Matte or Watercolor, and the prints I made with it were markedly richer in color and depth. These two sets of results has made me wonder if the paper setting ink intensity levels and the profiles supplied by Epson could not be optimized for better color performance with both Enhanced Matte and Watercolor Radiant White paper. That would be my guess, but I did not have neither time nor resources to find out.
Evaluation And Recommendation
With each new generation of computer technology products we have come to expect significant advances in performance. With the Epson Stylus Photo 2200 the pigment ink photo printer maintains that tradition. It was not that long ago I tested and reported on the Epson Stylus Pro 5500, a printer that largely resolved all of the shortcomings of the 2000P, like slowness and prints that color shift (meta-merism). The 2200 achieves that level of printer performance, improves on it, and is just 1/5 the cost of the Pro 5500, and less than the 2000P, with an estimated street price of $699.

Going to seven colors (eight counting the two full black Photo and Matte selections) and separate cartridges
for each color makes the initial outlay for ink at the Epson list of $11.95 per cartridge considerable, but my experience with the printer is that the ink cost per print is less than it was with the 2000P. I found some inks like Light Magenta and Light Cyan require fairly frequent replacement, while some colors seem to last and last, with Yellow and Photo or Matte Black in between. In addition, I found the ink cartridge price at Epson's online store is $10.47 per cartridge. However, the best Epson fiber paper I used with the Stylus Photo 2200 is the Velvet Fine Art, and it is about 25 percent more costly than Enhanced Matte or Watercolor Radiant White.

Working with the Epson Stylus Photo 2200 is very much like previous Epson printers, although there are now three paper feeds--the automatic loader, the roll paper input, and a manual input at the rear of the printer. The latter is required for thicker papers like Epson Velvet Fine Art. It would be easier and more convenient to use if Epson provided a simple plastic loading platform to attach to the rear of the printer, and allowed the complete removal of the top cover of the printer instead of a hinged at the rear opening. This would allow you to adjust and see the placement alignment of each sheet with more ease and convenience.

The overall performance of the printer is good, and users will find it just about as easy to obtain good photo print results with the Epson RC-type papers as it is with their dye-ink printers. Optimum quality with fiber fine arts papers requires just a little more attention. Also, the speed of this printer, I think, exceeds just about every previous Epson consumer ink jet, but with one caveat. It prints with maximum speed using the FireWire interface, and is slower using a USB connection. In addition, it is slower even with FireWire if you are running OS 10.1 on a Mac. However, during my time testing the printer, Apple announced OS 10.2, which is supposed to have better print driver support. So if this is the case and Epson upgrades their OS 10 drivers, all should be sweetness and light.

So what should one expect but another winner from Epson? For more information call (800) 463-7766 or visit Epson's web site at www.epson.com.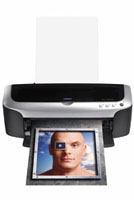 Printing Method: Epson Micro Piezo ink jet technology
Color Configuration: Seven-color Ultra Chrome pigment inks with individual ink cartridges
Maximum Resolution (Dots Per Inch): 2880x1440dpi black and color on photo papers
Ink Technology: Epson Archival Ink with exclusive Micro Encapsulation
Print Speed: 8x10" photo 2 min, 6 sec on matte paper; 3 min, 51 sec on semigloss paper
Standard Interfaces: USB, FireWire (IEEE-1394), Parallel
Paper Handling: Letter, legal, 3.5x5", 4x6", 5x7", 8x10", 11x14", 11x17" (B), 13x19" (Super B), A4, statement, executive, A3 (11.7x16.5"), user-definable sizes, roll paper (4", 8.3", 13"), and panoramic up to 13x44"
Maximum Printable Area: 13x44"
Dimensions: 24.3x13x8.2" (storage), 24.3x34.1x15.4" (printing)
Weight: 25.7 lbs
Ink Cartridge Life: Black ink life 628 pages text (ISO/IEC 10561 letter pattern) and 440 pages graphics (5 percent coverage); color ink life 440 pages (15 percent coverage), shelf life two years from production date Estimated Street Price: $699



LATEST VIDEO