Epson Stylus Photo 2000P
Selecting images with intense saturation and subtle, close to neutral coloration, and printing on Epson's Premium Semigloss paper results in a reproduction hard to distinguish from a top-grade professional photo lab print.
Photos © David B. Brooks, 2000
Editor's Note
The prints produced by the Epson 2000P printer are totally different from prints from any previous printer from any maker. Due to magazine reproduction limitations or published representations of these prints can not match their color or depth, so please heed David Brooks' verbal descriptions more than the printed images accompanying this article.
--Bob Shell
The question that's been asked most often these last 10 years is, "when will digital replace film?" Until very recently most of us did not look to color printing as the medium that would sail past traditional silver-based technology and offer something better. But, with the Epson Stylus Photo 2000P and Epson's new MicroCrystal Encapsulation pigment ink technology, also shared by the large format 24" Pro 7500 and the even larger Pro 9500 Epson Stylus Photo printers, image quality, print life expectancy, and a wide choice of substrates all surpass typical analog methods of printing color photographic images. Now professional and enthusiast photographers can produce beautiful image quality in prints that will last well beyond a typical lifetime. There is also the assurance those images will last in full fidelity of color and tone.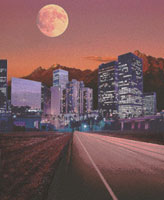 This highly manipulated composite of photographic images has always been a frustration because the colors and values on-screen have not been reproducible until I printed the image with Epson's new Stylus Photo 2000P.
Pigment ink jet printers have been in existence for some time. These printers are far too expensive for individual ownership and the color output has been significantly lower compared to printing done with dye inks. Epson has applied their own research and development to a solution. It is most basically a patented process which reduces the crystal size of the color pigment down to 1/10 of a micron, and then covers each crystal with a specially formulated resin polymer. This allows the ink to be used in the fine jets of Epson's MicroPiezo print heads, applying it with sufficient density to achieve the same depth of color and tone that has been produced with their latest dye inks. These new Epson pigment inks, because they are so finely made, interact with the substrate (paper) to which they are applied uniquely by penetrating more like a dye ink rather than sitting on top of the surface like other pigment inks. This required the development of new papers by Epson to work with the inks most advantageously. Some of these papers are also resin polymer coated (semigloss and luster) and produce image attributes virtually identical to the print attributes of traditional photo lab color prints. In addition Epson has produced natural fiber-based substrates of a fine arts type (archival matte and watercolor) that produce equally saturated print images and add the longest archival life expectancy yet of 200 years.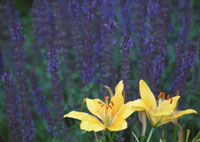 Photographs of flowers capture some of nature's most intense colors, that are fully and faithfully reproduced with the 2000P on Epson's Premium Luster paper.
The Epson Stylus Photo 2000P. From outward appearances, the case of the 2000P is the same as the 1270 model distinguished however, by a matte silver and black finish. Likewise the 2000P is a 13" wide paper printer, and is supplied with a roll-paper adapter. In addition, an Epson Stylus RIP will soon be available for professional installations that frees up the host computer while prints are being made. The 2000P also retains Epson's true hardware 1440x720 print resolution and has a 6.5 picoliter ink droplet size, as well as Variable Size Droplet technology for the smoothest possible tonal gradations. The 2000P retains the Intellidge ink cartridge design with a built-in chip that provides user on-screen monitoring of the exact amount of each remaining color of ink, as well as automatic shutting off of the cartridge ink valves when the printer is not in use.
The premium fine art papers favored for sometime by artists and serious photographers like Concorde Rag were also test printed using the 2000P. This intensely colored fall leaves image was printed on Somerset Photo Enhanced paper using the Archival Matte paper print setting. The result was a full range of rich, fully saturated tones on a finely textured heavyweight stock that exudes the feeling of fine quality.
The 2000P is also capable of printing edge to edge on 13x19" media. The software driver for the 2000P provides a familiar interface and as many printing options as the 1270 model, but of course with the new media choices appropriate for the new ink-paper combinations. Full support is included for Apple Macintosh with Colorsync color management, as well as Microsoft Windows with ICM color matching. Computer connection, including parallel and USB interfaces with automatic sensing of the connection, is included. The quiet operation of the Stylus Photo printers introduced with the 870/1270 models is also retained. Printing speed is fractionally slower with the 2000P compared to the 1270 model due to the slightly slower drying characteristics of the new pigment inks.
Printing With The Epson Stylus Photo 2000P. The 2000P I received for test and evaluation arrived just a couple of weeks after seeing the printer for the first time at Epson's headquarters in Long Beach, California. I was very excited and it took no time at all to unpack, hook up, and install software. I ripped off a couple of prints, and said, "Whoa! I'm doing something wrong." They lacked the quality of the samples made by some of the beta testers that were shown to me at Epson. In my rush I had simply used the auto adjust print driver setting, which when I want optimum print qualities I never use printing with the Epson Stylus Photo 1270. So, I started over to see what was going on. I chose an image file with known tweaked qualities that I'd just scanned with the Imacon Flextight Photo. I proceeded to make prints of it again using the auto adjust option; the PhotoEnhance option; Colorsync; and Photoshop's Profile To Profile conversion using the Epson supplied profile for the Premium Semigloss paper which I was using to print with.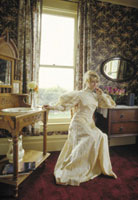 Long absent from the normal, traditional photo lab scene has been a matte fiber-based color printing paper. Now with the Epson 2000P people pictures and portraits are reproduced on Epson's Archival Matte paper in prints ideally suited to display and the character of the subject.
Now I had four prints all made on the same paper of the same image file with only the color adjustment option different. I would expect a subtle difference in each print doing the same test with the Epson 1270 printer, and found in what the 2000P reproduced the differences were a little more pronounced, with as expected the last Photoshop profile to Profile Mode function controlling color, producing the best image qualities most closely matching the monitor screen image. Is this in any way a fault of the printer? In my mind not at all; it is just a reflection on the fact as the physical capabilities of printers become greater in their ability to reproduce all of the colors in an image file, the accuracy of the software that is directing the printer to reproduce those colors becomes more of a critical factor. And, it is pretty well agreed among those I respect in their understanding of color that Adobe Photoshop's internal color management using Profile To Profile Mode conversion is the most precise way to direct a printer to accurately reproduce what is on screen in Photoshop's workspace.
With that experience and understanding making me very aware, I moved ahead testing the printer, printing from photoshop using the Profile To Profile Mode option and no printer color adjustment with all four Epson paper samples, as well as a couple of independently made fine art papers, using a variety of subjects including a few black and white image files converted to RGB. The latter test gave me yet another momentary unsettling surprise. I found that if you simply convert a gray scale image to RGB and then print with the color ink option turned on in the print driver, the 2000P I had for tests shifted the print output off of dead neutral gray in the opposite direction my 1270 would. Instead of the greenish tinge the 1270 produces the 2000P goes to a cool magenta hue. After much trial and error I found that instead of adding equally small amounts of red and green to the black and white RGB file as I'd learned for the 1270, I had to add three parts green to one part yellow to get a pleasant warm black with the 2000P.
To obtain a maximum richness of tones in a black and white image printed with a color ink jet printer requires using all of the six colors of ink to print the image. This requires converting the gray scale file to RGB, and then adding just a bit of color to create a pleasantly hued black tone. With the Epson 2000P considerable experimentation was required before a desirable result was achieved. But then, the range of tones printed were rich, deep, and luminous.
Evaluation And Recommendation. Among all of the companies involved in manufacturing ink jet printers for the consumer and business markets, so far Epson is the only one that has directed a major effort to specifically address photographic printing. It is very significant that they further refined their target market and applied a major research and development effort to develop pigment, archival inks, and papers specifically suited to professional photography and fine art printing. The result in the affordable $899 Epson Stylus Photo 2000P opens a significant potential for any photographer selling prints or making prints for fine art purposes as well as any other application demanding archival longevity, to personally and digitally control the quality and style of what they produce photographically.
Even though I have been retired from doing photography commercially for a few years, I am so excited about this potential I'm seriously thinking about getting active again. The print results I've obtained in the last few weeks working with the 2000P have met all of my expectations and assure me I would enjoy great customer satisfaction if they were prints made for sale to clients. In addition, with the choice of a print material that is a close match to current photo lab print materials, as well as Epson's Archival Matte and Watercolor stocks (with a canvas and cotton rag selection to be offered soon), any taste and photographic style created could be appropriately reproduced. Moreover, my two tests with existing fine art papers encourages the idea that a uniquely personalized style of print and image is possible to suit any variation in client taste and preference.
The cost of the consumables is in addition to the pricier 2000P, a little more than previous dye ink Epson products, with the color ink cartridge listed at $37.95. The papers are also priced higher than previous Epson media, but they are also thicker and heavier providing a substantial look and feel well suited to a sales or presentation purpose. Considering the much higher cost of professional quality, archival jet printers and media previously, the relatively modest investment required by the Epson Stylus Photo 2000P assures a good potential for healthy profit margins and accessible success for individual professional photographers to now do their own thing. For more information and the latest news on Epson Professional printer products and supplies, call (800) 463-7766 or visit their web site at: www.epson.com.
Technical Specifications

Printing Method: Epson drop-on-demand Advanced MicroPiezo ink jet technology
Ink Technology: Epson Archival Inks and Epson Premium Photo papers providing light fastness rated at 200 year by tests performed by Epson-Seiko Corporation (currently being tested by Wilhelm Imaging Research)
Print Width: Edge to edge printing with 4", 8.3", and 13" roll stock, as well cut sheet sizes
Printing Resolution: 1440x720dpi
Color Configuration: Six color inks in Smart cartridges with separate cartridges for black and color
Paper Types: Plain paper (for text printing only); Epson Premium Semigloss Photo paper; Epson Archival Matte paper; Epson Watercolor paper; Epson Premium Luster Photo paper
Paper Sizes: Letter, legal, panoramic up to 13x44", A3, A4, B (11x17), Super B (13x19), B4, and B5
Maximum Printable Area: 13x43.76"
Interface: Parallel and USB
Compatibility: Windows 95/98/NT 4.0, and Macintosh OS 8.1 and later
Postscript Option: Adobe Postscript Level 3 with Pantone approved colors
Dimensions: 24x30.3x16.3"
Weight: 18.5 lbs
Price: $899

LATEST VIDEO