Epson Stylus C82
A Sensible And Affordable Choice For Photographers
With digital cameras and scanners getting both better and more affordable the ability to print photo images with a home computer is an increasingly popular option. In fact, if you have a home computer its utility is rather limited without a printer, so why not get one that also prints photos as well? If you want your printer to print a letter, a term paper, or a web page, in addition to photo images, shouldn't you want it to do all with equally superior quality? And finally, if you were to make photos of "Junior" to send to the grandparents, wouldn't you want the pictures when framed and on the fireplace mantel to remain fade-resistant as well? These were the considerations and questions I had in mind when I tested and worked with Epson's new Stylus C82 ink jet printer.
Landscapes and similar photographs with a full range of tones and colors reproduce quite comparably to many dye-ink photo printers when coated fiber papers like Epson Heavyweight Matte are used.
Photos © 2002, David B. Brooks, All Rights Reserved
Stylus C82 Features
Epson calls the new Stylus C82 "their flagship, all-purpose ink jet printer." It is designed to reproduce exceptional results with everyday document printing as well as photos, even when used with plain paper. One of the outstanding features is the DuraBrite ink, with light resistance up to 80 years on specialty papers and 70 years on plain paper. These inks, that are also water-resistant, are provided in separate cartridges for each of the C82's four colors providing high page output as well as cost savings. These new DuraBrite inks are pigment-based, which contributes to the print longevity. An added benefit is that they reduce the bleeding that can occur with dye inks. The crisp, sharp prints are also due to a variable ink droplet size as small as 3 picoliters combined with a maximum printer resolution of up to 5760x 1440dpi. The C82 is also fast, producing 22 pages per minute of black text and up to 11 pages per minute in color mode.
The new Epson Stylus C82 is an attractive contemporary design that requires a minimum of desk space for a letter-size printer. Its $149 estimated street price adds to the attractiveness. But what kind of photo printer is it really, and is there any downside to offset so many strong features? That's exactly what I wanted to find out by using the printer myself, and will be the focus of the remainder of my report.
Using The Epson Stylus C82
Unpacking, setting up, and installing the C82 is a clean and easy task if you follow the numbered instructions on the big guide sheet supplied with the printer. I christened the C82 by printing a number of pages of text and graphics documents using sheets of letter-size Bright White paper supplied by Epson for my use. The text, even small 6 and 8 point sizes were a strong, clean black against the paper and clearly legible, while the graphics were smooth, crisp edged, and vividly colored. With the C82, and for the first time, the claim of laser-like quality text printing has been met in an ink jet printer. Text document printing is definitely fast, quite equal to many black ink only affordable laser printers. In the noise department it's a mixed bag, making a resounding clunk when a sheet of paper is loaded, while being moderately quiet while printing--you'll not have any problem talking on the phone at your desk with the C82 at work.
People pictures often demand a little less punch and saturation to make a pleasing photographic print. Using both Epson Matte and several other fiber matte papers I found I obtained very pleasing portrait prints with the C82 driver set at Color Controls Gamma 1.8 with the Photorealistic Mode.
Making those first initial prints I noticed the list of supported papers was quite extensive, but with a few noticeable exceptions including Premium Glossy and Premium Luster. So, I had my work cut out for me to find out how the C82 performs with the different supported Epson papers, and, to satisfy my curiosity, with some independent brands including a few fine arts samples provided by Digital Art Supplies. Epson Photo Paper is my usual day-to-day paper to proof images and make contact scan pages using dye-ink Photo model printers, so I tried that first.

Although the resulting prints were acceptable, they weren't exceptional. A significant improvement was achieved by making one simple driver option Mode change from Photorealistic to Vivid. For most photographic image printing with the C82 this became a confirmed choice. This choice was reinforced when I tried my next print with a paper I use frequently, double-sided matte. Although I don't consider double-sided matte a premium paper, the images the C82 made on the paper were everything I found missing in quality in the Photo Paper prints.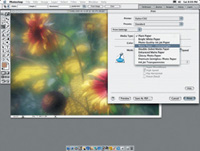 The Epson Stylus C82 print driver provides a large selection of supported media. With most of the choices users can obtain exemplary reproduction of both documents and photographs, especially considering the versatility and economy of this printer choice.
As I was advised by Epson, this new printer and ink produces the best image quality with fiber-based papers, providing optimized results with plain papers and its full potential with media like Epson Heavyweight Matte, and including the art paper known as Enhanced Matte. Further trials with those papers confirmed the C82 does produce excellent photographic reproduction qualities printing a variety of different subjects, and tests with RC-type papers like Premium Semigloss were less satisfactory, at about the same level as Photo Paper.

To complete my tests there were two sets of prints I still needed to make. First of all I wanted to see how the Stylus C82 would do printing black and white (gray scale) images. So, using all of the papers recommended for use with the C82 I made prints from a selection of images including landscapes and portraits. These print results were consistent with the color print tests, with the fiber-based coated matte papers like Heavyweight Matte and Enhanced Matte yielding quite superior prints.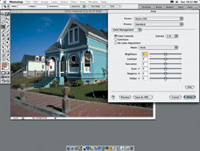 Using the Stylus C82 driver options, selecting Color Controls and a Gamma of 1.8 and Vivid Mode produced the richest color and greatest print tone range.
There are two choices that also can be considered in choosing how to print black and white--whether to use all colors of ink or black ink only, and what quality setting, Photo or Best Photo (resolution), to make. For letter-size images from color photographs the Photo Quality setting produces excellent images, and going up to Best Photo only seems to be a noticeable advantage when you are making smaller 5x7 and 4x6 prints, as they are viewed from a closer distance. My tests show that printing black and white selecting black ink only produces a more neutral black, and a superior print tone range is achieved by selecting the Best Photo quality mode.

I then worked with a wide selection of third-party photo and fine arts papers including Dotworks Matte and Fiber Heavy Matte, Schoellershammer Velvet, Hahnemuhle Photo Rag, and Crane Museo from Digital Art Supplies. The modest cost Dotworks Matte papers reproduced photographic images quite comparable to their Epson counterparts. I found that there was little difference in color values when using the Epson paper profiles for Heavyweight Matte and Enhanced Matte.
Black and white (gray scale) photographic images are reproduced exceptionally well by the Epson Stylus C82. Although you can obtain quite fine print results using the default setting and all ink colors, I found even on Epson Heavyweight Matte paper the print tone was too much like a selenium-toned wet darkroom print. So, my preferred C82 print driver setting was to select black ink only and the Best Photo Quality option, which reproduced very sharp, crisply detailed images with a full range of neutral tones.
The more refined, finer paper quality in the fine arts selection provided by Digital Art Supplies closely matched the image on screen. These prints really sang, as the DuraBrite inks are well suited to these fine papers, reproducing a great density range and rich colors enhanced by the refined paper texture and their rich, tactile properties.
Evaluation And Recommendation
From all of the e-mail my Digital Help department generates it is evident that many Shutterbug readers would be best served by a printer that reproduces both documents and photographs with fine quality, and also makes prints which will last a couple of generations. From the results of using a rather thick stack of paper when testing the Epson Stylus C82, I believe that many of you would be well served by this printer. The quality of its output and the modesty of its initial cost make it an excellent choice.
The only qualification is that to obtain the best performance with the C82 you are limited to fiber-based, non-RC-coated papers, and for photo printing you need to select driver settings specifically matched to particular images, be they portraits, landscapes, or black and white. Being limited to fiber-based paper, particularly Epson Heavyweight Matte, to obtain the best print image performance is not really a negative. To also obtain the maximum longevity the DuraBrite inks will provide, it is also essential that you choose a paper that has an equal longevity potential. And, glossy/luster papers all rely on some form of resin coating to achieve their shiny surface, an attribute that imposes a much shorter life expectancy. For more information call Epson at (800) 463-7766, or visit their web site at www.epson.com.



LATEST VIDEO

SPONSORED VIDEO
Testing Tamron's SP 150-60mm G2 lens while capturing birds and alligators in Apalachicola, Florida.