The Epson PhotoPC 3100Z
Image Quality And Options In One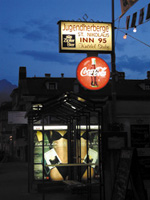 This youth hostel was exposed at dusk in downtown Innsbruck, with the Epson 3100Z set on Manual mode and employing its matrix metering and aperture priority (f/2.0). Had I needed additional exposure, I could have changed the light sensitivity setting from the standard 100 to 400, but I opted not to, because it affects image quality. To avoid camera shake the 3100Z was supported on a newspaper box (although it does have a tripod screw opening).

Photos © 2001, Ingrid S. Krampe, All Rights Reserved
As the sun finished its long descent down the horizon, the lights of Innsbruck sparkled over the Inn River. Looking down on the swirling mass of blue-gray water, I supported Epson's new PhotoPC 3100Z digital camera against the railing, adjusting the 3x optical zoom (comparable to 34-102mm) and released the shutter. The response was instantaneous, and the camera's wide f/2 aperture captured the line of row houses. This solid, easy to use, high-resolution (3.3 megapixel) camera is just heavy and large enough to feel like a sophisticated imaging device (not just another point-and-shoot).
Like its predecessor, the 3100Z sports a 3.34 million-pixel CCD with 24-bit color or monochrome image capture with an option to interpolate its "High" 2048x1536 resolution up to 2544x1904 (4.8 megapixel), using Epson's HyPict image enhancement technology. The PhotoPC 3100Z also provides preset parameters for printing, such as gamma level color space, contrast, sharpness, brightness, saturation, shadow paint, and color balance to ensure optimum results. The camera saves the ideal print commands in each data file. Prints from the 3100Z on the Epson 1280 were crisp, sharp, with vivid "true" color. Until last year your standard high-end commercial digital imaging device was only 6 megapixel and even today, anything higher tends to be more vaporware than reality. And while the options on any point-and-shoot are inherently limited, you get a formidable quality from this little camera.
Be aware that when the camera is in HyPict mode processing time increases from 1 sec to 14, so you may not want to use it if you are in a hurry. While Epson provides a 16MB CompactFlash card that holds approximately 31 fine resolution or 155 standard resolution images, I opted to bring a Kingston 128MB card and was able to load it up with 166 High and HyPict images.
I was repeatedly drawn to the row houses standing sentry over the Inn River and photographed them several times using many different resolutions. We verified Epson's claim that it is possible to get great results in sizes up to 12x17" using the HyPict (2544x1904) resolution setting.
Exposure Modes
For quick unencumbered shooting, Auto mode works fine in most scenarios. However, I preferred to set the 3100Z on Program or Manual mode because it allowed me to make various adjustments.
Manual mode provides control of most of the camera's functions, including sensitivity, white balance, shutter speed, and aperture. It even allowed me to prefocus the camera at 3 ft, 10 ft, or infinity and to choose between the camera's two metering systems (spot and matrix).
Program mode, which is also the camera's Default mode, allows you to set the camera to conform with subject matter. As the name implies, the "Sports" setting is designed to record action and couples a high-shutter speed with matrix metering. The "Portrait Setting" is truly valuable in any situation where you may want to blur the background and concentrate on a singular focal point. In this mode, the 3100Z's aperture remains fixed at f/2.0, and it employs spot metering. I maximized this option further by using the longest extension on the 3x optical zoom. The landscape setting is a bit more pedestrian than "Sports" or "Portrait." Similar to "normal" it employs matrix metering but primarily relies on the camera's smallest aperture (f/8) for maximum sharpness relying on wider apertures only in dim light situations.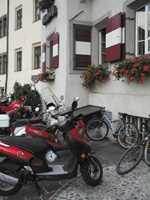 The Epson 3100Z captured this scene in vivid colors thanks to this camera's 24-bit color and HyPict image enhancement technology.
Like most digital cameras of this genre, the 3100Z also offers a video clip feature via its 25 sec, Quick Time Movie (Mo-tion JPEG), which captures at 15 fps. I used the 3100Z in all sorts of weather and lighting conditions and appreciated its very sharp 1.8" wide-view LCD screen, which was sharper and easier to see than many other cameras we have tested--at least in part because of the camera's f/2.0 lens.
I have to say that I enjoyed working with the 3100Z, after a "love-hate" relationship with the 3000Z for almost a year--loved the camera but felt like crushing it under a truck tire because of its lag time, a tendency to respond slowly after the shutter was pressed. When the 3100Z came out, I was very pleased to see that Epson had addressed this issue. If you want gear that you can like, take a look at the 3100Z. It's one of those cameras you may actually grow fond of, where familiarity does not breed contempt, but rather makes the heart grow fonder.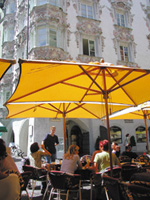 In this Innsbruck caf scene, the Epson 3100Z accurately balanced the colors between the dimmer area under the umbrellas and the bright sunlight of the market area.
The 3100Z comes bundled with Sierra Imaging's Image Expert; Epson Photo/3 Application; TWAIN driver for transferring images, and Epson File Converter for converting files (including presentation slides) into a format that you can upload to your camera. For more information, contact Epson America, Inc. at (800) 289-3776 or visit their web site at www.epson.com.
PhotoPC 3100Z Scoreboard

PROS
Ergonomics
HyPict (2544x1904 resolution) option
Hot Shoe
Tripod Screw Openings


CONS
Slow (frustrating) on/off Button Response
CCD: 3.34 megapixel
Resolution Options: 2048x1536; 640x480; 2544x1904 (HyPict) Compression Modes: Standard, Fine, Super Fine, HyPict (JPEG); Uncompressed TIFF
File Formats: JPEG, TIFF (Still); QuickTime Movie (Motion JPEG)
LCD: 1.8" TFT color (110 thousand pixels (512x218))
Lens: f/2.0-2.5 (34-102mm equivalent)
Aperture: f/2.0-8
Zoom: 3x Optical/2x Digital
ISO: 100, 200, 400
Shutter: 1/750 to 8 sec
Macro: 2.36-20" (wide)
Exposure Control: Auto, Shutter Priority, Aperture Priority, +/-2 EV
Metering: Matrix, Spot
Program Functions: Sports, Portrait, Landscape
White Balance: TTL Auto White, Fixed White (5200 Kelvin) User-Defined White
Auto Timer: 10 sec
Recording Media: CompactFlash I and II
Flash: Automatic Luminance Control Flash: Forced, Auto, Off, Reduced Redeye, Leading or Trailing Slow Sync
Power: 4 AA or rechargeable Ni-MH batteries
Connectivity: USB
Weight: 12.9 oz
Dimensions: 4.3x3.5x2.6"
Price: $799