Epson Expression 1640XL
A Quality All Format Scanner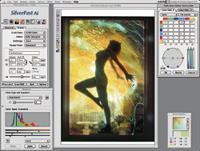 LaserSoft SilverFast Ai 5 is an included software driver with the 1640XL Graphics Arts model offering a sophisticated but easy to use driver for all scanning subjects providing the highest potential for precisely adjusted output quality.
Photos © 2000, David B. Brooks, All Rights Reserved
Only recently have individual photographers been offered affordable scanner models that can scan 6x4.5 and 6x6cm 120 film images with quality sufficient to match that of the latest 13x19" ink jet printers. A new large format (12.2x17.2") flat-bed scanner from Epson that includes a Transparency Unit offers users a wide range of professional quality capabilities. The Expression 1640XL supports reflectance scans of an area greater than an 11x14" photo print, and film scanning from 35mm through 8x10 formats, as well as whole roll film proofing of all formats in a single scan. The 1640XL also has the widest selection of interfaces, including SCSI 2 and USB, with IEEE 1394 FireWire as an option. The Expression 1640XL also includes a very full complement of software including Adobe Photoshop LE, Monaco EZ Color (color management and calibration), NewSoft Presto Page Manager, ScanSoft TextBridge Pro OCR, and LaserSoft SilverFast Ai, as well as Epson Twain Pro driver for the scanner.
This portrait image on 6x4.5cm 120 color negative film scanned with the Expression 1640XL using SilverFast Ai to reproduce realistic hair and complexion tones contrasted well with the rich blue of her garment against a deep red background. It resulted in print values a portrait customer would surely find pleasing in every respect.
Features And Performance
The Expression 1640XL carries on from their first version, the 836XL, and has a very similar shape and configuration. However, the performance factors are entirely new, including 1600x3200dpi, or 1600 optical and 3200 mechanical. In addition, the color depth of the tricolor single pass CCD array is 14 bits per RGB channel, or 42 bits. The D-max of 3.6 makes the 1640XL fully capable of scanning transparency films of all kinds. For scanning all materials the Epson optical system includes an autofocus function, so you get sharp image resolution whether the image is at the level of the glass scan area support or a film image is raised above the glass in one of the film holders provided to accommodate all standard film sizes. In addition, a dedicated ASIC provides a scan data throughput for exceptionally fast scanning, especially when using the optional FireWire interface. Illumination for the CCD sensor is provided by a Xenon cold cathode fluorescent tube of exceptional stability that requires no warm-up.
The highlight of the software bundled with this Graphic Arts model is LaserSoft SilverFast Ai 5X which can be used as a Photoshop plug-in or as a TWAIN driver and supports Macintosh and Windows operating systems. Included with SilverFast is an IT-8 to directly calibrate and custom profile the scanner for reflective and transparent scanning modes. This highly sophisticated but easy to use scanner driver provides manual or subject selectable automated color correction to output scans seldom requiring any post-scan tweaking, and can also do the same thing outputting CMYK on the fly.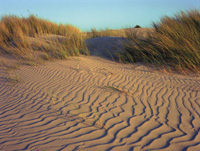 This sweet light shot of seashore dunes captured on 6x4.5cm high contrast color negative film was reproduced with fine sharpness and richly natural tones scanned with the Expression 1640XL using SilverFast Ai to effectively interpret the subtle values in the scene.
The inclusion of Monaco EZ Color for calibration (monitor) and to produce custom printer ICC/ICM profiles provides a completion of a color managed workflow for highly refined and predictable color quality. Other kinds of scanning, including document and OCR, is well supported by Epson's efficient and effective TWAIN Pro driver. This driver fully supports all of the functioning with Presto Page Manager and TextBridge bundled with the Expression 1640XL as well as any TWAIN compliant application like Microsoft Office.
Setup And Scanning
Setting up the Expression 1640XL and installing the software was unusually easy, since I had the optional FireWire interface and was running the scanner on a new Mac G4. The next step was firing up SilverFast, clicking on the calibration icon, and following the Wizard driven calibration procedure, first with the print IT-8 and then the film. As soon as the calibration was completed, I then filled in the rest of the blanks in the CMS tab in the SilverFast Options dialog identifying the monitor and workspace profiles I was using. In short order I was ready to make my first test scan.
This Eureka, California, landmark photographed on 6x4.5cm chrome film captured a daunting range of tones and detail demanding precise reproduction. The Epson Expression 1640XL scanner was up to the challenge reproducing fine detail from highlight well into deep shadows, free of any noise, and complemented with precise separations of the slight variations of the many shades of green in the scene.
Considering the criteria I mentioned up front of achieving a scanned image with sufficient quality to fully utilize the reproduction capabilities of a 13" wide ink jet, I chose a variety of 6x4.5 and 6x6 transparencies and color negatives, as well as some silver-based black and white negatives. I also selected some 11x14 prints, 8x10 black and white negatives, as well as 45 transparencies, color negatives and black and white, not to mention a few 35mm slides to evaluate the full range of media capabilities of the 1640XL. I also did some raw scans with the output set at 42-bits RGB, which I later color corrected with SilverFast HDR.
With prints and larger film formats I was quickly convinced the Expression 1640XL was more than capable of producing image files with qualities sufficient to achieve optimum image qualities in a 13" wide print, and larger if I kicked up the scan resolution setting. So, considering 6x4.5 and 6x6cm 120 formats are the most popular medium format sizes, and other than 35mm the most challenging relative to the scanner's capabilities, I concentrated the rest of my work with these formats. After I'd filled up about 3GBs of TIFF scan image files on my hard drive, I began opening each file in Photoshop and checked the Histogram and in some rare instances I made minor color adjustments to local areas in these images. I then cleaned up any dirt spots and scratches before test printing each image file.
The backlit translucent Aspen leaves of fall against a dark green forest captured with a 6x4.5cm camera and chrome film filled the entire exposure range of values the film could handle. Reproducing this range accurately and fully was no problem for the Epson Expression 1640XL and SilverFast Ai to precisely adjust the digital image characteristics.
Conclusions And Recommendations
After getting all too many scans and prints done partly due to my own enthusiasm and partly due to how efficient and easy the Expression 1640XL is to use, I had to come to the overall conclusion that this new Epson scanner does it all, and quite well. I did not have one scan that did not produce a satisfactory print. Most were in the fine to excellent range by my barometer.
First off, the one concern I had going into this evaluation work was that the scanner could achieve both clean and sharp images at 13x19" at 300dpi. This concern came from my work with the Epson Expression 1600 over a year before, which yielded very good results but not quite as sharp and free from artifacts at the same print image size from a 6x4.5 film frame. That concern was soon allayed examining the results from using the Expression 1640XL. The images were all as sharp as the originals permitted, the tones and gradations were smooth, and there were no interpolation artifacts evident at all.
The few 6x7 and 6x9 film frames I scanned, as well as a number of 4x5 black and white negatives I scanned (mostly to be sure the full range of tones in the film would record without any highlight blocking or shadow noise), were also of a high order of technical and aesthetic quality. This indicated that very large print images indeed would be possible using the 1640XL to scan 4x5 originals, and for that matter 6x7 and 6x9cm film frames as well.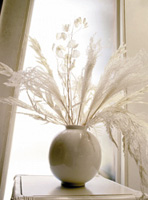 This arrangement of dried flowers in my studio caught my attention periodically as it appeared quite differently as the light changed throughout the day. I often wondered if the delicate differences of values could be photographed successfully, and one day finished off a roll of film with a few shots of the scene. It was a good challenge to also scan and the Expression 1640XL was well up to the task providing fine fidelity in the slight variations of color and tone resulting in an entirely successful reproduction of this still life.
Although this would not be possible if it weren't for the refined, high-perform-ance attributes of the Epson Expression 1640XL hardware and internal processing, the consistency of color and tone value and a high fidelity to the original and the subject of the picture, was due to a very large part by Epson's wise decision to bundle LaserSoft SilverFast Ai 5 with the scanner. In fact I would venture to suggest that the quite good 35mm slide scan results I achieved would not be so if SilverFast did not include a very finely adjustable Unsharp Mask sharpening filter. I think it is quite amazing that the scanner can handle 11x14" film and prints on the one end and the small size of 35mm at the other extreme, says volumes about how far Epson has advanced technology in practical terms.
Considering the wide range of media the Epson Expression 1640XL can scan, and that it does it all so well, it is no wonder it is their most expensive scanner. However, from this same perspective the Epson is a bargain relative to what is available from the rest of the scanner industry today. The Epson Expression 1640XL Special Edition starts at $2499 and the Graphics Arts model with the full software bundle is $2699, and $499 for the Transparency Unit. Particularly for the individual photographer who uses a wide range of film formats, the comprehensive versatility of the Expression 1640XL offers a high value in quality and productivity, most affordably.
For more information about the Epson Expression 1640XL, call (800) 473-7766, or visit their web site at: www.epson.com.
Technical Specifications
Scanner Type: Flat-bed color image scanner
Scanning Method: Movement of reading mirror
Photoelectric Device: Color Matrix CCD line sensor
Maximum Read Area: 12.2x17.2"
Light Source: Xenon gas cold cathode fluorescent lamp
CCD Resolution: 1600dpi
Hardware Resolution: 1600x3200 with MicroStep drive technology
Maximum Resolution (Interpolated): 12,800x12,800dpi
Optical Density: 3.6 D-max
Brightness: Seven levels
Reading Sequence: One pass scanning
Focus Control: Autofocus optics system with CCD/lens unit
Interface: SCSI 2 and USB with IEEE 1394 FireWire optional
Duty Cycle: 100,000 cycles
Compatibility: Apple Macintosh OS 8.0 and higher; Microsoft Windows 95, 98, NT 4.0, and 2000
Dimensions: 25.8x18x6.9"
Weight: 48.4 lbs
Price: Special Edition $2499, Graphics Arts $2699, Transparency Unit $499


FEATURED VIDEO