Epson's Perfection 4990 PRO; Is This An Uncompromised Do-Everything Scanner?
For quite a few years now digital photography enthusiasts have looked to flat-bed scanners as a way to serve all of their scanning needs in one device. Technology improvements and the "natural" drop in cost relative to performance has resulted in substantial consumer enthusiasm, which fuels ever more research and development. The latest result of that progress is Epson's new Perfection 4990 PRO and PHOTO scanner models. Although the particular improvements and added features of this latest iteration of the top of the Perfection line by Epson are not particularly dramatic, the overall result in performance and the experience of using this new scanner led me to one broad conclusion: Doing all one's scanning with just one device no longer involves seriously limiting compromises in quality results.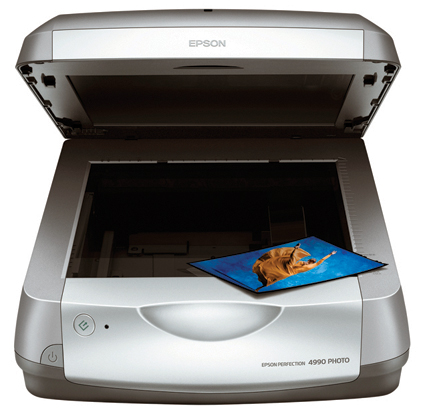 Although the previous Perfection 4870 PRO was no slouch and provided satisfying performance overall, the 4990 eliminates several shortcomings of all recent Perfection model scanners. The most profound is that with the 4990 the film scan area has been increased to include most of the 8.5x11" scan area, sufficient to scan 8x10" film. This is an obvious utilitarian factor, but most important (because not many photographers have 8x10 film to scan), you can now scan an entire roll of 35mm or 120 film to create a "contact" proof sheet.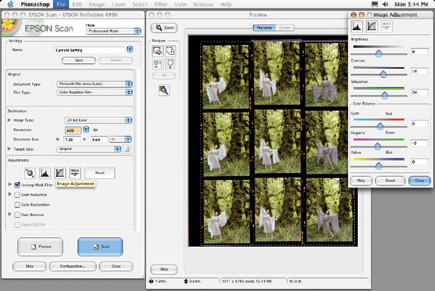 One of the most appreciated new features of the Epson Perfection 4990 PRO's larger film scanning area is the ability to scan a complete roll of film to make a "contact" proof sheet. I found this was most easily accomplished using the Professional Mode with the Epson Scan driver.
All Photos © 2005, David B. Brooks, All Rights Reserved
Along with the film scan area increase, Epson changed the film scanning light source to a cold cathode tube that travels in step with the CCD sensor array. Although Epson has not said specifically this change in film scan light source configuration involved changes in the design and performance of the light path and optics, it is a performance factor that plays out in how well the 4990 scans film. In fact, many of the specifications of the 4990 are not different from the previous 4870. The one exception is the D-max is now higher at 4.0, so I assume this change in design is what makes for this excellent film scanning performance.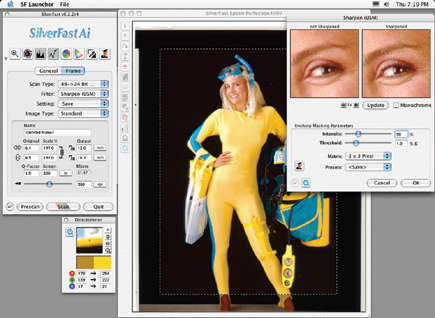 Although not many of you may have shot much 8x10 film, I found that being able to scan it with an affordable, professional-quality scanner is particularly rewarding.
The Epson Perfection 4990 PRO and PHOTO are physically the same and differ primarily in the software bundle provided with each model. The PRO includes the very powerful and sophisticated LaserSoft SilverFast Ai 6 software driver, which is capable of yielding photo scans that are precisely adjusted and refined to require little and usually no post-scan tweaking. Also exclusive to the PRO model is MonacoEZcolor, a professional-level calibration and profiling software suite. And finally, also exclusive to the PRO 4990, is a suite of ArcSoft utilities to assist in image asset management and photo-stitching. Both the PRO and PHOTO models' software bundles include Adobe's Photoshop Elements 2.0, ABBYY's FineReader Sprint OCR (Optical Character Recognition) to convert document scans to text, as well as Epson's native driver, with Epson Easy Photo Fix in addition to a new Epson Copy Utility. The 4990 PHOTO model does include the light version of LaserSoft's SilverFast SE to drive the scanner. And both models are supported by Kodak/ASF's Digital ICE for dust and scratch removal for both print and film scanning (excluding Kodachrome and silver-based black and white films).
The greatest challenge to a multipurpose flat-bed scanner is scanning 35mm film. With six-line CCD scanners like the Epson Perfection models, sharpness and detail definition in the scan image output in the past has been the limiting. This scanned Ektachrome of an Eastern Washington state farmhouse in the fall reproduced the fine dry grass, sideboards of the house, and even the TV antennae on top of the chimney with precise crispness.
Using The Epson Perfection 4990 PRO Scanner
It was only natural that some of the first things I did after a very quick and easy install of the Epson Perfection 4990 PRO was to use it for two tasks not previously supported by Epson Perfection scanners. I scanned some rolls of film to create "contact" proof sheets. (I could have lingered at this and used all of my test time with the task because I have lost all too many contact sheets of the many rolls of film in my library.) I found using Epson's driver works most effectively for this purpose using its Professional Mode, particularly if the film being proofed is color negative. Soon satisfied that proofing rolls of film is an effective and viable task easily accomplished with the 4990, I moved on to scanning both some 8x10 black and white and transparency film. This time I used the LaserSoft SilverFast Ai 6 driver, and to my delight found I could extract image qualities from the original that were clean and brilliant even though the transparencies were close to 20 years old. And of course the basic purpose of a flat-bed, the scanning of reflective print images, was not forgotten. I was particularly taken by the quality of the scans from some 8x10 glossies, the proof being how much I could enlarge the new image file and preserve very fine image qualities.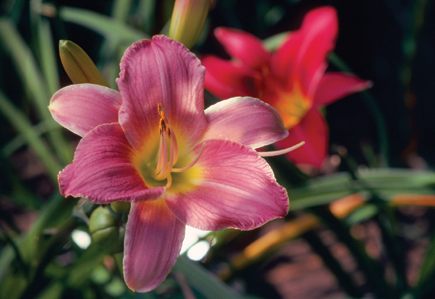 Even though Digital ICE cannot be used with Kodachrome slide scanning, this scan of a tiger lily photo done for a weekend supplement assignment reproduced the full range of color and tone and preserved the distinct look of "Kodachrome" in a printed image of the file.

LATEST VIDEO