Dream Street; Patrick Ecclesine's Sunset Project
Stuck in traffic one day on Sunset Boulevard, Patrick Ecclesine got an idea. Thinking about the street—"twenty-four miles from the barrio to the beach," he writes at his website (www.ecclesine.com), "through some of the poorest neighborhoods in the city to some of the richest neighborhoods in the world"—two words came to mind: photo documentary, as in a book that would "encompass all the beauty and all the tragedy of L.A." And who'd do it? Why, he would, of course. Never mind that he was broke, working as a waiter and had neither the gear nor the resources. Hey, this was California. Stuff happens; some of it good. Things would change. He'd make it work.

Of course, he did.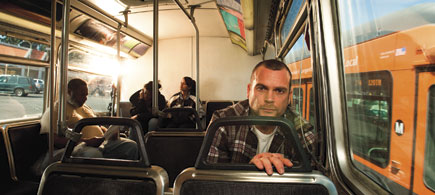 Thom Hunt, meth abuse counselor, Silver Lake.
All Photos © 2008, Patrick Ecclesine, All Rights Reserved
Fast forward five years and Patrick's book, Faces of Sunset Boulevard, is scheduled for publication this fall. Between the traffic-bound idea and hardcover reality fell many shadows; somehow Patrick overcame or sidestepped or ignored them all.

Shortly after he got the book idea, he got a job as a still photographer on a TV show. In his off hours, he took to the street to pursue the project—in particular, to determine when and where along Sunset Boulevard the light would be just right for photography.
John Duran, mayor of West Hollywood, and friends.
Which didn't mean he always got a picture. "In the early days it was a great big fishing expedition," Patrick says. "I'd go out there and hope and pray I'd get something. Sometimes someone would see the hook and say, 'Oh, that's cool, I'll do it.' Other times I'd see the right people—you know, interesting faces or dressed just right or just real for that part of the street, people who'd make shots that were more evocative than just simply reportage—and they'd want nothing to do with it."
William J. Bratton, chief, L.A.P.D, downtown L.A.
It was a high concept idea: tell the story of the city in portraits of the people found along the boulevard on the westward drive to the sea through the neighborhoods of Echo Park, Silver Lake, Hollywood, Beverly Hills, Bel Air, Brentwood, and Palisades. Turned out to be not as straightforward as it sounded. "The nature of the project was dictated by the street," Patrick says. "The east part of town—Silver Lake, Echo Park, Hollywood—those are very accessible communities. Walk in with your camera and your lights and people are there. Make the move to the other side, to Beverly Hills, Bel Air, Brentwood, it is not accessible at all. You can't find people on the street. Those are the gated communities with the pedicured lawns; you're not getting in. So I had to set up a lot of shots in advance. The project went from on the fly to network and convince."
Nay Nay Davis, single mother, Echo Park.
He was pretty good at both. "As things went along, I was able to approach the mayor, the governor, the police chief. It took a lot of very creative letter writing on my part, and dogged persistence, and for each one of my successes there was a failure. A lot of people said, 'Oh, yeah, that's great,' but I'd often have to chase them down, and that took months sometimes. And sometimes it just didn't happen."

Over the course of a journey that included interruptions to earn a living, the photos got more complicated, the setups more complex as famous folk were courted, enticed, and enlisted. "In the beginning I never knew what I was going to get," Patrick says, "but as I went along I began to come up with ideas for the pictures. I was getting very specific: I want to get my hands on this person and do this photo to illustrate this particular idea. I'd say, 'I want a sexy bartender for this section of the boulevard; let's go find her.'" Soon there were sketches and storyboards as Patrick's confidence in himself, his ideas, and the adventure grew.
Larry King, TV personality, East Hollywood.

LATEST VIDEO