Double Rainbow
I captured this image on a backpacking trip to the Pictured Rocks National Lakeshore in Michigan one wet, stormy morning. I'll never forget rounding the corner to the beach at dawn, instantly getting blasted by 25 to 30 mph winds and standing in awe of the massive 15- to 20-foot waves that were plowing into the shoreline. I decided to start shooting what was becoming an amazingly intense sky when all of the sudden a rainbow—than a double—materialized in the frame. I never moved the camera when the rainbows showed up—they were compositionally perfect in the viewfinder!
This photo always generates a mix of emotions for me. With all the wild weather happening simultaneously, I find myself feeling a combination of awe, wonder, surprise, and, most of all, respect for the sheer power Mother Nature can yield.
—Steve Perry
Sylvania, OH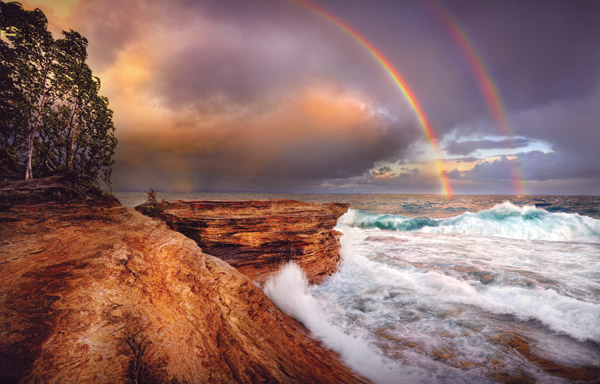 Please Read This
The premise of "Talking Pictures" is that every picture has a story. We invite you to send quality prints (only) and a short narrative on why you took the picture or how, in retrospect, it brings up thoughts and feelings about the subject.
We do not return submissions. By sending us an image and text you grant us permission to publish it in this magazine and on our website. If you have any questions, please e-mail us at: editorial@shutterbug.com.
Send submissions to: Talking Pictures, Shutterbug, 1415 Chaffee Dr., Suite #10, Titusville, FL 32780.

FEATURED VIDEO