Don't Ruin Nature Photos with This Wide-Angle Lens Mistake (VIDEO)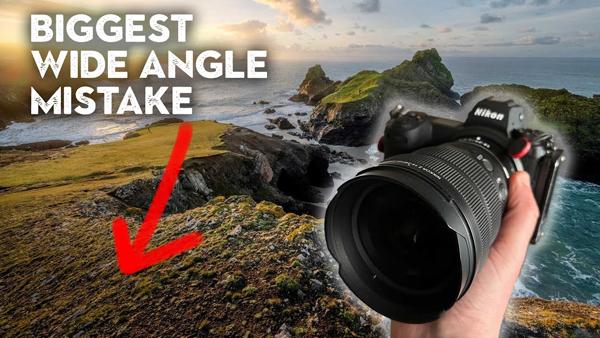 Wide-Angle lenses are typically the go-to choice for experienced landscape photographers. They enable you to easily capture expansive vistas with room for cropping, and they help to tell a story about the location with your images.
But there's a catch: According to one of our favorite landscape pros, there's an image-killing mistake that "most photographers make" when shooting in the field with a wide-angle lens. The impetus for this tutorial from British instructor Nigel Danson is an error he actually made himself (so you don't do the same).
This episode begins with a behind-the-scenes look at Danson shooting seascapes along the rugged English coastline in Cornwall. He arrives early to capture the sunrise, and as the sun begins to peek above the horizon the day looks absolutely perfect.
Danson comes up with a nice composition while waiting patiently for the sunlight to fall on a rocky outcropping in the foreground of the frame. He even has time to contemplate the proper exposure settings to capture the exact look he's after.
All the while Danson offers some really good tips for getting some nice separation among key elements of the shot. You're probably thinking to yourself, "so far so good. What could possibly go wrong?"
As the sun rises with light falling exactly where he wants it Danson says, "This really looks epic." He even experiments with a wide-to-tele zoom" in case he decides go with a longer focal length as the shooting begins.
Sounds like Danson checked everything important off his list, right? Unfortunately he skipped what he says is, "the number one mistake photographers make with wide-angle lenses." We're not going to be a buzz kill and reveal what this is, so watch the video and check this one off your list the next time you're out in the field.
There's much more to learn on Danson's instructional You Tube channel, so be sure to pay a visit and subscribe.
And don't miss the tutorial we posted from another accomplished outdoor photographer, explaining how to shoot and edit bracketed exposures for better landscape photos.

FEATURED VIDEO