Digital Stock
Is The Spec Image Going The Digital Route
© 2002, Coco McCoy/Rainbow Stock, All Rights Reserved
In November photographer Frank Siteman received an announcement from the stock agency Photo Edit of Long Beach, California, that they no longer wanted film, only digital files, and they had to come from 6-megapixel cameras or scans that produce an 18MB Photoshop file. For Siteman, who works primarily with a Kodak/Canon DCS 560 ("the cat's meow"), the news was groundbreaking. For others it was chilling.

"Any agency that does not go for digital files is shooting itself in the foot, big time," Siteman says. "If they don't jump into this new technology clients may avoid that agency."

Photo Edit, which specializes in textbooks, no longer wants the liability of film or to be moving slides around, so all of their research and everything that goes out to their clients is now online. "We haven't sent out a slide in two months," says agency President Leslie Bordon. "Last year at this time we were only 50-50. Two months ago we were 100 percent digital. We used to think FedEx was our secret business partner who enabled us to compete with New York agencies, but not any more."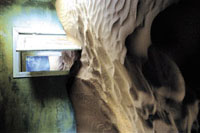 © 2002, Cary Wolinsky/Trillium Stock, All Rights Reserved
The Digital Switch
The agency switched over to digital gradually after joining with P.N.I. in 1994. In '99 they began to track their images to a computer database and though they had the capacity for scanning, they didn't yet have the ability. Many scanned images came from work submitted to Stock Workbook, so when the company decided to set up their own web site and offer scanned images to their clients, they had accumulated close to 10,000 images. Currently they have their own scanning department and are still adding computers and scanners. "It's a big investment," Borden says, "but we did it slowly so it has paid for itself along the way. We have a number of photographers who are all digital and many who still take slides and scan them. There are still photographers who are kicking and screaming, but most have seen the future and are moving in that direction."
Just One, Or Many?
How many agencies are going completely digital? Coco McCoy, who operates Rainbow Stock in Santa Fe, New Mexico, says, "It's a mix and match. We've been in the stock business for 27 years and though we don't yet have an interactional web site we are ready to start switching. I`m not resisting any more. We store everything on CDs now and as soon as I find out it's working for us we will go 100 percent digital."

Doctor Stock has been digital from day one. Director Richard Pasley says they rarely get a request for film; 99 percent of their sales are delivered digitally. For four years they have catered to the high-end healthcare and commercial pharmaceutical market. The agency maintains a large searchable and watermarked online database and all sales are unique since files are individually sized for the specs of the client. "We keep our cost to photographers down and their only cost is duping or scanning," said Pasley.
Go Direct?
Although National Geographic photographer Cary Wolinsky is not working with traditional stock agencies, he has pushed hard with his own work in the direction of digital and his vast web site offers large digital files. A scanned image can be released immediately when a client wants a picture. "We have gotten over the hump and the concerns as to whether the client has the ability to have high-speed Internet and download connections as well as the ability to take in files and translate them to print. We are getting clients we never had or dreamed of and moved from a US clientele with overseas agents to being able to distribute pictures internationally on a direct basis. I still think the stock agency has a very valid role, though, if they have a large, well-edited library of high quality images and can continue to have interpersonal relationships with clients. But," Wolinsky adds, "there is also good reason for photographers to be reluctant about digital. We are all savvy enough about the world of computers and software to realize when you buy something it will become obsolete in three years and we are used to having equipment last for 10 years. We are in a galloping technology and there is little wiggle room for many photographers to be able to afford that kind of capital investment on such turnaround.

"The biggest advantage of digital is that it does cut the transaction costs. Right now we are storing all of our images on CDs and as we all know, in three to five years, we may not find a player. Each time there is a new generation of storage devices I have to make a conscious decision to go back over the material and decide whether to re-invent and bring it into the new media before the old media disappears. As it stands now I can go back to the very first picture I ever shot for National Geographic and pull it out of a box and look at it."
Big File Sizes
Logan Seale is joined at the hip to his Nikon D1X. His stock agency, Photonica, only accepts 100MB files since a large percentage of their business is billboards and trade shows. "I used to submit print-outs of my digital images, which they had selected, and then I would have transparencies made and send them 4x5 transparencies of digital files. Now it is all reversed. Most of what I submit is digitally generated originals. I submit prints first and they make the picks from those and since I don't want to do 100MB files I have transparencies made and send those. They can then scan them and make them into the large files."

Karen D'Silva at Photonica's creative department says it is hard to tell how much of their business is digital since they are so international. "In the US we see people researching the art and calling us and we send them a digital image or burn a CD. There is a definite decline here in clients asking for film and we are probably 90 percent digital now. In London and Hamburg, where they are a little more sophisticated than the rest of the European communities, we are beginning to see a shift.

"We no longer dupe film. We deal only with digital files and send the client to a link where they can download the image from wherever they are working. Should they need something immediately, we can send them a JPEG they can comp that is high enough resolution to be able to see on the screen. When they need a large image we FTP them a 48 or 100MB file. That is a competitive advantage for us. I think we were the first agency to require 100MB files from our artists. It's expensive but a number of photographers already have the technology at their studios because of their clients in the advertising world."
© 2002, Logan Seale, All Rights Reserved
Digital On The Rise
Bahar Gidwani of Index Stock Imagery says that 34 percent of the new images that come into Index Stock Imagery from its 1700 agency members are digital. "Last year we were at 5 percent and expect to be at least 50-60 percent this year. We were the first agency to digitize our collection and the first ones to be online in 1994. We have been digital from the beginning and in 1995 had the first e-commerce engine. With worldwide distribution now, digital delivery makes sense and 96 percent of our delivery is being done digitally.

"What has been interesting is seeing the change from analog input on film to digital input. Most of the digital images we receive are analog images that the artist has converted to digital, then modified or adjusted. Increasingly, though, we are expecting to see more digital camera originals. The digital camera original is a new creative starting point," Gidwani says, "and creates new opportunities for the artist to innovate and experiment. What will shift is that there will be more digital camera originals and new tools to manipulate them more easily. Now the main tool is Photoshop, which is a bit like using a Swiss army knife to put together a house. You can find the right tool but you probably need new industrial strength tools for handling the unique characteristics of digital camera originals."
Profits From Digital Stock
Photographer Jeff Dunn says his stock profits are "manna from heaven." He is determined to do more and currently sends his 32MB files to Index Stock Imagery. "I am providing 18MB files from my Canon D60 that I interpolate up to 32MB," he says.

"Digital files are definitely the way I want to distribute my work in the future," Dunn says. "I am able to create and see quickly what I am shooting. The agencies are thinning out and photographers need to create more unique imagery. Each agency has its own agenda and although the market is condensed, a photographer in a good agency, especially if he is working digitally, can earn a lot of money from a very few images."

LATEST VIDEO

SPONSORED VIDEO
Testing Tamron's SP 150-60mm G2 lens while capturing birds and alligators in Apalachicola, Florida.