Digital SLRs; 4/3rds & New Players In D-SLRs
It was a typical night at PMA. After a short ride in a stretch limo to an undisclosed location, I sat on the floor enjoying puffer fish sashimi and chilled sake with Nikon's Yoshida Shoichiro. That night, the geishas attending us watched nervously as the CEO handed me a prototype of Nikon's 24-megapixel full-frame digital SLR. "This," he told me, "is the new F7. In the future there will be no digital SLRs, only SLRs." And then I woke up...
That's what I believe many Shutterbug readers think a trip to PMA must be like, but nothing could be further from the truth. Nikon did show its previously announced D200 digital SLR at the show but is clearly saving any big announcements for photokina later this year.
Gang Of Four Thirds
Almost four years ago, Olympus announced its Four Thirds system at a press conference that was greeted, to be polite, with mild apathy. At a packed press conference at this year's PMA, Olympus proved me wrong by announcing a Four Thirds system alliance supported by products from Panasonic, Sigma, and Leica.

Their spotlight product is the EVOLT E-330, which allows live viewing of the image on the flip-out 2.5" LCD preview screen, a first for digital SLRs. Developed with Panasonic, the 7.5-megapixel imager that Olympus calls Live MOS is actually NMOS technology that combines all of the advantages of CCD with those of CMOS. (See "PMA Buzzwords.") The Live View sensor makes the E-330 a perfect choice for underwater photography, so Olympus offers a PT-E02 Underwater Housing for protection down to a depth of 196 ft (that's 60 meters for our overseas/underseas readers). Don't let the name fool you; the E-330 is mucho different from the E-300. Nonetheless it carries over all the good stuff, including Olympus' Supersonic Wave Filter that produces 35,000 vibrations a second to remove dust from the camera sensor every time you turn the camera on.
Looking oh-so-Leica-like in styling, Panasonic showed the prototype of their Four Thirds SLR, the Lumix DMC-L1. It uses the 7.5-megapixel Live MOS sensor but incorporates Matsushita's Venus Engine III image processing to improve picture quality and performance. The DMC-L1 incorporates a Supersonic Wave Filter dust reduction system and has a 2.5", high-resolution, 207,000-pixel LCD preview screen. Analog controls include a shutter speed dial on the camera body's top and a family of lenses that will have an aperture control ring, in addition to focus and zoom rings, for direct aperture setting. Like all Lumix models, the DMC-L1 is compatible with Secure Digital memory cards.
The Lumix DMC-L1 will be delivered with a Leica D VARIO-ELMARIT 14-50mm f/2.8-3.5 ASPH lens that incorporates Mega OIS (Optical Image Stabilization). That's right, kiddies; it's a Leica lens with built-in Image Stabilization that will fit any Four Thirds compatible camera. The Leica D VARIO-ELMARIT 14-50mm lens uses 16 elements in 12 groups, including two aspherical elements to minimize distortion and peripheral vignetting at the wide end of the focal length range. While Leica did not announce an SLR body to attach to this new series of D lenses, given past collaborative efforts between Leica and Panasonic, I'll be amazed if one is not available in the future. Having a series of Leica D lenses working with a Leica digital SLR fills in the gap in their product line.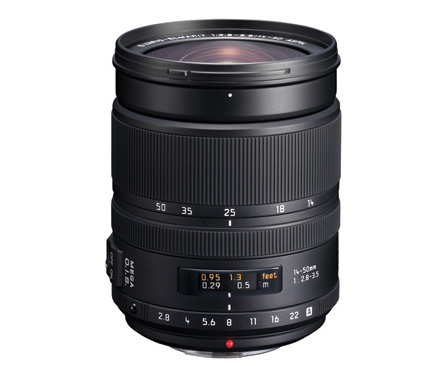 Leica D VARIO-ELMARIT 14-50mm f/2.8-3.5 ASPH
To complement this growing family of Four Thirds SLR bodies, more lenses are always a good thing which is why Sigma was at the press conference announcing several new lenses, including the awesome APO Macro 150mm f/2.8 EX DG HSM for Four Thirds mount. (See Peter Burian's coverage of SLR lenses for more details on Sigma's new Four Thirds format lenses.) Where is Tamron in all this? Later during the show I asked a company representative who told me that the gang of four announcements has caused them to "reevaluate the market for Four Thirds mount lenses."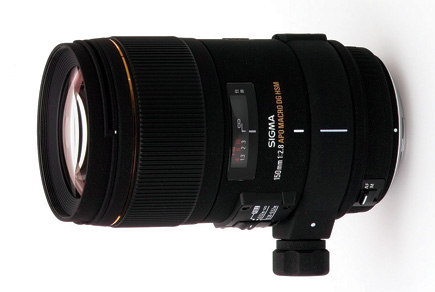 Sigma APO Macro 150mm f/2.8 EX DG HSM
What this series of new products says loud and clear is that Leica and Olympus along with Panasonic will not go quietly into the night that has already devoured other camera manufacturers and if it takes the adoption of the Four Thirds system to do that, count me in as a fan.
Samsung, Yes, Samsung
Samsung Camera entered the digital SLR market with two cameras co-developed with Pentax Corporation. The Samsung GX-1S is a 6-megapixel SLR featuring Schneider optics and a 2.5" LCD. In addition to center-weighted and spot metering, the GX-1S features 16-segment multi-pattern metering, 11-point AF sensor, and choice of AF Single or AF Continuous modes. The camera offers several white balance settings and a variety of automatic shooting modes, including Portrait, Landscape, Moving Object, and Macro. The GX-1S includes a high-speed shooting mode of up to 2.8 fps (frames per second) up to eight frames in JPEG shooting and up to 5 fps when capturing in Raw mode. The big news is the availability of an 18-55mm Schneider D-XENON lens that will be available in a bundle, although the GX-1S accepts any Pentax KAF2 and KAF mount lens.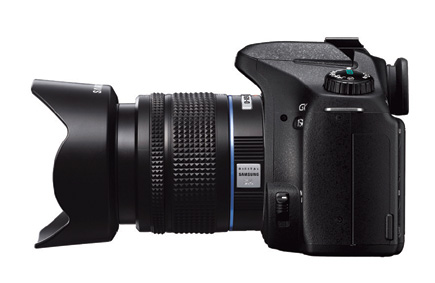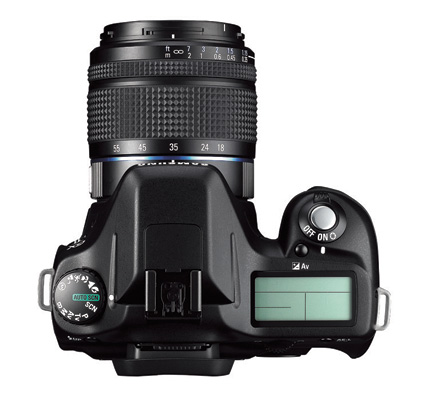 Canon EOS D30, 30D?
Surely to be the cause of some confusion, Canon who had previously launched an EOS D30, announced the new EOS 30D. I would have called it the EOS 20D N because that's what it really is, but nobody asked me. Changes from the EOS 20D include a new shutter rated up to 100,000 cycles; 2.5" LCD monitor; and a spot metering capability covering approximately 3.5 percent of the viewfinder area while maintaining the EOS 20D's 35-zone metering sensor. The ISO can be set from 100 to 1600 in 1/3 stop increments and pushed to 3200 with ISO expansion. You can now also see the ISO setting in the EOS 30D SLR's viewfinder.