Digital Photography
Not long ago, while visiting a colleague's studio I was shown a new Palm Digital Assistant (PDA) that takes pictures. There was a small attachment on the front of this hand-sized computer with a lens in the front. When activated the 3.5" screen displayed an image of whatever the PDA was pointed toward. Apparently you just touch a button on the keypad and the image is recorded as a .JPG file. And, with some of these PDAs, a wireless connection is included that supports remote connection to the Internet, so you could send that picture anywhere via e-mail, instantly, directly without delay.
A few days later I received an announcement from Ricoh about their new RDC-i700 3.34 megapixel digital camera. Targeted to business, this new device is not just a camera but a "productivity solution," combining not just prosumer digital photography, but full-fledged personal data assistance including connectivity directly with the Internet or a LAN with a card (PCMCIA Type 2). This new "camera" is intended to perform the complete duties of a finished and formatted communication and presentation device, including motion video, as well as still photo image transmission. Microsoft Word and Excel functions are integrated into the digital capabilities of the RDC-i700, providing the user with a full gamut of image, text, and numerical data preparation that's created on the spot and immediately transmittable in a finished format, anywhere.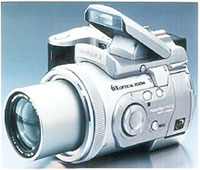 In a similarly convergent vein Polaroid and Olympus recently released a new camera combining a 2.1 megapixel digital camera's functions with the advantage of Polaroid's instant print output built-in. So, how does this convergence of functions into different digital devices serving divergent purposes and applications, affect digital photography as we progress into the second year of the new millennium? To a very great extent this fall's Seybold publishing show and convention reflected a picture of an information world made up of a diversity of sources and creators converged onto many kinds of digital platforms, distributing all forms of media content including still photos, video, illustration, text, and audio to an even wider diversity of receivers including print, TV, the web, e-magazines and e-books, MP3, CD and DVD discs. A great emphasis was placed on how to acquire, create, manage, and distribute what had been mutually unintelligible media in a common language so to speak. This direction has been recognized by those who have been providing hardware and software products of interest to photographers, and recognizing this is a much larger market on many levels of participation, the diversity of solutions has been expanded while the cost relative to performance has been further reduced.
Personal Computers Into The Future. Although the race for speed has continued to provide consumers with ever faster, more powerful off-the-shelf Windows PCs, obtaining performance which fully supports serious digital photo processing is still a crap shoot. Most of the innovative PC designs are targeted at premium business buyers providing sleek configurations around large, expensive flat panel monitors and minimal CPU housing with equally limited expansion room, not at all suitable for a digital darkroom. This leaves the PC buyer with a choice of a few PC workstations that remain well above what the average consumer is willing to pay for a PC.
Apple on the other hand is intent on consolidating its success with the iMac, as well as recapturing dominance in the media content production arena with ever-faster G4s now with dual processors. And, the newest model iMacs with faster processors and buses, more memory as well as the addition of FireWire and DVD or DVD-RAM in deluxe models, are targeted at movie access and digital video editing, not to mention still photography and audio. With the release of OS 9 mid-year containing Colorsync 3.0, Apple, with Mac models now at competitive prices, has the distinct advantage in almost every respect and at any budget level as the best choice for the digital photographer. This is exemplified in the new G4 Cube, a radical design for a CPU box, eliminating the power-supply fan along with a lot of bulk, while also following the iMac concept of foregoing the traditional floppy drive and SCSI interface connection limiting peripheral access to USB and FireWire. (Access to legacy SCSI devices like scanners have been bridged by OrangeMicro's new SCSI to FireWire adapter.) At under $1800 for workstation performance, the G4 Cube has leading edge design appeal and practical advantages at a competitive price point--a truly decisive step into the future.
Relatively Quiet On The Software Front. Steve Jobs disappointed the Macophiles at the Seybold, San Francisco, Keynote address by announcing Apple OS X will not be released until first quarter 2001. Up the coast Microsoft was releasing the user beta of Windows ME the last of the x86 Windows consumer operating system iterations with DOS support, which has impressed early beta testers and the PC pundits mildly with little commentary good or bad.
In the application area of interest to photographers the long rumored Version 6.0 upgrade of Adobe Photoshop was formally announced, accompanied by sparse details of this major revision. Most of the major additions of functionality have been directed to service the hot areas of design and illustration like the addition of vector drawing capabilities including resolution independent text, and an upgraded, more integrated ImageReady 3.0. A more streamlined interface with "hundreds" of refinements in tools and processes are claimed along with easier access to the application's depth of resources have been cited but not yet defined. So, it will remain dubious how worthwhile for photographers the new Photoshop 6.0 will be until after some of us have had some work time with it so we can make detailed reports. The only thing for sure is pricing is stable, still expensive in today's software market.
Although Corel has been withstanding an economic spate of bad weather requiring significant management changes, it has acquired many of the graphic software resources previously owned by MetaCreations, adding Kai's Power Tools, Bryce and Painter to its stable along with the announcement at Seybold of CorelDRAW 10. Corel's management informed me at the show the company now plans to provide equal and parallel support for Mac and Windows platforms giving all users a full-featured alternative in graphics software, and one which should also include full support of color management.
Prosumer Digital Cameras Come To The Fore. The market for consumer digital cameras has continued to expand in every dimension with manufacturers responding with a snowstorm of new models. Point-and-shoots now include 3 plus megapixel models which readily produce files that can be printed with good photographic quality on letter-sized paper with an ink jet. FujiFilm has pushed the resolution envelope to 4.3 megapixels in their very compact, pocket-sized FinePix 4700 Zoom I reviewed recently. In addition this new Super CCD of Fuji's will show up in a just announced FinePix 4900 prosumer model with full manual capabilities including studio flash synch, offering really professional digital camera performance at under $2000. Moreover, Fuji with the FinePix S1 Pro, as well as Canon with their EOS D30, add to the selection set by the already in service Nikon D1, making a total of 35mm SLR bodied hybrids in the $4000 price range very competitive.
On the other hand, Olympus has a new 4.1 megapixel E-10 all digital design SLR camera with a made for digital 4x zoom lens. This new model is clearly professional in capabilities including built-in flash, dedicated hot shoe, plus PC studio flash connection, and complimentary full manual control of the camera. It points decidedly to the all-new, designed for digital competing directly with 35mm SLR hybrids as the digital solution for the most demanding photographers. It is becoming increasingly evident that with most new 35mm SLR hybrids being built around chips about 2/3, the area of a 35 film frame will continue to involve a 1.5 or so lens factor, and full frame sensor chips are still not close to being competitive in cost. So, cameras like the Olympus E-10 and Fuji FinePix 4900 are the direction of the future. This is further established by the fact the best digital camera performance is achieved with optics designed specifically for imaging on a sensor array chip. It has become apparent that shorter focal length lenses that direct image light rays at a more acute angle to the chip surface, record degraded image information. In other words, wide angle lenses designed for film function are at a disadvantage when used to make exposures onto a digital chip. So, even though camera makers are aware many photographers would like to utilize their existing 35mm SLR systems to access digital photo capture, there are serious limitations which will effect what strategies camera designers choose.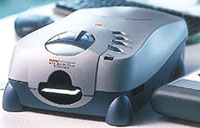 Scanners To Digitize Existing Photographs. In the last year the number of photographers converting to a digital darkroom has increased many fold. Because anyone with a backlog of photographic experience will likely have images already on film, and will likely continue to use film to record new photographs, a scanner is usually a necessity. The choice of what scanner continues to involve most of the same factors, but the number of solutions has increased considerably. And, there is still a significant difference due to film size affecting that choice, requiring a dedicated film scanner for 35mm and a different choice for medium and large format film, as well as print scanning. Last year the big news was the increase in resolution from 2700/2800dpi to 4000dpi brought to individual users by the Polaroid SprintScan 4000 and soon after the Microtek ArtixScan 4000t. Now Kodak, with a long history in producing professional scanners, has introduced a new 3600dpi 35mm film scanner. Scheduled for release to the public late in the year, the Kodak RFS 3600 will be interesting in terms of user response to a consumer priced 35mm Kodak scanner. While staying with their established 2820dpi resolution, Minolta added Applied Science Fiction Digital ICE to a new model Dimge scanner called the Elite. This new combination of more effective film cleaning as you scan, at a price in the middle of the competitive range, offers yet another dimension of choice for many photographers with libraries of existing 35mm slides and negatives.
The scanners that are capable of imaging medium and large format film remain the moderate priced flat-bed scanners with transparency adapters. Epson in the early part of the year set the benchmark for price/performance with the Perfection 1200U Photo at the low end, and at the high mark the Expression 1600 Photo. Since then there has been some activity in the consumer budget priced choices like the Perfection offering a USB interface, and at the mid range the UMAX PowerLook 1100 with FireWire connectivity. Microtek availed itself of the Seybold show in San Francisco to show four new ArtixScan models featuring flat-bed reflective scanning on top with a glassless film drawer toward the bottom of the scanner chassis. These new dual lens two-level film and reflective scanners start with the ArtixScan 1100 with 1000x2000 optical resolution, 42-bit color depth, and a 3.9 dynamic range capable of scanning 8.5x14" reflective and a maximum of 8x10 in the film drawer. The ArtixScan 2500 scans the same range of original sizes at 1250dpi for the entire scan bed, and 2500dpi for a 4" wide band the length of the scan bed, at 36-bit color depth and a D-max of 3.4. An intermediate ArtixScan offers a larger 12x18" reflective scan bed with 671 and 2000dpi optical resolution choices in the 2020 model. At the top of the ArtixScan line is the 6000 dual lens two bed model with 35mm to A3 size scan capability, and with 2000x6000dpi optical resolution, 42-bit color depth, and a 3.7 dynamic range. The ArtixScan 6000 tops the price category at $12,995; at the bottom is the 1100 at $1995, and in between is the 2500 at $4495.
Photo-Realistic Digital Printing Now Archival. Epson, previously not known as a supplier of photographic products, has been concentrating ongoing development of the Stylus Photo line of printers. Earlier this year the x70 printers appeared for the consumer market with faster, finer performance as well as new inks and papers. And toward the last quarter a new Epson Stylus Photo 2000P professional printer was introduced offering print appearance comparable to the x70 printers but using new pigment based inks with papers to go with them. At the highest level with Epson Archival matte paper both Seiko labs and the independent Wilhelm Reich Research labs tested the longevity of the 2000P prints at 200 years expected standard display life.
In the meantime a performance flaw with one of the 1270/870 papers, the Epson Premium Glossy, involving rapid fading of the cyan inks crating and orange shift was reported. This was entirely unexpected by Epson and was not discovered by early beta test users or by members of the press like myself working with the first production models of the printer. Before I received any reports from users of this fading and color shift, Epson issued an advisory that there was a problem with their Premium Glossy paper. Since then a considerable controversy and almost hysterical reaction including unfounded charges of a "cover up" by Epson have surfaced on several private web sites. From what has been conveyed voluntarily to me as a member of the press by Epson, I believe it is just a matter of time for Epson to determine scientifically exactly what the cause of this unexpected cyan fading and orange color shift is, and a resolution of the problem will be available as soon as it is physically possible.
Although several makers of digital cameras also offer snapshot sized thermal color printers, Olympus very recently provided a surprise that matches the image resolution of the latest prosumer digital cameras. The Olympus Camedia 400 P dye sublimation type printer produces 8x10 images and will sell for under $1000, a fraction of the typical cost for this type of printer. I received a unit to test just before sitting down to write this review so you can look for a report on this printer shortly.
For more information to keep up-to-date on developments affecting the digital photographer and digital darkroom, here are a few web sites to watch:
www.adobe.com
www.apple.com
www.usa.canon.com
www.corel.com
www.epson.com
www.fujifilm.com
www.kodak.com
www.microtek.com
www.minolta.com
www.olympus.com
www.polaroid.com
www.umax.com

LATEST VIDEO

SPONSORED VIDEO