A Digital Convert Tells All About...
The Good, The Bad, And The Ugly Of Switching
Spring beauty; Washington County, Iowa. This photo, and most of the close-up photos submitted, would not have been possible with a larger format camera. (Canon EOS-1Ds, Canon 400mm f/5.6 "L" lens with extension tubes, f/22, 1/50 sec, Gitzo tripod.)
Photos © 2003, Clint Farlinger, All Rights Reserved
I have always been--and will continue to be--a traditional photographer. Because of the unbeatable quality they can produce, medium and large format systems have been my cameras of choice for my entire professional career. But then it happened...my wife bought a prosumer digital camera to replace her 35mm point-and-shoot. After spending a weekend helping her figure out how to get the best results from her new camera, I was convinced. Digital is a superior way to make photographs. But does the same go for a professional who is accustomed to medium format?

I spent the next six weeks researching and debating digital, eventually taking the plunge by purchasing a Canon EOS-1Ds. There continues to be no doubt that my photographs have improved and my enjoyment of photography has increased. But there have been many surprises and frustrations along the way.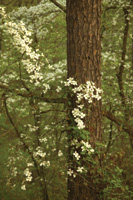 Spring trees with flowering dogwood; Holly Springs National Forest, Mississippi. I missed this composition the first day but had the opportunity to go back the next morning after reviewing downloaded photos. (Canon EOS-1Ds, Canon 70-200mm f/4 "L" lens at 200mm, f/6.3, 1/15 sec, B+W polarizing filter, Gitzo tripod.)
The Good Photo Quality
The photo quality of the EOS-1Ds far exceeded my expectations--and my lens' capabilities. One of the lenses I use is the Canon 28-135mm IS lens. When tested with film this lens was comparable to Canon's top of the line "L" lenses, but when tested on the EOS-1Ds this lens was noticeably inferior. Obviously this is not really a problem, except I had to spend more money on lenses than I had expected (or budgeted). I've been told this is not an issue with cameras that do not have full frame sensors since the smaller sensors don't use the edges of the lenses' viewing area where the most significant quality falloff occurs.
Control
All the hype I'd heard about the digital darkroom is mostly true! Since I stick to my traditional roots, I haven't used the computer to remove electrical lines or add clouds, but it is a fantastic tool to gain the same control over photos that black and white photographers and printers have always had. The ability to tweak contrast, burn in a bright sky, or dodge a heavy shadow has transformed how I take photos. The limitations of film are no longer a factor and I can more closely match photos to what I actually saw when the shutter was released. The decision to go digital prompted me to take a Photoshop workshop and I learned more in the first few hours than I had self-learned in the prior three years.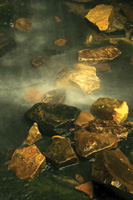 Base of waterfall; Tishomingo State Park, Mississippi. (Canon EOS-1Ds, Canon 70-200mm f/4 "L" lens at 126mm, f/22, 0.6 seconds, B+W polarizing filter, Gitzo tripod.)
Immediacy
In order to download photos at least once a day I bought a 15" PowerBook G4 notebook computer, which I take with me when I travel. It stays in the pickup truck while I hike, but I download and review the photos each night and sometimes during the day if I'm waiting for the right light. I burn a CD with the unaltered files before I erase the images off the CompactFlash card (so I always have two copies of each photo). Occasionally, while reviewing the day's photos I'll see improvements that could be made. Since I'm looking at the photos while still in the field instead of a week later when the film comes back, there's the opportunity to re-shoot and save or improve a photo. "But isn't that what the camera's 2-inch display is for?" you may ask. Please read on.

The Bad LCD Display
My wife bought her camera in February and consequently, since we live in the Upper Midwest, we tested her camera indoors. Indoors the camera's LCD display gives great feedback for composition and a reasonable idea of proper exposure and sharpness. However, when used outdoors the LCD display, on either her camera or mine, is worthless for judging sharpness and little better for checking composition. I guess there's a lot to be said for testing equipment in the environment in which it will actually be used.
Baldcypress trees in Spring Lake; Wall Doxey State Park, Mississippi. (Canon EOS-1Ds, Canon 28-135mm f/3.5-5.6 IS lens at 70m, f/16, 1/160 sec, Gitzo tripod.)
I could also put a subheading "LCD Display" under the "The Good" category, but I'll mention it here instead. The levels graph available for each photo is wonderful to assist in getting the ideal exposure, especially in difficult lighting situations. A quick note I learned the hard way: When highlights are lost, they're gone forever. When shadows are lost, they can often be resurrected.
Calibration
As it turns out, a photo viewed on an LCD monitor on a notebook computer looks like a different photo when viewed on a CRT monitor, even after the monitors are calibrated. In fact a photo viewed on an LCD monitor on a notebook computer looks like a different photo when viewed on the same LCD monitor if the viewing angle is changed slightly! So serious editing and tweaking is not possible while traveling. Back in the office I hook up a CRT monitor to the notebook to edit and tweak. Even sitting side by side it's impossible to make the two screens look the same. Which leads to another issue: When I send photos to photo editors, I have no idea what their monitor looks like or to what it's calibrated (if it's calibrated at all). Hopefully the photo still looks sort of like the one I see on my screen.
Waterfall in Fall Hollow; Natchez Trace Parkway, Tennessee. This was a difficult scene to meter, but the levels graph made it easy to get the right exposure. (Canon EOS-1Ds, Canon 17-35mm f/2.8 "L" lens at 35mm, f/16, 1.6 seconds, B+W polarizing filter, Gitzo tripod.)
Editing
It takes me longer to edit photos on a monitor than on a light table, especially when trying to compare similar photos. Searching for the one sharp photo out of 20+ photos taken of a field of flowers during a persistent breeze is more than any human should have to endure!

I'm still looking for an efficient workflow and the perfect photo-tracking software. I've read several Shutterbug articles discussing these issues and talked to a few photographers as well, but the perfect solution seems to be as individual as a person's taste in music or clothes. Hopefully the editing process will speed up as I find better ways to work.
The Ugly Sensor Spots
I assumed that I would never again have to dust spot my photos after switching to digital. This assumption was completely wrong! Even directly out of the box, my EOS-1Ds created photos with spots; in fact, more spots than could be counted. After a factory cleaning it still showed about two dozen noticeable spots in a clear sky. I was assured by a Canon Factory Tech that this is normal and within quality control standards. Since I use my camera outside, the number of spots increases over time and it will need to be professionally cleaned on a regular basis.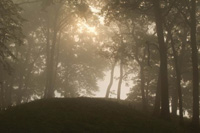 Ancient mound, fog and sunrise; Allamakee County, Iowa. (Canon EOS-1Ds, Canon 70-200mm f/4 "L" lens at 70mm, f/16, 1/15 sec, Gitzo tripod.)
Does your camera have sensor spots? First of all, keep in mind that "ignorance is bliss." If you still want to know, photograph a blank sky (clear blue or solid overcast) at f/22 using your camera's highest quality file setting. Then look carefully at the resulting photo in Photoshop at 100 percent (you may also look at the photo at 200 percent but this is not recommended for anyone with a known heart condition).
In Conclusion
After shooting digital through my busy season I'm more convinced than ever that this is a superior way to create images. My backpack weighs less and the EOS-1Ds provides all the flexibility of 35mm with the quality of medium format. Looking back I guess there are a few things I wish I would have done differently, but probably the biggest thing is I wish I would have switched to digital sooner!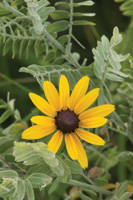 Black-eyed Susan and leadplant; Cherokee County, Iowa. (Canon EOS-1Ds, Canon 70-200mm f/4 "L" lens at 200mm, f/22, 1 sec, Gitzo tripod.)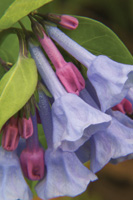 Virginia bluebells; Washington County, Iowa. (Canon EOS-1Ds, Canon 70-200mm f/4 "L" lens with Canon 1.4x converter at 170mm, f/45, 0.8 seconds, Gitzo tripod.)

LATEST VIDEO

SPONSORED VIDEO