Selfie Stick with a Built-In Battery & 24-Hour Battery for a GoPro: Re-fuel's Cool Photo Accessories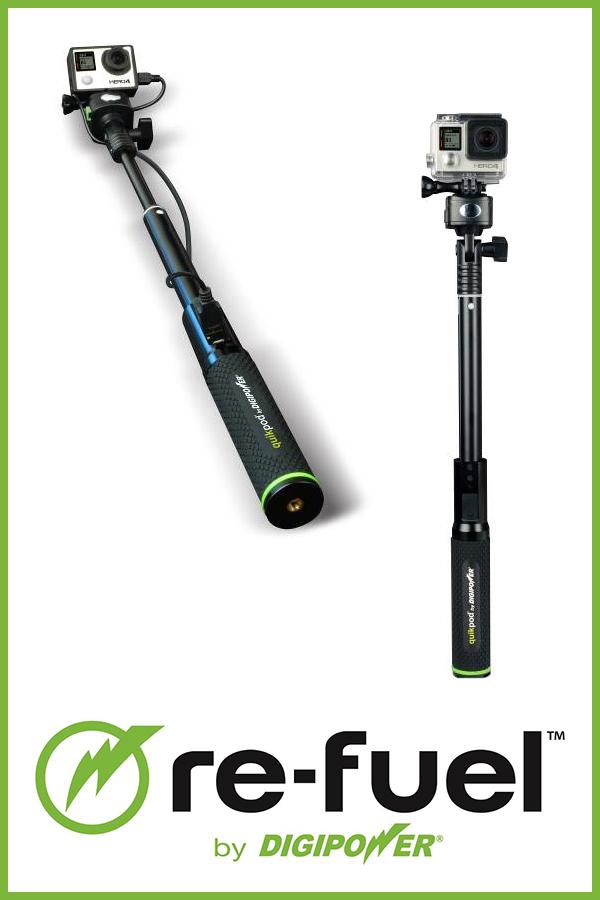 A selfie stick with a built-in battery pack—why didn't I think of that? And a 24-hour battery for my GoPro HERO4? Crazy!
Most photographers are familiar with the name DigiPower. They've been providing us with rechargeable batteries, chargers and other power accessories for more than 15 years. In fact, they're nationally recognized as the number one selling line of camera batteries and chargers in the country. Under their new flagship brand name, re-fuel, they've introduced a line of exciting products that prove they truly understand the modern marketplace.
First up is the re-fuel Quikpod Dynamic Power Selfie Stick, a rather long name for a brilliant idea. It's a selfie stick with a built-in 5200mAh power supply that keeps smart phones, GoPros and similar devices clicking long after unaided devices have gone into hibernation. If you can't relate to 5200mAh, the battery in your Canon EOS 7D Mk II is a robust 1865mAh.
The Quikpod adds 32 inches of reach and weighs in at only 11.5-oz. The handle has a comfortable rubber grip and the whole affair is well made. Included in the box are adapters for phones, GoPros and digital cameras. MSRP is $79 and it can be ordered from Amazon and other retailers.
Go Charger When Hurricane Sandy left my neighborhood powerless for 11 days, I learned the value of a large power bank that could be used to recharge my phone and iPad. (I also learned that M&Ms make a pretty good substitute for breakfast cereal when severed power lines convert your refrigerator into a biology lab experiment, but that's a different subject.)
The Go Charger from re-fuel simultaneously charges a pair of GoPro batteries plus a mobile device. It features a built-in 5200mAh lithium rechargeable battery, InstaSense device recognition technology and 2 Amp (10 Watt) USB output. That means you can refuel any USB-powered rechargeable devices. The Go Charger has an MSRP of $49. Think of it as a way to extend your photo outing, camping trip or other activity where you can't plug in to the wall. Where do you get it? You go to B&H. Or other fine retailers.
Action Pack extended battery packs for GoPro Hero4, Hero3+ and Hero3 If you long for power, long-lasting power, for your GoPro, here's the ticket. DigiPower offers re-fuel brand extended-life rechargeable batteries that provide enough juice for 6, 12 or 24 hour sessions. Action Packs attach to GoPro cameras in the normal way and are compatible with all GoPro accessories. There's even a battery meter displayed on the GoPro screen.
Action Packs are available in three flavors: 6-hour ($49), 12-hour ($79) and a whopping 24-hour pack ($129). Ask for them wherever GoPro products are sold. You'll find more good stuff on the re-fuel website.
—Jon Sienkiewicz