Datacolor ColorReader EZ Budget Priced Handheld Color Analyzer Review
See a spot of color you like? Scan it with this $59 doodad and instantly your smartphone shows the RGB values – and a lot of other stuff, including what brands and shades of paint to buy to match that color accurately. The Datacolor ColorReader EZ DC10-3 even suggests a full palette of other colors that complement the sample scanned. For photographers it's a chance to objectively identify colors numerically and replicate them in Photoshop.
We fell in love with the Datacolor SpyderX Elite Monitor Calibrator (read my review here), a must-have tool that allows photographers to calibrate their monitors in less than five minutes flat. You can buy the Datacolor SpyderX Elite Monitor Calibrator from Amazon for $269. It's worth every penny if having accurate colors is worth anything to you.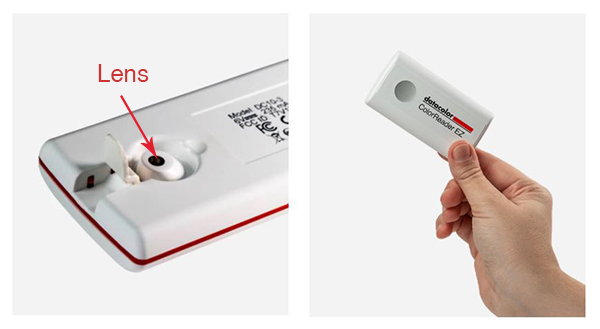 And now we meet the Datacolor ColorReader EZ DC10-3. It has thoroughly amazed this reviewer. Small enough to hide easily beneath a business card, this one-button wonder scans and analyzes the color of an object and transmits the names of matching brands and shades of commercial paints—as well as the scientific numerical color data—to your smartphone via Bluetooth.
And using the Datacolor ColorReader EZ is as simple as it gets.
How To Use It
0. Order the Datacolor ColorReader EZ from Amazon for $59.
1. Download the app for your iOS or Android smartphone by visiting the website indicated inside the packaging. For convenience, the included QR-code takes you there in a click.
2. Follow the instructions in the app to calibrate the reader. Takes 10 seconds and only needs to be done once.
3. Open the flap-type cover from the tiny reading lens and set the tool down on the object you wish to analyze. The Datacolor ColorReader EZ has its own light source, so you needn't worry about ambient lighting—that's important.
4. Press a) the button on the ColorReader EZ or b) the soft button on the app to read the color.
What Results Do You Get?
Almost instantly your smartphone displays a swatch of color plus the numerical CIE Lab, RGB and Hex measurements. You also get the paint color matches for most paint brands. For example, my reading of an 18% gray card suggests RAL7037 which is also known in the paint industry as Dusty Gray. If you scan a decorator color it will suggest matching paint shades from Ace Hardware, Sherwin-Williams, PPG, True Value and so forth.
Save the colors you like, label them for future use and easily share with clients or friends and even your paint store—directly from your phone. No more guessing.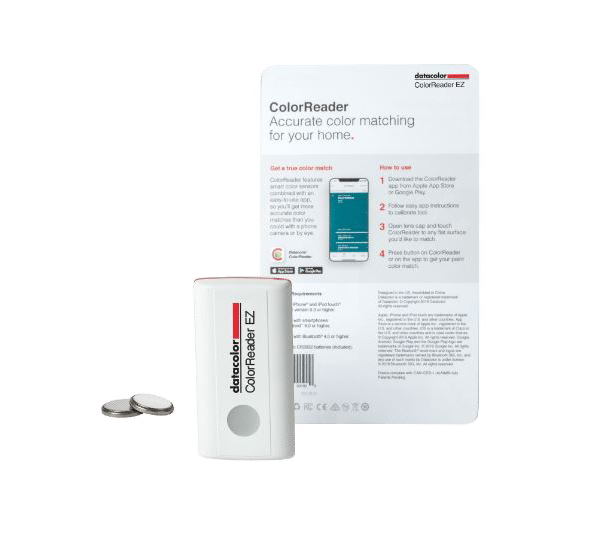 What's in The Package?
Package contains one Datacolor ColorReader EZ, a pair of CR2032 coin cell batteries, quick set-up instructions and the QR-code to access the free calibration app for your smartphone.
Over 85% First-match Accuracy
Datacolor claims 85% accuracy on the first match, and I suspect they are conservative in this estimate. Datacolor is to color science what Campbell is to soup—they know their tomatoes. I recommend reading an object multiple times and comparing the results. You can see up to six on one screen (on my iPhone—don't know about your Android).
System Requirements
Apple iPhone (or iPod touch) with Bluetooth 4.0 or higher, or other smartphone running Android 6.0 or higher. User must download free app.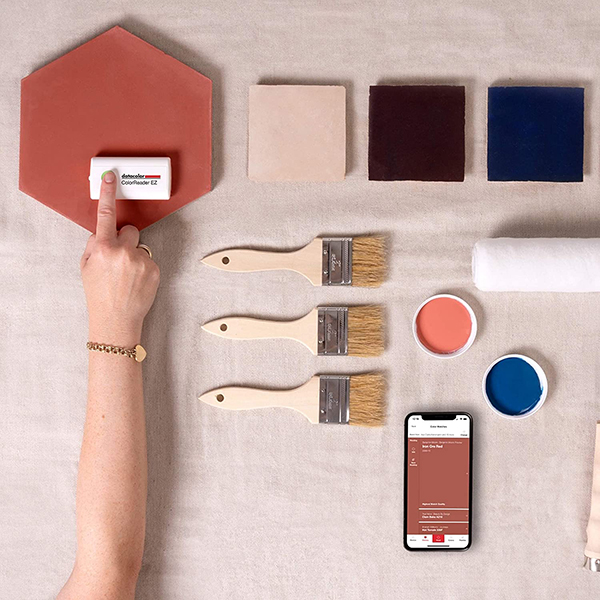 Possible Uses
The caution here is that a $59 handheld colorimeter does not produce 100% accuracy. That's common sense, no? If you are manufacturing fountain pen ink, hair coloring or wall tile, you need 100% accuracy and presumably can justify spending a couple thousand bucks on a more accurate device.
But for the rest of us, the precision of the Datacolor ColorReader EZ is more than good enough and is a very useful too. Plus, it's one hell of a lot of fun to play with.
Since the Datacolor ColorReader EZ produces a digital palette of colors that complement the hue it scans, photographers are better able to orchestrate professional sessions, particularly when shooting fashion, automobiles and food.
Or if a photographer sees a color they would like to replicate for a shoot, the ColorReader EZ provides the exact color codes for the color, thereby making precise replication a snap.
Leading the list of non-photo applications, I need to paint my house next spring. I will use a Datacolor ColorReader EZ to scan the color and it will tell me—sorted by brand—the name of the closest matching colors of house paint. It's easier than loosening a shingle and taking it to Benjamin Moore, believe me.
I can easily imagine the ColorReader EX being used by chefs and food photographers, eBay merchants, interior decorators, fashion designers, house painters and the person or organization that thinks up the sometimes amusing names used to identify the colors of flowers.
When I worked at Minolta Corporation we bragged that our world famous tri-color color meters were used in Japanese fish markets to verify the freshness of tuna, and by well known fast food chains to assure that the buns were the same consistent golden brown in every restaurant within their purview. Yes, we made the Fish Meter and the Bun Meter. And for the record, neither was responsible for our demise. We handled that all by ourselves, with a lot of help from Japan.
Price and Availability
The Datacolor ColorReader EZ handheld color analyzer is available now. Order from Amazon today for $59.
—Jon Sienkiewicz
(As an Amazon Associate, Shutterbug earns from qualifying purchases linked in this story.)

FEATURED VIDEO