Craftwork; Jody Dole's Chemical Romance
Last fall I got an e-mail and a few JPEG attachments from Jody Dole, a commercial and advertising photographer whose career adventures I've chronicled over the years in these and other pages. "I've been having a good time making 19th-century cyanotype look-alike images," Jody wrote.

Turns out, Jody had been up to more than cyanotypes. He also had a collection of tintypes he wanted me to see. The common factor in both types was the presence of a digital element.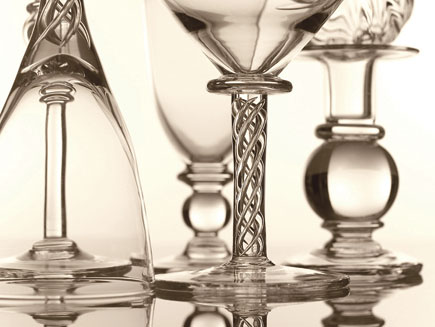 The color photo Jody used to start his exploration of cyanotype look-alikes. "I inverted this original in Photoshop, then adjusted hue and saturation."
All Photos © 2008, Jody Dole, All Rights Reserved

Jody's cyanotypes are exactly what he said: look-alikes. They are digital photos that mimic not the cyanotype process, but the result of the process. "I'd studied the actual cyanotype process for years," Jody says, "and to me the most successful cyanotypes looked like they were positives inverted to become negatives. So one time when I was looking at a color photo I'd taken of glassware, I hit the invert button in Photoshop. Interesting effect—it reversed the tones and gave me a black background, and it looked sort of like a cyanotype. Then I went to the 'adjust hue and saturation' menu, hit the colorize button and adjusted the hue and saturation to my taste. And there it was, a cyanotype. Well, an image that mimicked a cyanotype."

Jody went on to make more look-alikes, and he discovered the photos that generally worked best were images that depicted clear subjects. "It's subject driven," he says of his experimentation, "and inverting a clear object results in a better-looking result."
Snowflakes and ice crystals on a car window, shot from inside the car, got the Photoshop cyanotype treatment.

What Jody likes most about cyanotypes is that they "distill the objects down to their most basic forms; you really see the positive and negative space and all the shapes and patterns."

The key for him is knowing what cyanotypes look like. "I really don't like creating stuff in Photoshop for its own sake. I like to know what I'm working toward. I want the goal to be the emulation of something I know very well. It's a question of motivation: how can I get in Photoshop something that resembles and pays homage to this great old process?"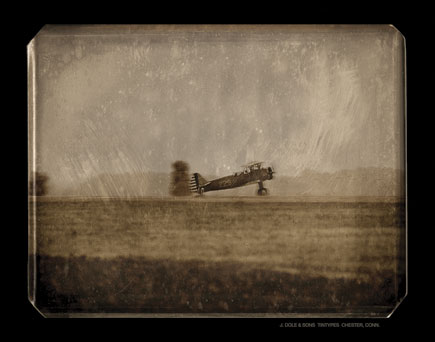 A 1940s biplane takes off, and a digital camera captures movement a collodion-era camera couldn't.

The tintypes, on the other hand, aren't emulations; they're the real thing—except for the origin of the image itself. In the days of wet plate cameras, long exposures prohibited moving subjects. With digital, you simply shoot what you like. In Jody's case that might be racing sailboats or a plane taking off. Whatever his choice of subject, he captures it with his D3 and then sends it into the past.

"I take the color photo, re-size it to 4x5, convert it to black and white in Photoshop and output it onto Pictorico's OHP [overhead projector] transparency film on my Epson 4880," Jody says. "What I've made is a positive transparency. Then the funs starts. In the darkroom I put that positive transparency in my Omega D2V enlarger, which is fitted with a cold light head, and expose it onto a collodion plate."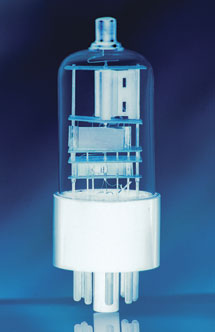 Trial and error plays a big part in choosing subjects. Got something transparent? Give it a try.


LATEST VIDEO

SPONSORED VIDEO
Testing Tamron's SP 150-60mm G2 lens while capturing birds and alligators in Apalachicola, Florida.