Covering The Photo Beat: Tripods, Cables, And A Lens Cradle System
Tamrac Evolution 9 Backpack
Tamrac recently introduced the latest addition to their Evolution Series of backpacks. The Evolution 9, Model 5789, is designed to hold a pro D-SLR with a grip attached, three large zoom lenses, a flash, a laptop computer with a 17.3" screen, a tripod, extra batteries, memory cards, and other assorted items. It can be worn as a backpack or sling pack and a rain cover is included.
Contact: www.tamrac.com.
DeluxGear Lens Cradle System
DeluxGear's Lens Cradle system features a Neo Duet Camera Strap and a Cradle Mount. The strap has thick neoprene lycra for stretch and nonslip shark tooth webbing for comfort on your neck and shoulders. The Cradle Mount is made from durable polycarbonate and an auto-grade ABS blend. It offers an arc-like dual mounting platform for use with any camera and lens with a tripod collar and can safely support the heaviest lenses. The Lens Cradle can be configured into various mounting options. The system package includes the Cradle Mount and four-point Neo Duet Camera Strap for an MSRP of $49.99. The Cradle Mount and Neo Duet Camera Strap may also be purchased separately.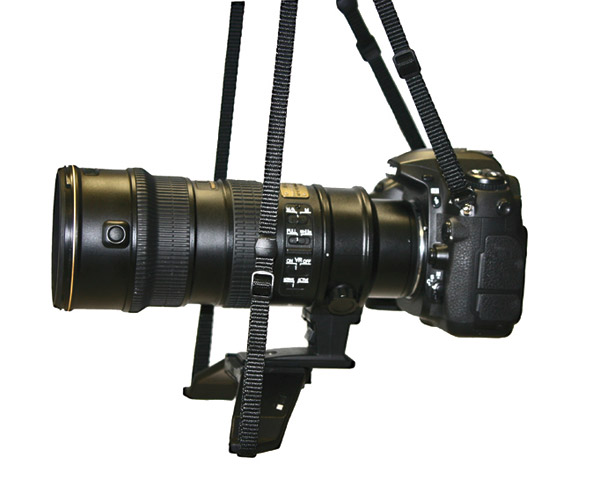 Contact: www.internationalsupplies.com.
Active High-Speed HDMI Cables
PNY Technologies is now offering the next generation of Active HDMI cables that provide high-speed 1080p HD picture quality and sound. The cables are certified at the latest high-speed HDMI 1.4a standard, deliver 10.2 gigabits per second bandwidth stream, and are 3D ready. They feature built-in chip technology that controls audio and video signals for digital surround sound and an optimal HD experience in 1080p and Dolby TrueHD and DTS-HD Master Audio for a true digital cinema experience. Smaller, lighter, and more pliable than traditional HDMI cables they measure just 3.6mm in diameter and require less space for installation. The cables are available in two different connection models: Standard HDMI to HDMI and Mini HDMI to HDMI, which is designed to connect small portable devices such as a digital camera. Suggested retail prices are as follows: Standard 6 foot, $79.99; Mini 10 foot, $99.99; and Mini 16 foot, $129.99.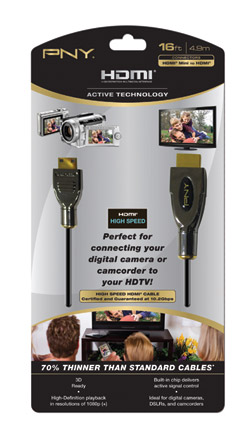 Contact: www.pny.com.
Lexar Professional USB 3.0 Dual-Slot Reader
The Lexar Professional USB 3.0 Dual-Slot Reader is a high-performance device designed for professional or advanced amateur photographers. It offers fast transfer speeds to maximize workflow and is compatible with the latest CF UDMA, SDXC, and SD Ultra High Speed-I memory cards. This reader is also backward compatible with standard CF, SD, and SDHC memory cards and USB 2.0 host devices. Additionally, the reader comes with free customer support and a five-year limited warranty. The MSRP is $49.99.
Contact: www.lexar.com.
Velbon Tripods
The GEO series is crafted from carbon fiber and basalt composite material for enhanced strength and rigidity. The tripods feature spiral-etched surfaces for smooth, fast extension; a quick-release lever for height adjustment; and level-locking legs. Each leg has an adjustable tip that gives you the option of a rubber or spiked foot.
Contact: www.osnusa.net.
To submit information for Roundup, please contact our New Products Editor by e-mail at: Cynthia.Boylan@sorc.com or regular mail at: Shutterbug Magazine, 1415 Chaffee Dr., Ste. #10, Titusville, FL 32780.

LATEST VIDEO