Covering The Photo Beat; Tripod Heads, Colorful Bags, Rechargeable Batteries, And More
JOBO's Automatic Processor
The new JOBO ATL-1500 is nearly the same as the earlier ATL-1000 but has fully adjustable processing times for each of the chemical and rinse steps. It's ideal for small-volume automatic film processing of color and black and white rolls and 4x5 sheet films in the lab or on location. Upgrades are available for the earlier ATL-1000 model. The new processor has a MSRP of $4995. Contact: JOBO Fototechnic, Inc., PO Box 3721, Ann Arbor, MI 48106; (734) 677-6989; fax: (734) 677-6963; www.jobo-usa.com.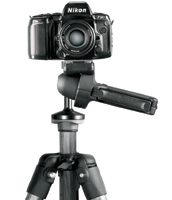 Manfrotto Grip Action Ball Tripod Head
For sports, fashion, journalism, bird watching, nature photography, and most other photographic applications, the new Manfrotto 322RC2 Grip Action Ball Head is primarily intended for fast action uses. It allows the photographer to simultaneously unlock the head and rapidly readjust the camera to capture the action. Once the grip is released, the camera stays locked in position without the need to tighten any knobs or lock any levers. A quick release permits easy removal of the camera when desired. Made of high-tech magnesium, it's lightweight but durable enough for a payload of up to 11 lbs. It can be rotated 360Þ around the vertical axis and has a +/- 90Þ lateral tilt. A built-in bubble spirit level assists in finding the horizon. An optional 322RS electronic shutter release permits the user to first adjust the camera and then take the desired photo, all in one motion and with one hand. The MSRP of the Manfrotto 322RC2 Grip Action Ball Head is $100. Contact: Bogen Imaging Inc., 565 East Crescent Ave., Ramsey, NJ 07446; (201) 818-9500; fax: (201) 818-9177; www.bogenimaging.us.
Rechargeable Power Capacity Increased
Duracell recently announced the availability of increased capacity AA-size Ni-MH rechargeable batteries along with a high-speed charger designed for the rechargeable power needs of various high-drain devices, such as portable flash units and digital cameras. Duracell's current AA-size rechargeables are 1800 mAh while the new batteries have a more powerful 2050 mAh capacity. Existing Duracell chargers are a one-hour and a Quick charger with a 2-3 hour charging time. Brand-new is a more convenient 30-minute charger that will simultaneously charge up to four AA or AAA-size batteries. The batteries have a MSRP of $7 for two AA and $12 for four AA. The 30-minute charger along with four AA-size batteries is $45. Contact: Duracell, Berkshire Corporate Park, Bethel, CT 06801; (800) 551-2355; fax: (800)
796-4565; www.duracell.com.
Colorful And Practical Crumpler Bags
Crumpler bags, designed and produced in Australia, continue to shake up the typically staid world of camera bags by having unusual, but attractive designs, considerable color, and extremely unusual names. The December Quarter ($175) features ultra-tough exterior fabric with waterproof ripstop lining, adjustable and removable padded interior dividers, and a padded laptop sleeve (accepting up to 16" screen laptops). A protective seal keeps out unwanted water and dust. There are external loops for pouch and lens case attachments. It has a removable padded shoulder strap and a contoured back. It holds a laptop computer, two big zoom lenses or four normal lenses plus two large SLR bodies, flash, and accessories. The slightly smaller Budgie Smuggler ($70) has a similar construction but is intended for carrying two lenses, one SLR body, and accessories or a digital camcorder plus accessories. Even if you're not in the market for a new bag, you will get a chuckle just reading the copy about their distinctive products on their website. Crumpler products are imported and distributed by JOBO Fototechnic, Inc., PO Box 3721, Ann Arbor, MI 48106; (734) 677-6989; fax: (734) 677-6963; www.jobo-usa.com; www.crumplerusa.com.
New KATA Brand Carrying Gear
Bogen Imaging Inc. will exclusively distribute KATA, a world leader in design, development, and manufacturing of high-quality protective systems for broadcast and video equipment. This broad range of products includes camera cases, shoulder cases, waist packs, backpacks, camera gloves, rain covers, tripod bags, lighting cases, and many more items. These products are said to offer maximum protection combined with lightweight design having a protective shell coupled with smart ergonomic design. They have bright yellow interiors, uniquely designed buckles, thermoformed shells, patented shoulder straps, and provide quick access to the contents. Contact: Bogen Imaging Inc., 565 East Crescent Ave., Ramsey, NJ 07446; (201) 818-9500; fax: (201) 818-9177; www.bogenimaging.us.
Versatile P-Pod Tripod
New from Giottos is the P-Pod, a five-section tripod with three removable legs. They can be used on the bottom or side of the P-Pod to make it a freestanding vertical pod, or as an inclined pod for low-level work. A rubber-covered grip is slip proof and makes for more comfortable handling in cold or hot weather. It has four rubber-covered leg locks, a tilt head with a rotating quick-release top plate and dual camera threads. The legs store in the bottom section and there is a wrist strap and case. It folds to just 23.6", extends to 72.6", weighs 3 lbs, and has a MSRP of $93. Contact: HP Marketing Corp., 16 Chapin Rd., Pine Brook, NJ 07058; (800) 735-4373; fax: (800) 282-9010; www.hpmarketingcorp.com.
Wireless Radio Flash Trigger
When you take flash pictures using an ordinary slave flash when others are also taking flash pictures your slave will be tripped by any flash going off. The only way around this is to use a wireless radio slave flash attachment. A small, lightweight radio trigger attaches either to your camera's hot shoe or to a PC cord flash contact. Then a small radio receiver is attached to your remotely located flash unit. It can be used with either a hot shoe type auxiliary flash or a larger AC powered studio flash. The dedicated radio signal is sent out to the flash, which can be located up to 80 ft away. A test button lets you fire the remote flash when metering the light intensity. For a multiple flash situation, you can purchase extra receiver units for each flash unit. Wireless radio flash triggers have been offered for years, but this new Morris model #11136 is very reasonably priced with a MSRP of $150. Contact: The Morris Co., 1205 W. Jackson Blvd., Chicago, IL 60607; (312) 421-5739; fax: (312) 421-5079; www.themorriscompany.com.
Slinger Multipurpose Bag
The Slinger is an ergonomically designed, multipurpose, photo/video/ everything bag that can be worn as a sling bag, backpack, or waist pack. The Slinger is specifically designed for today's film and digital SLRs. Its main compartment is 10x9x4" and an included foam padded camera cradle lets cameras such as the Nikon F100, Canon EOS 10D, or even a Minolta Maxxum 5 with a 28-300mm zoom lens attached nestle into it perfectly. The design also accommodates additional lenses, flashes, and other accessories.

The bag is made from tough, water-resistant polyester/nylon and features movable partitions, three front pockets, two inner mesh pockets, and two outer air mesh pockets. Its two outer air mesh pockets are neoprene backed to provide a storage place for things like umbrellas, water bottles, and even, says the company, wet socks! The Slinger's top flap design provides easy access and security for whatever you carry while its foam padded main compartment offers protection for your precious camera gear.

Other design elements include an extra wide, padded shoulder strap; a molded carrying handle; and a 2" wide waist belt, which can help transfer some of the load to your hips and is easily tucked away when not needed. Four strategically placed "D" rings allow for clip on and all of the hardware, including the zipper pulls and easy-to-release buckles, has been selected to exceed standard bag specifications. There is also a special zippered security pocket on the bag's back for plane tickets, a passport, press pass, or other valuables.

The Slinger sells for $39.95 and is available in a wide range of colors, including black, navy, gray, green, maroon, and camouflage. Slinger is available exclusively from Adorama. Contact: Adorama, 42 West 18th St., New York, NY 10011; (800)
223-2500; www.adorama.com.
To submit information for Photo Gear please contact Robert E. Mayer by e-mail at: rmayer@kconline.com or regular mail at: Shutterbug Magazine, 1419 Chaffee Dr., Suite #1, Titusville, FL 32780.

LATEST VIDEO

SPONSORED VIDEO
Testing Tamron's SP 150-60mm G2 lens while capturing birds and alligators in Apalachicola, Florida.