Covering The Photo Beat; Studio Lighting Tools, Laptop Bags, And A SensorScope
Decorative Tuscan Columns
Meese Orbitron Dunne Co. has a new addition to their Tuscan Colonnade Arch System. Crafted from durable, weatherproof, and lightweight polyethylene, these architectural-style columns are ideal for photographers and wedding planners. The system includes two 6-foot and two 21/2-foot tall columns, available in white or a choice of several stone colors. Contact: Meese Orbitron Dunne Co., 4920 State Rd., Ashtabula, OH 44004; (888) 724-1228; www.PropDecor.com.
The Graf Strato System From R.T.S. Inc.
The Graf Strato System was designed to allow photographers to easily position small gels, reflectors, or other accessories in confined spaces. The compact Strato arm is articulated and features interchangeable parts and a quick coupling system that allows it to conform to any shape. The Starter Kit includes a C-clamp, an 8" extension arm, a 3D positioning arm, and an all-purpose A-clamp--all for a retail value of $375. The Studio Set is a 20-piece kit that includes a heavy-duty carry case, a tabletop base, two 3D arms, a four-prong fork, a C-clamp, two A-clamps, three adapters, two connecting bolts, two dual adapters, two 8" extensions, two 16" extensions, a soft filter/vignette frame, and a vacuum base--all for a retail value of $822. Contact: R.T.S. Inc., 40-11 Burt Dr., Deer Park, NY 11729; (631) 242-6801; www.rtsphoto.com.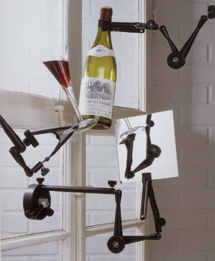 Savage Universal's Royal Marble Background
Savage Universal has announced a new addition to their line of backgrounds. Royal Marble background paper features a marble-look, non-repeating pattern and comes in three colors (gray, red, and blue). It is available in 78"x36' rolls, core wound and boxed. Contact: Savage Universal Corporation, 550 E. Elliot Rd., Chandler, AZ 85225; (800) 624-8891; www.savagepaper.com.
HONLPHOTO's Studio Lighting Tools
Photojournalist David Honl has introduced a line of rugged yet lightweight lighting tools crafted to fit any shoe-mount flash. Designed to provide a variety of light-shaping effects, these tools are crafted from ballistic nylon and can be stored flat. The Speed Strap ($9.95) is a wraparound band that can be quickly attached to a Speedlight. The Speed Snoot creates a soft circle of light and is available in 8" size ($19.95) or 5" size ($14.95). The Speed Gobo/Flag ($9.95) is a reversible black/white light blocking card. Contact: HONLPHOTO Professional at www.HonlPhoto.com.