Covering The Photo Beat; Sticky Filters, Prop Numerals, And A Tablepod
The Digital PRO-E Kit From Custom Brackets
The compact Digital PRO-E Kit was designed to accommodate today's popular digital cameras. It is crafted from durable, lightweight anodized aluminum and features a foam grip on the left side. The Digital PRO-E Kit is maintenance free and comes with a camera mounting plate. The retail price is $278. Contact: Custom Brackets, 32 Alpha Park, Cleveland, OH 44143; (800) 530-2289; www.custombrackets.com.
Sticky Filters
Sticky Filters are a quick way to easily eliminate unwanted color cast from your digital photographs. These reusable stickers fit a variety of handle-mount flash units and point-and-shoot cameras. The filter is placed over the flash and the camera's white balance software corrects for both ambient light and flash. Starter sets feature two sets of five filters for various lighting conditions. The standard size set has a retail value of $49.95 and the junior size set is $29.95. Contact: Midsouth Photographic Specialties, Inc., 2711 Paula Dr., Jonesboro, AR 72404; (870) 932-4454; www.stickyfilters.com.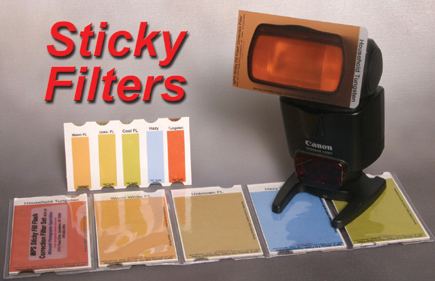 Prop Numerals
Perfect for children's portraits, these prop numerals measure nearly 2 ft tall and are molded from durable UV and scratch-resistant polyethylene. Numbers zero through nine are available in white or, with quantity purchases, a variety of custom colors. Numerals sell for $60.35 each or $603.50 for the entire set. Contact: Meese Orbitron Dunne Co., 16404 Knott Ave., La Mirada, CA 90638; (888) 724-1228; www.PropDecor.com.
ConeColor Ink For Epson Printers
ConeColor inks are available in 1 liter bottles and come with a set of eco-friendly, high-impact ABS refillable cartridges. The cartridges fit Epson 4800, 7800, and 9800 model printers. The price per bottle is $184 and the refillable cartridge system is $398. Contact: Vermont PhotoInkjet, LLC, 17 Powder Spring Rd., East Topsham, VT 05076; (888) 426-6323; www.conecolor.com.
Cullmann's 5003 Tablepod & 40460 Quick-Release Platform
The compact and lightweight Cullmann 5003 Tablepod creates a stable base that allows you to capture sharp images from any angle. It is compatible with the Cullmann Magnesit heads as well as other models from different manufacturers.

Crafted from anodized aluminum, the 40460 Quick-Release unit makes attaching and removing your camera from the tripod quick and easy. It features a sliding base with a safety lock and a spirit level for accurate alignment. Contact: R.T.S. Inc., 40-11 Burt Dr., Deer Park, NY 11729; (631) 242-6801; www.rtsphoto.com.
To submit information for "Roundup" please contact our New Products Editor by e-mail at: Cynthia_Boylan@sourceinterlink.com or regular mail at: Shutterbug Magazine, 1419 Chaffee Dr., Ste. #1, Titusville, FL 32780.